Overview
Last year, I started a series of articles that looks at three low priced stocks (priced at $10 or lower) and evaluates whether or not they should be considered worthy of buying based on a number of various factors. The second round of this series was published on August 6th and the first stock I recommended as a buy was Alcoa, Inc. (NYSE:AA). Nearly seven months later, I still believe Alcoa is a solid company that will reward current shareholders over the coming years.
Recent Performance
The comments I received from my prior article were mostly disagreements with my recommendation of Alcoa as a buy with readers saying things like the stock/company had nothing to offer, any investments made in Alcoa would not return any profit over the next couple of years, or giving recommendations of other companies such as Vale S.A. (NYSE:VALE) or Freeport-McMoRan Copper & Gold Inc. (NYSE:FCX).
The day I wrote the prior article, Alcoa was trading at $7.97. Yesterday, it closed at $12.03.
Looking at the chart below you can see that Alcoa has performed exceptionally well over the past several months, beating out the S&P along with the other stocks mentioned by a significant amount.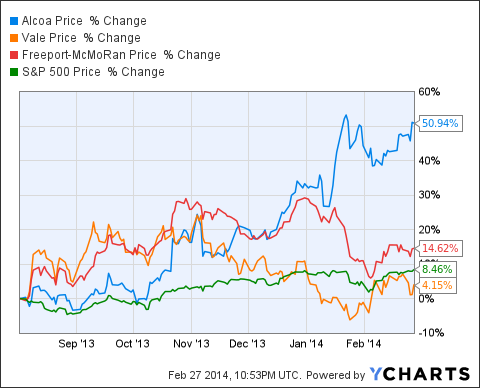 With this recent surge in price along with a PE ratio hovering around 40x, many investors may be looking to sell. While this is understandable (in fact, another SA author recently published a solid argument for doing so in his article here), I would urge current shareholders not to panic sell in this spot as I believe there is still plenty of room left for Alcoa's price to rise.
Financials and Recent Developments
Alcoa's bottom line is currently tied strongly to overall aluminum prices. This hasn't been good news for Alcoa as aluminum prices have declined over the past two years.
There are signs that prices are beginning to stabilize and possibly increase in the coming years. Looking at the charts on this page, you can see that since the beginning of February, the price of aluminum has increased.
If you look at the chart below, Alcoa's earnings and profit over the past five years don't appear impressive.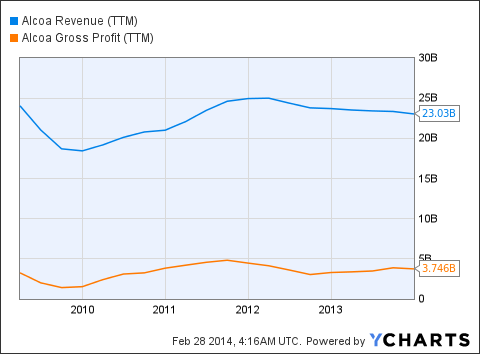 AA Revenue (TTM) data by YCharts
But considering the sharp decline in aluminum prices, Alcoa has done an admirable job of limiting the overall impact on its revenue and profit. Alcoa has accomplished this through increased productivity, a continued shift towards more downstream value-added segments (in its last yearly report, the company stated that over 50% of the company's revenue is now driven by value-added business segments), and restructuring to reduce costs.
Outlook
Alcoa has forecasted a 7% increase in global aluminum demand for 2014. I think this is a fair estimate considering a number of factors such as increased demand in the auto industry and recent efforts by the Chinese government to prevent overcapacity.
Alcoa's management has done a great job of improving working capital and reducing debt during difficult times. 2014 will be another challenging year for Alcoa, but I believe the company is up to the challenge. And as it continues to move more towards its value-added businesses, softening the impact of global aluminum prices, I believe Alcoa will flourish in the next three to four years.
Conclusion
While overcapacity is still an issue in this industry, I believe the problem has reached its peak and will not be as much of an issue in the coming years. With several industries (auto, aerospace, truck & trailers, beverage can packaging, and commercial building and construction) forecasted to see growth in the next year, I don't see overcapacity having as much of a negative impact as it has the past few years. As Alcoa continues to increase revenues from its value added businesses, increase profitability from its value-add innovation segment, and reduce costs associated to the commodity side of its business, I see no reason that the company and stock won't continue to succeed.
Disclosure: I have no positions in any stocks mentioned, and no plans to initiate any positions within the next 72 hours. I wrote this article myself, and it expresses my own opinions. I am not receiving compensation for it (other than from Seeking Alpha). I have no business relationship with any company whose stock is mentioned in this article.