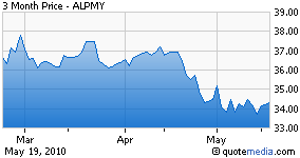 So Astellas (OTCPK:ALPMY) and OSI (OSIP) have finally come to terms. OSI's stock was at about $37 back in early March, and now the acquisition will go off at $57.50/share. That's an increase from the earlier $52 per share that Astellas offered, and comes after a month or two of wrangling - and, one would assume, attempts by OSI to see if another buyer might materialize. And we still don't know about that part, actually. From The Wall Street Journal:
Astellas said in a statement the revised offer price is based on its review of OSI's non-public information since late April and its consideration of the US company's medium- and long-term corporate value. After extending its tender offer on April 23, Astellas has been reviewing OSI's confidential information on the condition that it wouldn't attempt to buy any OSI shares through May 15. Astellas President Masafumi Nogimori said in a news conference the newly offered price is "very reasonable," but he declined to comment on whether there were rival bids his company had to beat.
It's hard to take that explanation for the raised bid at face value - "Gosh, now that we look at you more closely, you're worth even more than we thought. Have some more money!" My guess is that OSI's board - which resisted the deal up until now - told the company's institutional investors to sit tight, confident that they could work out a higher price (either from Astellas or from someone else). And that strategy appears to have worked, at least to the extent of $5/share. Update: here's the web site that Astellas used as a press-release vehicle to make their case for the buyout.
Of course, that makes the acquisition that much more expensive for Astellas, who will then have to find a way to make up those costs. That's what happened when Bayer (OTC:BYERF) merged with/bought Schering AG in 2006 - Merck (Darmstadt) (NYSE:MRK) stepped into the process by buying up enough Schering on the open market to force Bayer to buy their stake at a premium, which I'm sure made the eventual merger a more constrained affair.
It'll be interesting to watch how Astellas treats OSI once the deal goes through (which I assume it will). When Takeda (OTC:TKPHY) bought out Millennium in a similar deal, they made a point of leaving Millennium alone, and tried to keep its people from leaving. (From what I can see, that non-interference policy continues.) Has Astellas said anything similar, or anything about its plans at all?
Disclosure: No positions