No bankruptcy for JC Penney (NYSE:JCP) in 2014. A meager 2% increase in same-store sales, a 460-basis-points jump in gross margin, and a small profit, have convinced many investors that JCP has snapped a streak of deteriorating financial results, jettisoning the stock 32.6% higher after the beleaguered retailer reported earnings on Wednesday.
JCP "recognized a tax benefit of $270 million primarily related to gains resulting from the annual re-measurement of the pension plan," according to the statement, a one-time adjustment that put the retailer in the black for the quarter.
In addition to $2 billion in liquidity posted for the fourth-quarter, CEO Myron Ullman shocked investors with regard to liquidity, which, he stated, is "expected to be in excess of $2 billion at year-end."
That all-important and closely-watched guidance implies a self-funded operation at JCP in 2014, which also implies that JCP no longer needs access to its credit facility's $400 million accordion feature.
"Now the risk looks much lower, because people were convinced, at least the short were . . . convinced, that these guys were going to go broke or had to recapitalize the business somehow," former senior vice president of May Department Stores, Jan Kniffen, told CNBC on Thursday. "And now it doesn't look like it."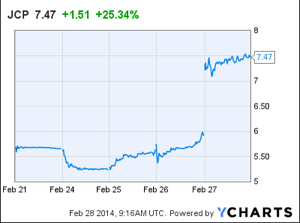 That's "aggressive" guidance, said Morgan Stanley's Kimberly Greenberg, who maintained her 'sell' rating on the stock and $4 price target.
Aggressive?
Greenberg may be putting it rather mildly, in my opinion; a better word would be "incredible."
My take on this seemingly incredible guidance with regard to JPC's liquidity is: Either Ullman has something up his sleeve in the way of selling some of the $5.7 billion worth of JCP's assets in order to fill hundreds of millions of dollars in cash burn projected for 2014, or he's bluffing to buy more time from the bearish onslaught of the stock.
For now, anyway, he's achieved a reprieve from the bears, who have been creamed during the last two trading sessions. And there's nothing more scary than being short a stock that takes off on enormous gap-up opens (see chart, above), as it did on Thursday.
After Ullman's September 26th 'curve-ball', in which it was reported on CNBC that JCP would not need a capital raise, it turns out that JCP had already authorized Goldman Sachs to underwrite 84 million shares.
Calls for an SEC investigation appear to have fallen on deaf ears, raising red flags about Ullman's credibility and honesty, as well as the SEC's stomach for recommending sanctions against a hobbling iconic brand.
Is It Credible to Believe JCP Will Self-Fund In FY2014?
Aside from the 'missed call' from Wall Street's watchdog, analysts cannot see how JCP can avoid further capital-burn unless revenue and gross margin increase rapidly.
Can JCP actually go cash burn-less by the close of fiscal 2014? See SA article, entitled, J.C. Penney Can Hit $10 This Year, But Investors Beware, Liquidity Is A Problem.
Therefore, the two questions I have are:
Is Ullman's credibility a factor in deciding to sell into this rally, taking the alleged illicit profit, then wait to see if the crafty CEO can make good on his word in Q1?
The answer to the first question is: I'm weary.
After the flimflam in September, Ullman's turnaround to a no cash-burn year seems, as I stated before, incredible.
The answer to the second is as follows:
Though retail sales are expected to increase by 4.1% for 2014, JCP must achieve double-digit revenue growth and raise gross margin rapidly and significantly to fight off Chapter 11 bankruptcy.
"The fact remains: For J.C. Penney to survive, J.C. Penney must be now transitioning to double-digit percentage positive comps off year-earlier comparisons and renewed promotional activity in the store," Belus Capital Advisors analyst Brian Sozzi told CNBC.
So, let's run some back-of-the-napkin numbers.
What would a, say, 10% increase in revenue, year-over-year quarterly results look like for 2014, within the context to the previous four years?
Below, the chart shows fiscal years 2010 through 2013 in blue, and a 10% rise in per-quarter fiscal 2014 revenue is indicated in red.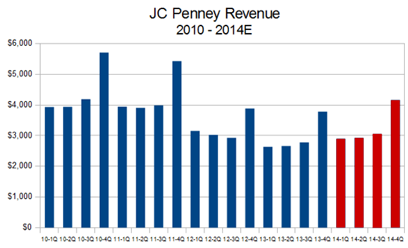 And a very generous scenario of a gross margin increase of 30% per quarter, year-over-year, looks like the following (see chart, below).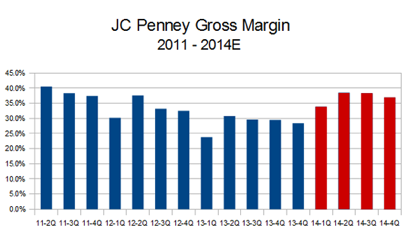 The Uber-Optimistic Scenario
Putting together a scenario by which JCP achieves a 10% y-o-y per-quarter revenue growth; a 33.9%, 38.5%, 38.4% and 36.9% gross margin for Q1, Q2, Q3 and Q4, respectively (8.7% increase to gross margin y-o-y per quarter); a SG&A held at $4 billion (per guidance); and the company experiences nothing truly out of the ordinary, the following spreadsheet still calculates to a cash-burn of $616 million.
And that large deficit doesn't include the estimated capex spending of $250 million (per guidance) projected by JCP for 2014.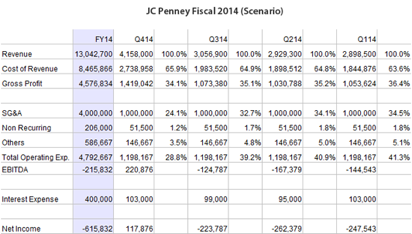 Conclusion
Investors now feel the iconic retailer has a better-than-average fighting chance to stay in business. If it can rapidly downsize to the best-performing stores; bring back lost customers at a rapid rate; and make some serious headway on gross margins, yes, the company has a chance for survival.
However, it's my opinion that investors should sell into this rally, up to $10, and wait to see what numbers JCP reports for the first quarter. I'm in the camp that wants to see to believe, before holding shares beyond the present short-squeeze move higher.
Though Starbucks (NASDAQ:SBUX) CEO Howard Schultz stated, "Mike is working tirelessly to save this company," JC Penney CEO Ullman could also be desperate enough to bend the unwritten (and written) rules of Investor Relations. He has bent the rules on investors before, you know.
Disclosure: I have no positions in any stocks mentioned, but may initiate a long position in JCP over the next 72 hours. I wrote this article myself, and it expresses my own opinions. I am not receiving compensation for it (other than from Seeking Alpha). I have no business relationship with any company whose stock is mentioned in this article.