Some of you might recognize this chart; I posted it about six weeks ago when an almost unheard of 92-93%ish of stocks in the S&P 500 were above the 50-day moving average. Not only was that abnormal but it stayed consistent for almost a month. That was the "can't lose, hear no evil, see no evil" market. As I always like to say, "it only matters when it matters," and suddenly everything matters again
[click to enlarge]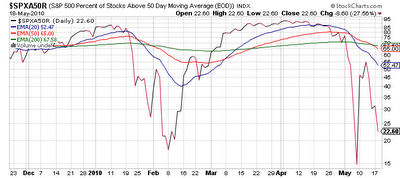 Excluding the May 6th "flash crash" we can see the percentage of stocks over the 50-day moving average in the S&P 500 has now dropped to the low 20% range, and is fast approaching the lows of February 2010. As I noted yesterday, either the day the market bottomed or the prior day the last three of my material long positions had been stopped out (positions had been cut back, not closed) as they all broke their 50-day moving averages. Through yesterday I was down to one this time around.
Does that mean the bottom is here? No, it just means the conditions are in place relatively soon for some sort of snap back and it becomes increasingly difficult to press shorts as we become "oversold." But any of those who were around in 2000-2002 or 2008-early 2009 know, "oversold" can get "more oversold."
The real question is not the "when" of the bounce, but the nature of it. The "V" shaped bounces we've been seeing throughout this rally from March 2009 are not something that happens very often, but have become the rule, rather than the exception.