A lot has happened since May 4th when I penned a negative article on First Solar Inc. (NASDAQ:FSLR). My expectation was that the crisis in the eurozone would have a material effect on stimulus for solar projects, which in turn would hurt the solar stocks which are so dependent on these subsidies. Since that time, FSLR has dropped from $143.72 to near $106 today, and many other stocks in the sector are down substantially more.
The concerns in the solar industry are certainly valid. Europe has been one of the primary champions of alternative energy and Germany and Spain have been especially beneficial with their generous programs to help defray costs for installing environmentally friendly energy sources. Without these stimulus programs, the demand for solar products could be significantly cut – and with excess capacity in the industry pricing may continue to suffer …
But how far is too far? The Claymore Global Solar Index (NYSEARCA:TAN) pictured below is off 43% from its 2010 high and many individual stocks have experienced much wider losses. Investors in the sector appear panicked and willing to sell at any price regardless of the fundamental value of the individual companies.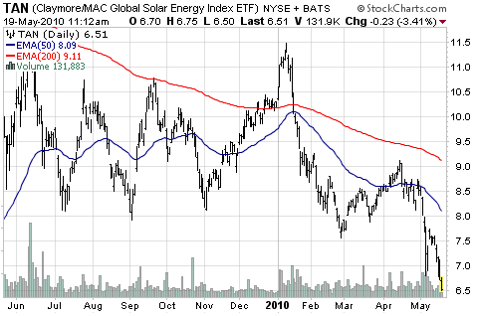 (Click to enlarge)
This type of environment can create attractive opportunities for the scrupulous and patient investor. While the trend is negative and selling could continue, several stocks are entering a range where it makes sense to allocate a small amount of long-term capital with the possibility of realizing very large returns when the sector rebounds.
Trina Solar Ltd. (NYSE:TSL) is off more than 40% in just the last three weeks. At $15 per share, the company looks like a good risk considering earnings are expected at $2.12 for this year and $2.35 for 2011. Even if these earnings levels were cut in half, the stock would still have a low multiple relative to it's long-term growth prospects.

In the fourth quarter, the company shipped 163.7 MW of solar product and saw its revenue increase to $313 million (over $216 million in the fourth quarter 2008). Gross margins increased to 32.6% which is impressive given the fact that average sales prices per watt dropped from $3.61 in the fourth quarter of 2008 to $1.90 in Q4 2009.
Debt levels are under control with total debt of $585 million and cash on hand of $478 million. In 2010, the company expects Germany and Italy to make up less than half of total sales which is an improvement from past years. However, the dependence on these two countries certainly does pose a risk to investors which is why the stock is so cheap today.

The company will announce first quarter earnings on May 25 before the market opens. Investors will be listening carefully to understand what trends are in play and what feedback management is getting from customers. The stock is currently in a place where even bad news could easily spark a rally. Investors are expecting the worst and so something at or slightly better than "the worst" could quickly drive share prices higher.
Long-term, the entire solar industry could benefit from the wake of BP's (NYSE:BP) giant oil spill. Environmental concerns will likely drive tighter regulations for fossil fuels, and generate more demand for alternative means such as solar energy. Short-term concerns are weighing down the market, but in the long run we could easily look back on the summer of 2010 as an excellent buying point for solar stocks.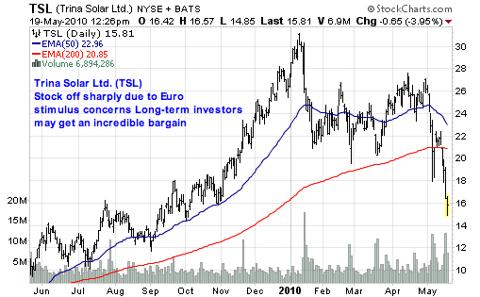 (Click to enlarge)
Disclosure: No positions