"The bravest are surely those who have the clearest vision of what is before them, glory and danger alike, and yet notwithstanding, go out to meet it." - Thucydides
Anyone who has read my columns over the last two years in either SeekingAlpha or TheStreet.com knows my philosophy on investing in the biotech sector. Due to the huge volatility in the space I practice something called 'Shotgun Investing'. This involves taking myriad small positions in numerous companies that appear to have good prospects.
Aggressive investors should be willing to accept many implosions in this sector as trial results do not come through as desired and the area will always have a high failure rate. These losers should be more than compensated by the occasional five or ten bagger that routinely occurs in biotech when a company delivers. Obviously, this type of investment philosophy is not for the faint of heart.
Today I offer a couple of selections that could appeal to fellow Shotgun Investors in the biotech space. Both having interesting prospects, cash-rich balance sheets and are trading significantly below analyst price targets.
OncoGenex (OGXI) is a leader in the development of novel therapeutics that target important mechanisms of treatment resistance in cancer. The company focuses on the development and commercialization of first-in-class, innovative therapies that have the potential to redefine treatment outcomes for patients with a variety of cancers.
The company has two compounds that are currently in Phase I, II and III trials to test against a variety of different cancers (See Chart).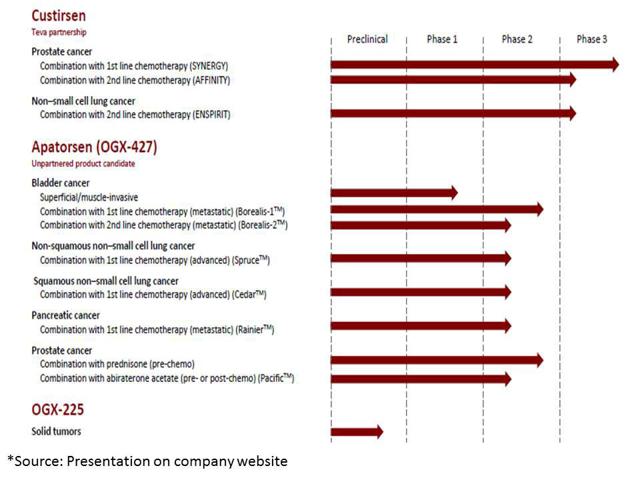 OncoGenex also got a nice upgrade to "Buy" over at CRT Capital this week which also has a $20 a share price target on OGXI. CRT Capitals analyst noted "The basis for our Buy rating is our optimism for a positive outcome from ongoing pivotal Phase III SYNERGY trial in castrate resistant prostate cancer (CRPC) in mid-2014. We expect FDA filing in 2H14 and approval in 20145. We also expect rapid uptake of custirsen to reach peak 35% penetration the US and 30% in EU."
Other analysts are equally enthusiastic on the company's prospects. The mean price target by the 9 analysts that cover the stock is $25 a share. Price targets range from $19 to $38 a share. OGXI currently sells for ~$11.60 a share.
The company has ~$45mm in net cash (over 25% of its current market capitalization) on the books and management recently stated this should get it well into 2015 as goes through trials for its two main compounds. Despite the rally over the market over the last year, OGXI sells for slightly less than where it was at this time last year and is down a quarter from its highs two years ago. SPECULATIVE BUY
Synergy Pharmaceuticals (NASDAQ:SGYP) is a small biopharmaceutical company that focuses on the development of drugs to treat gastrointestinal disorders and diseases. The stock is up some 50% since I last profiled it in late November but I still like the company's long term prospects.
The company's two leading products are Plecanatide (SP-304) and SP-333. Both of these target gastronomical disorders and are in Phase II trials. Investors should get up an update on trial results sometime in Q2.
Even after the stock's recent run, it is substantially below analysts' price target trading at just $6.50 a share. The five analysts that cover the shares have a $10.50 a share median price target on SYGP. Price targets range from $8.50 to $25 a share. Synergy has a cash-rich balance sheet with over $80mm in net cash on its balance sheet. This equates to almost $1 a share worth of cash. SPECULATIVE BUY
Disclosure: I am long OGXI, SGYP. I wrote this article myself, and it expresses my own opinions. I am not receiving compensation for it (other than from Seeking Alpha). I have no business relationship with any company whose stock is mentioned in this article.