Some SA contributors and readers have commented that Intel (NASDAQ:INTC) Bay Trail processors have not been very successful in landing design wins from mainstream original equipment manufacturers. I don't know what planet they live on, but it cannot be earth.
Their criticisms of Intel generally and Bay Trail in particular seem to be that Intel's tablet processors are not competitive on performance with Apple's (NASDAQ:AAPL) A7; that few OEMs have adopted them; and, that devices that do use Intel Bay Trail processors are not selling well. Let's deal with each.
PERFORMANCE BENCHMARKS
The Bay Trail processor was released in the fall of 2013, and promised better performance than a Qualcomm (NASDAQ:QCOM) Snapdragon 800 or an Nvidia (NASDAQ:NVDA) Tegra 4, according to Intel.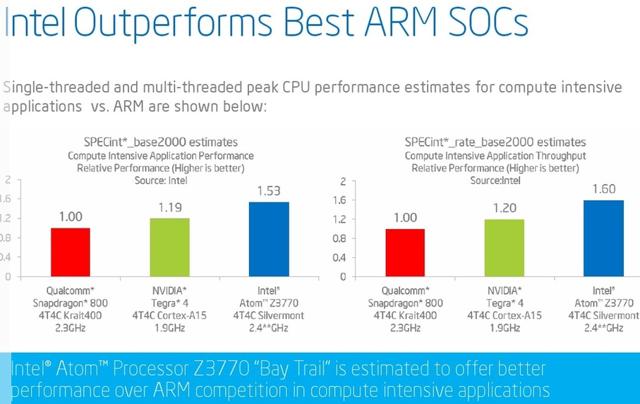 Source: Intel
SA Author Ashraf Eassa, one of the site's most competent and authoritative authors, in my opinion, published an article recently asserting that "Apple outguns Intel". Ashraf referred to an Intel slide that indicated Merrifield performed better than the Qualcomm 800 or Apple A7. Ashraf disputed that claim with Geekbench scores for both processors (he related a score of 1420 single-core for the A7 and 859 single-core for the Intel Z3480 Merrifield unit, although I did not see any information as to where he was able to get a Merrifield processor in a device for comparison, since I understood only a reference design existed at this point). I don't question Ashraf's integrity or data, and his point may be not to put too much reliance in a company's performance estimates until you can test a device in the field.
Having said that, Intel says its plans are to put its mobile processors on par with its Core processors in terms of performance.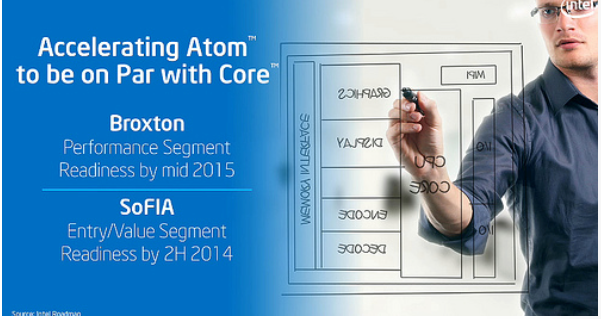 I have an Intel Core i5 in my HP All-in-One, and I ran Geekbench on it this morning. The Core i5 is in a number of tablets already, including the Surface Pro 2. If there is some doubt about Intel's ability to put a processor in a tablet that is more powerful than the Apple A7, no one should be confused. The Geekbench score for my PC is 2744 single-core and 8254 multi-core, a league the A7 cannot play in.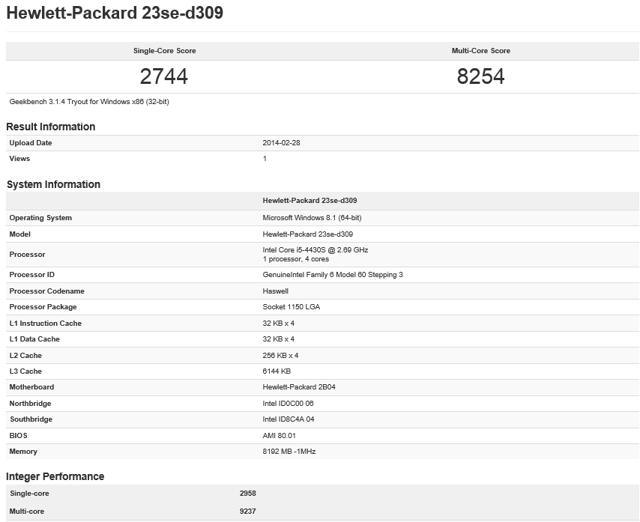 The war of the benchmarks will rage on, without doubt. The technology buffs seem to think comparing single-core performance on a chip with single-core performance on a competing chip has some value, but I think it is a bit like comparing the performance of each cylinder on an internal combustion engine - interesting, but what drivers really care about is the horsepower of the engine. The choice of the number of cylinders, like the number of cores, is a design choice and not something fundamental.
Users of quad-core Intel Moorefield (Z3560 or Z3580) chips that outperform dual-core Apple chips are not going to be apoplectic because each core reportedly runs less quickly if the performance of the device is better. Most of them, including me, could care less. I have an Audi A5 with a four-cylinder engine generating 52.3 horsepower per cylinder, but I just can't make it go faster than my son's Audi S6 with its 10-cylinder 435 horsepower V10, even though it produces only 43.5 horsepower per cylinder.
ADOPTION BY OEMs
Coming back to the comments that Bay Trail has little OEM support, that is just wrong. As best I can remember, Bay Trail was released in the fall of 2013, a few short months ago. Since that time, Bay Trail processors have been put into some very good devices from mainstream OEMs. For the record, I consider Hewlett-Packard (NYSE:HPQ), Dell (NASDAQ:DELL), Lenovo (OTCPK:LNVGF), Acer (OTC:ASIYF), Asus (OTC:AKCPF), Toshiba (OTC:TSHTF), and Fujitsu (OTCPK:FJTSF) to be mainstream OEMs. Bay Trail processors are also found in devices from other OEMs.
Here are some of the devices running Bay Trail processors.
Hewlett Packard
Bay Trail in HP Elite Pad; HP Omni 10 tablet; HP X360 tablet; HP Pavilion X2; and HP ProPad 600 tablet
Dell
Bay Trail in Dell Venue Pro 8 tablet; and Dell Venue 11 Pro tablet
Lenovo
Bay Trail in Lenovo ThinkPad 8 tablet; Lenovo Miix 2 tablet; and Lenovo Miix 8 tablet.
Acer
Bay Trail in Acer Iconia W4 tablet
Asus
Bay Trail in Asus Transformer Book T100; and Asus VivoTab Note 8
Toshiba
Bay Trail in Toshiba Encore tablet
Fujitsu
Bay Trail in Fujitsu Stylistic Q584 tablet
Other OEMS
Bay Trail in Cube 100GT tablet
Bay Trail in Yuandao tablet
Of course, Intel has other processors that are also found in tablets, including its older Clover Trail products and its powerful Core i3, i5, and i7 chips. For some reason, some commenters don't think these processors count. For my money, I would be delighted if Intel Core processors were in every tablet powered by Intel. They are much more profitable than Bay Trail.
In any event, I did a quick review of the key brands and found Intel processors in 9 Hewlett Packard tablets; 14 Lenovo tablets; 4 Acer tablets; 2 Dell tablets; 2 Microsoft tablets; 2 Toshiba tablets; 4 Fujitsu tablets; and 4 Asus tablets. I am sure I missed some, but these total 39 tablet designs.
For reference, the Apple A7 is in three devices. Qualcomm lists 21 tablets using its processors.
SALES AT RETAIL
The other beef in some comments was that what Bay Trail tablets did exist were poor sellers being heavily discounted to move product. The commenter did not provide any link to reports backing up that claim, so I did my own review.
The Asus Transformer T100 is one of the first Bay Trail tablets. I bought one as a Christmas gift for a friend's son in university, so I had a first-hand chance to see one in action. It is an outstanding device. Asus reported that it had record revenues in November 2013 based on strong sales of the Transformer T100. The device does not sound like a poor seller being heavily discounted to move product. That is because it is a hot seller in demand.
NPD reports that commercial sales of Windows tablets tripled in the 11 months ended November 2013, with strong demand for the Bay Trail-based Dell Venue Pro, the Asus Transformer T100, and the Microsoft Surface tablets. It sounds to me like Dell was finding a market for its Bay Trail devices, as well as Asus, and was not discounting them to move inventory.
SA readers benefit from contributors and readers who add value with their opinions and their knowledge of the facts. The debate is useful, and I am thankful to SA authors Ashraf Eassa and Bill Maurer in particular for their contribution to this important debate.
I am long Intel.
Disclosure: I am long INTC. I wrote this article myself, and it expresses my own opinions. I am not receiving compensation for it (other than from Seeking Alpha). I have no business relationship with any company whose stock is mentioned in this article.