Zulily beats Earnings expectations with ease
Traditional retailers step aside; there is a new retail sensation picking up speed. Zulily (NASDAQ:ZU) destroyed analyst expectations earlier this week by reporting quarter-over-quarter sales of $257M, more than a 100% increase from $128.48M reported in Q4 2012. Year-over-year net sales have increased by more than 110%, from $331M to $695.7M.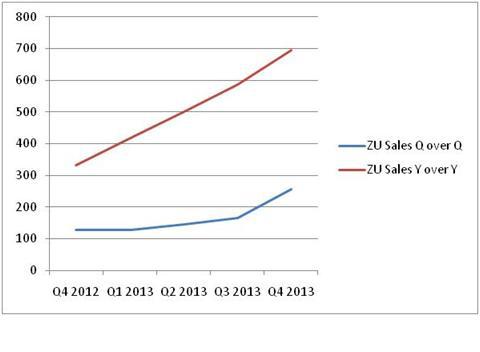 Zulily's ER is filled with positive news, so it's not surprising the stock surged about 75% this week. ZU reported fourth quarter net income of $12.8M, $0.10/share, an increase of 293% from Q4 2012, and 2013 full-year net income of $12.9M, $0.11/share. 2012 fiscal year net loss was ($10.3M), ($0.09)/share.
The real story is ZU's forward guidance into 2014 and beyond. ZU expects Q1 2014 sales to be between $225-$235M, compared to Q1 2013 sales of $127.01M. I believe that even this guidance is low. Last year, net sales decreased between Q4 2012 and Q1 2013 by 1.14% due to the natural business cycle. Assuming a similar environment, Zulily should expect to see Q1 net sales between $245M-$255M, $20M-$30M ahead of Q1 guidance. Guidance for the year in total is also very positive for 2014. ZU expects fiscal year 2014 net sales to be between $1.1B-$1.15B. This is almost a 100% increase from 2013, which represents two consecutive years of 100% growth! ZU expects net income and EPS to grow at the same respective rate.
Increase in Zulily's Customer Base
Zulily successfully found a niche market in the retail/internet retail industry, where it brings the newest and trendiest designs directly to the consumer. ZU does not design its own clothing line or own brick-and-mortar retail chains. It simply uses its very skilled and fashion-forward merchandise buyers to seek the most becoming fashion trends from boutique designers, and makes those trends available to the everyday consumer.
This strategy allows ZU to constantly change and update its inventory for items selling very well and for items not selling well. Since ZU does not spend time and money designing its own clothes, it does not have to commit long periods of time to different lines. It can simply increase or decrease orders from its boutiques and give the customer what they want.
ZU business model is not only fashion-forward, but innovative and ahead of current industry trends. Every consumer today is becoming more and more customized, and a "one size fits all" business model is going to be something of the past, if it not already is. Companies like Macy's (NYSE:M), Sears (NASDAQ:SHLD), Kohl's (NYSE:KSS), J. C. Penney (NYSE:JCP) and many others have been struggling in the retail environment because customers want more options than the few clothing lines these brick-and-mortar retailers provide. Not only do customers want more options, they want a personalized shopping experience, where they are connected directly to a small boutique offering the best individualized wardrobe; this is exactly what Zulily provides.
Stock Price Justification
As mentioned, Zulily's stock has recently surged about 75%, and is trading at $73.25 at the time of this article. ZU is in its very early stages as a company and is in high growth; however, it is only earning $0.11/share, and its 2014 non-GAAP adjusted EBITDA is expected to be between $45 and $55 million, or 0.35-$0.43 per share, representing only a 4.78% profit margin. In order to sustain long-term growth and shareholder confidence, this profit margin needs to increase.
Another key measure of Zulily's success is the increase in customer base. During 2013, ZU had a 100% increase in customers (about 1.6 million). Based on net sales expectations, ZU is expecting its customer base to again increase 100% to about 6.5 million users. This amount of users still represents a small portion of the retail market. This is the main reason Zulily is set up for tremendous future growth. Continuous increase in users provides for stronger fundamental financials and shareholder confidence.
ZU is currently overbought and trading above $70 due to the positive earnings and short squeeze. Once the dust settles, I would expect to see the stock fade back low-to-mid $60s before beating expectations for Q1 and jumping back up again. Most price targets put ZU between $47 and $55 per share, which I would agree is appropriate based on the company's underlying fundamentals and cash position, but this is a growth story, and built into the value of the stock is the expectation for huge growth in both users and profitability as well as momentum. I am long ZU, but will wait until it dips lower to buy more shares.
I will continue to be long ZU on momentum, as it beats expectations quarter-over-quarter. At some point, the fundamentals have to catch up to the stock price, but as we have seen in stocks like Facebook (NASDAQ:FB), Twitter (NYSE:TWTR), and Netflix (NASDAQ:NFLX), the price will continue to be much higher than its true value, because its underlying growth will continue to beat Wall Street's expectations. I expect more retailers will be using this business model in years to come as our consumers continue to look for the most specialized, fashion-forward shopping experience.
Disclosure: I have no positions in any stocks mentioned, and no plans to initiate any positions within the next 72 hours. I wrote this article myself, and it expresses my own opinions. I am not receiving compensation for it (other than from Seeking Alpha). I have no business relationship with any company whose stock is mentioned in this article.