Micron Technology Inc. (NASDAQ:MU) is one of the leading memory and packaging solution companies in the world, and the company has seen tremendous revenue growth over the past few months. Micron Technology Inc. offers a solid stock price and the performance of the company has been steady for some time.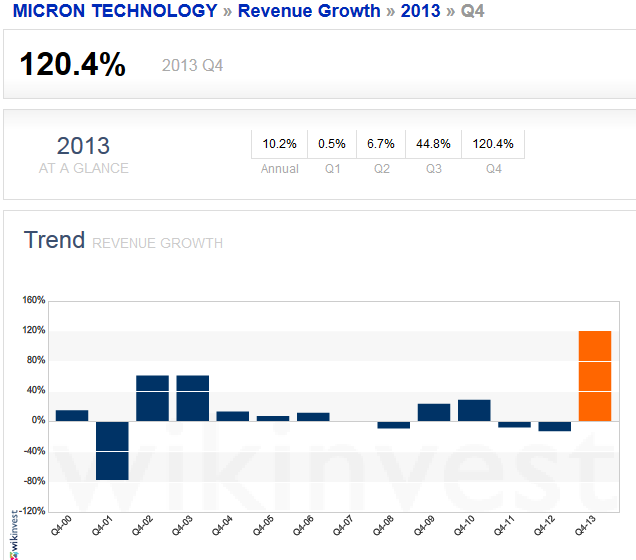 Source:wikinvest.com
About Micron Technology
Micron Technology Inc. was incorporated in 1978 in Boise, Idaho, and since its inception has been delivering industry firsts, using innovation and excellence to create memory and semiconductor products used throughout the industry. Consumers use Micron Technology, Inc. products every day, often without realizing they are using them, for networking, server applications, mobile and embedded designs. The core strength of the company is memory, but they have also developed packaging solutions and services for mobile products as well.
High Return
There are several areas where Micron Technology Inc. is expected to see high returns in the future, including Nor Flash Memory, Dynamic Random Access Memory and NAND flash memory. Many analysts say they see few weaknesses in the company, and stock in Micron Technology Inc. has grown over 200 percent over the past year. This is significant as the semiconductor manufacturing industry is highly competitive, with giants like Samsung (OTC:OTC:SSNLF), SanDisk (SNDK) and Toshiba (OTCPK:OTCPK:TOSBF) in direct competition with Micron.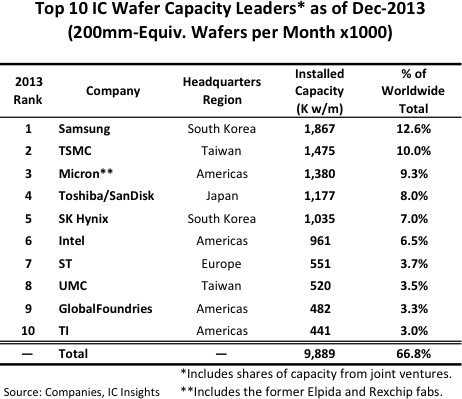 Sales Growth Rate
An evaluation of the sales growth rate for Micron Technology Inc. shows that the change in growth from the previous year to the current year was 120.39 percent, which is significantly higher than the sales growth compared to the previous quarters. In addition, the positive earnings growth rate for the current quarter compared to the same quarter the previous year is 211.11 percent, indicating significant growth over the past year.
Long Term EPS Growth
The long-term earnings growth rate should be more than 15 percent, according to analysts. Micron Technology Inc. shows a long-term growth rate of 67.19 percent based on the average of three and four year historical growth rates for the company. Therefore, this indication shows that Micron Technology Inc. should continue to grow over the next few years, providing investors with excellent returns on their investments.
Positive Cash Flow
A company that generates as much or more cash is in better financial shape than one whose cash flow is negative, as it allows for more internal expansion, acquisitions and other costs that companies face, especially in the semiconductor and memory industry. Micron Technology Inc. shows a positive cash flow of $0.54 per share, indicating that when the company does expand, they should not have to borrow significantly do so. Micron also has tight control over their inventory, another indicator of company health and growth. Although some reports say that inventory compared to sales is rising, it is still below the threshold that many investors feel indicates company problems.
Profit Margin
Companies with a strong position in their industry regarding profit margin are considered healthy, but the company must be able to sustain that margin. Micron Technology Inc. has a profit margin of over 15 percent, indicating that the company is in good financial standing. Stock prices that rise quicker than the market normally continue to rise, and Micron stock prices have risen steadily over the past few years. The company has not increased the number of shares outstanding significantly over the past few years, and currently has just under two million shares outstanding. This indicates that the company has no intention of diluting or devaluing the stock by issuing significant shares.
Although each analyst in the stock industry uses different criteria to rate companies based on their stock performance and financial reports, the common theme among all is that Micron Technology Inc. has shown tremendous return on investment over the past few years, and that the company will continue to show higher-than-average returns in years to come. The company is sound and growing among stiff competition, and continues to provide innovation and advancement in the memory, networking and semiconductor industry.
Disclosure: I have no positions in any stocks mentioned, and no plans to initiate any positions within the next 72 hours. I wrote this article myself, and it expresses my own opinions. I am not receiving compensation for it (other than from Seeking Alpha). I have no business relationship with any company whose stock is mentioned in this article.