Reading academic finance research papers can be a brutal and perhaps impossible task for those without advanced degrees in mathematics. But don't assume such research is necessarily good. Many are mathematically elegant formulations that implode when actually put to work. Joseph Piotroski is different. His output is deeply rooted in Wall Street reality and common sense, and resulted in a market-beating value strategy.
The idea behind Piotroski's paper Value Investing: The Use of Historical Financial Statement Information to Separate Winners from Losers is that valuation ratios, such as price-to-book value (or as he phrased it, BM or high book-to-market), are worth noting but not, by themselves, sufficient to help us find good investment ideas. Many stocks that are cheap under this measure are cheap for good reason; because the companies are weak, etc. He investigated whether the performance of a portfolio of high BM stocks could be improved "by using simple historical screens based on historical financial performance" (page 2) to pick out better companies.
For many real-world investors, that may not sound like a bold proposition. It's what those of us who do fundamental analysis, and especially those who use stock screeners to look for ideas, do all the time. But in the context of academia, where the emphasis is on intricate mathematical proofs that a model must work, pretty much because it derives from pure logic, Piotroski felt a need to speak in an almost apologetic manner about his reliance on "heuristics" (ideas that stem, not from theory but from everyday investigation, trial-and-error, etc.). It's a shame that Piotroski felt a need to be so humble about heuristics, because that's what leads to real-world success.
The strategy Piotroski used to identify better high BM stocks is not elaborate. He uses a series of fundamental screening-type tests such as whether return on assets increased in the past year, and scores companies one point if that's the case and zero otherwise. Each company's final score is computed by adding up all of its one-or-zero factor scores, and he favors the highest scoring companies.
The factors can be seen by looking at the Appendix below, which details the Portfolio123 version of the model. All are basic staples of fundamental investing: margins, returns, financial strength, earnings quality, etc. Piotroski's work confirms that we're right to be looking at such things.
As with all Portfolio123 All-Star models, our Piotroski model is a stand-on-its-own strategy rather than a clone that purports to replicate a portfolio that Piotroski himself would actually create. Admittedly, it would have been easier to clone Piotroski's approach, compared to the burden of doing so with other superstar investors, since his work is based on stock screening (as opposed to most others which are rooted in ideas that are not easily translated to numeric tests). Even so, for a day to day investable portfolio (i.e. a consistently manageable number of stocks), we believe we'd be better off applying Piotroski's factors in the context of a screen-ranking system combination. Details of our strategy and the results of a Portfolio123 backtest are set forth in the Appendix below.
The Stocks
Here are the stocks that presently satisfy the Portfolio123 Piotroski model.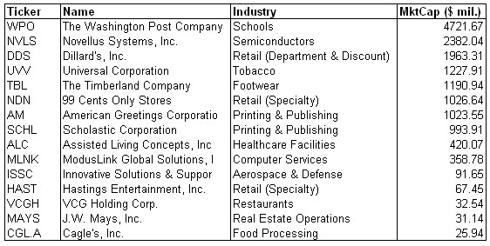 Here are some noteworthy selections:
Washington Post (WPO):
You'd think this is a newspaper company, right? Guess again. It still owns the namesake newspaper as well as magazines like Newsweek, but it's really an education-cable TV company, those being the sources of most of the company's operating profits. Cable TV is a generally steady business with some growth capabilities as more people go more digital. Note, though, that cable stocks tend to be valued based more on cash flow than reported earnings per share, so WPO's P/E is pretty high. It's price-to-book (where WPO is low) that got it into the Piotroski screen. Meanwhile, life isn't always easy for the company's Kaplan education business. The ability of graduates to get jobs and the extent to which they pay back their loans periodically generates controversy, not just here but throughout the for-profit education industry. So far, though, the reality has been better than the rhetoric and has produced quite a few value plays in this industry. It's hard to say what WPO will look like five years from now. Will it own its publishing assets any more? Will it even change its name? Who knows? What we do know is that WPO looks like a classic "special situation" with stock catalysts potentially coming from evolution of the corporate profile.
Scholastic Corp (NASDAQ:SCHL):
Following up on the education theme, publisher Scholastic also pops up under the Piotroski strategy. It's most well-known business, children's' books, is cold right now. The release of Harry Potter titles in last year's sales made for a tough recent comparison. School book fairs were delayed from the quarter due to bad weather. Also, teacher reassignments made it hard for regular book clubs to get up and running. The good news, though, was in electronic products, where sales in the4 latest quarter rose 30 percent. Overall, SCHL wouldn't likely make a growth screen right now (though it might a year hence given the easy comparison this quarter provides) and its quality metrics aren't sterling enough for many screens focusing on that style. But star companies aren't what the Piotroski strategy seeks. Instead, it looks for decent, or perhaps adequate, companies where low price-to-book ratios may reflect assumptions of something less, as could be the case with SCL as long as children's books remains soft.
American Greetings (NYSE:AM-OLD):
Here, we have another example of the "special situation" theme, where a company in a lackluster industry is tinkering with its business profile. Unlike Washington Post, however, it looks as though American Greetings is retaining its emphasis on its core, which it refers to as "social expression products" (greeting cards, gift wrap, party goods, stationery and giftware), but it does seem to be changing the way it approaches the business. It closed its company-owned retail stores, which had been losing money. It exited from manufacturing of party goods in Mexico. And it has made a variety of small acquisitions and divestitures. It has also been repurchasing common shares. As is the case with the companies mentioned above, fundamentals are not sterling here, but they are sufficient given the nature of the Piotroski tests (which on the whole measure staying power more than overall excellence) and the very lean stock valuation metrics. Besides the low price-to-book ratio required by the screen, P/E, measured based on estimated year-ahead EPS, is a bit below 10.
Assisted Living Concepts (NYSE:ALC):
If you ever believed that Wall Street is too obsessed with immediate results and that one ought to be able to profit from such narrow-mindedness, situations like ALC may provide a means for doing just that. As the company name suggests, it operates assisted living facilities that house elderly people that really can't live on their own but don't need full-blown nursing-home care. Can anybody who has been paying any attention at all to demographic trends question the powerful demand drivers here? I assume everyone gets that. The problem, for many investors, is that achieving a nice, smooth, rate of earnings growth has proven difficult, and we all know why: figuring out how to pay for things like this has been a challenge. I don't have the answers and I doubt anybody else does right now. But here's an odd Wall Street twist. A decade ago, many were willing to close their eyes, clench their jaws and say "I have no idea how all these highly-valued internet and telecomm companies are ever going to get revenues, much less earnings, but I'm sure it'll all work out in the end so I'm going to just hang on." As we know, most didn't work out. But interestingly, so many investors refuse to adopt the same stance for a stock like ALC, notwithstanding that the company is presently profitable, enough so to buy back some shares, and that most of its revenue comes from private pay patients, and the fact that its price-to-book ratio is low enough to qualify it for a strategy such as Piotroski. That is where the investment opportunity may lie.
Novellus (NASDAQ:NVLS-OLD):
Imagine trying to make an investment case for company whose revenues fell from nearly $1.7 billion in 2006 to $639.2 million in 2009! Actually, when the decline is purely cyclical, the case for the stock could be quite strong if it looks like the company has passed the trough and has embarked on a new up-cycle. That seems to be the case for NVLS, which makes equipment used for manufacturing semiconductors, a product category that has come through a horrendous down cycle. NVLS' equipment is used to place insulation and wiring on the chips, two things that are being placed more frequently as chips become more complex in order to handle customer demands that they do more. Notwithstanding the severity of the semiconductor recession, cash on NVLS' balance sheet amounts to more than 30% of assets, debt is less than 10% of assets, and the company has managed to keep its research & development up at around 20% of sales. Notwithstanding such clear indications of staying power, the stock seems priced for Armageddon, with P/Es of 10.9 and 8.6 computed respectively with reference to estimated EPS for this year and next year, and a PEG ratio of just 0.60.
---
APPENDIX
The Model
We start with the Joseph Piotroski screen:
Liquidity filter: For purposes of backtesting and review, we use a rule that bars OTC stocks. When trading, you may substitute Universe(foliofn), which means the stock must be tradable in the Folio Investing.com window system (to learn more about this, see www.portfolio123.com/blog.jsp?postid=139...)

Eliminate companies classified in the Miscellaneous Financial Services Industry, most of which are investment companies and funds and not the kind of stocks this all-star tended to seek

Trailing 12 month "Business Income," defined as Sales minus Cost of Goods Sold minus Selling, General & Administrative expenses (unusuals that are often included in "operating Profits" are eliminated) must be in the black

Trailing 12 month Cash from Operations per share must be in the black

Trailing 12 month Cash from Operations per share must exceed trailing 12 month EPS

Trailing 12 month Gross Margin must exceed Gross Margin for the prior 12 months

Debt-to-assets in the latest quarter must be less than Debt-to-assets in the prior-year quarter

Current Ratio in the latest quarter must be above the Current Ratio from the prior-year quarter

Trailing 12 month Asset Turnover must exceed Asset Turnover for the prior 12 months

Trailing 12 month Return on assets must exceed Return on assets for the prior 12 months

Average shares outstanding in the trailing 12-month period must be less than average shares in the prior 12-month period
Companies that pass are then sorted based on the Joseph Piotroski ranking system:
Price-to-Book, latest quarter - 50% of total

Fundamentals - 50% of total

Trailing 12 month Gross Margin minus Gross Margin for the prior 12 months (14.29% of category)

Trailing 12 month Cash from Operations per share minus trailing 12 month EPS (14.29% of category)

Debt-to-assets in the latest quarter minus Debt-to-assets in the prior-year quarter, lower is better (14.29% of category)

Current Ratio in the latest quarter minus Current Ratio in the prior-year quarter (14.29% of category)

Trailing 12 month Asset Turnover minus Asset Turnover for the prior 12 months (14.29% of category)

Trailing 12 month Return on assets minus Return on assets for the prior 12 months (14.29% of category)

Average shares outstanding in the trailing 12-month period minus average shares in the prior 12-month period, lower is better (14.29% of category)
The models was developed under the assumption that 15 stocks (those that pass the screen and rank highest under our Joseph Piotroski ranking system) would be selected and that the selections would be updated every four weeks.
Backtested Performance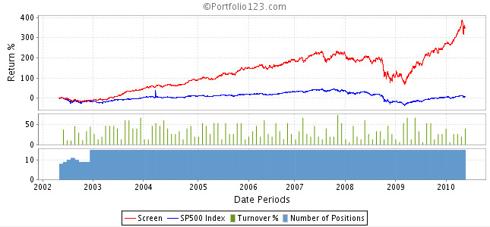 Average 4-week % change

Model

S&P 500

Excess

Overall

1.60%

0.17%

1.43%

Up Markets

4.41%

2.87%

1.54%

Down Markets

-3.24%

-4.46%

1.22%
Disclosure: No positions in stocks mentioned