The Great Recession forced Americans to redefine their shopping habits. As people lost their jobs and homes, cutbacks became a necessary part of life. Retailers have struggled to adapt as evidenced by the SPDR S&P Retail ETF (XRT). This retail tracking ETF is up a scant 2% in the last 6 months compared to the S&P as a whole, which climbed more than 10% in the same period. Two companies in particular, Sears Holdings Corporation (SHLD) and J. C. Penny Company (JCP), have struggled to come up with an answer to the changed landscape.
Both companies are closing stores and seeing falling income figures in the billions. However, the vacuum left behind by these mega-retailers is an opportunity for a few discount retail names. Data from the Cowan Consumer Tracker shows that there is potentially $10 billion in sales that could be snatched up by off-price companies. The three most likely candidates to take over market share are TJX Companies (TJX), Burlington Stores (BURL), and Ross Stores (ROST).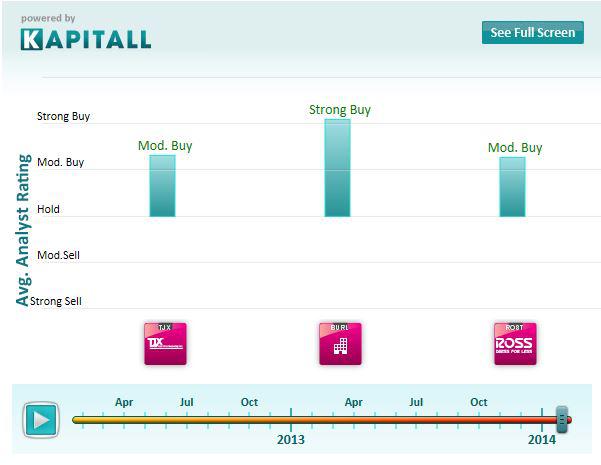 TJX Companies is a $42 billion company best known for its T.J. Maxx, Marshalls, and HomeGoods chain stores in the U.S. The company has reported consistent same-store sales growth for 17 years running - up 4% last quarter - and oversaw EPS growth this year of 32%. The company reported 4th quarter earnings on the 26thand returned about $1.5 billion in stock buybacks for the year. Management announced plans to institute a further $1.6 to $1.7 billion buyback program, and annual EPS increased 15% over last year. The company also declared a dividend increase in April to $0.175 - a gain of 21% and an effective yield of 1.2%.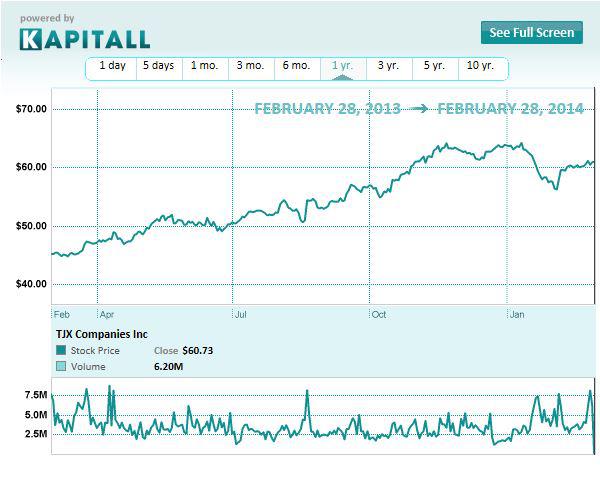 Click here to see more information on TJX.
Burlington Stores , which had its IPO in October 2013 is a relatively new stock that hasn't yet completed a full year of trading. The company expects same-store sales growth of about 3% for the 4th quarter while the 3rd quarter showed growth of 3.9%. Burlington fills a market need for discount shopping with prices 60% to 70% lower than its peers. It currently has plans to expand, adding almost 500 new stores to bring the total to 1,000. EPS growth for next year is expected to be over 45% and the average analysts' price target is $31 - a discount of around 17%.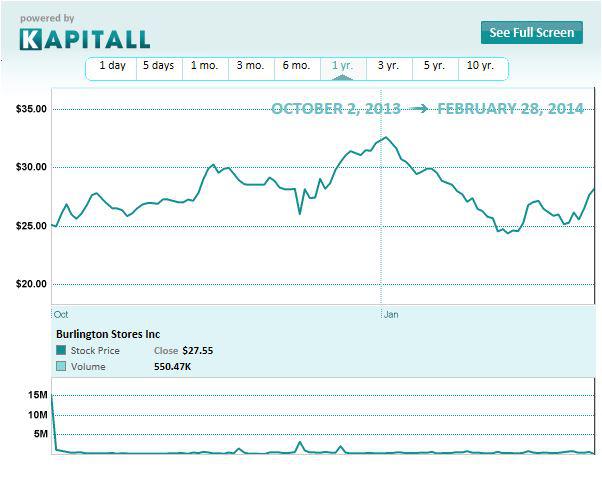 Click here to see more information on BURL.
Ross Stores is a popular discount retailer with almost 1,300 stores nationwide. The company has had tremendous EPS growth of 30% for the past 5 years with average same-store sales growth of about 3%. Operating margins have steadily increased and now stand at 13.4% while its balance sheet stands out amongst its peers. Ross has long term debt of a modest $150 million, while cash and cash equivalents are over $373 million, giving the company an extremely low debt to equity ratio of just 0.08. The company has a $1.1 billion stock buyback program and a dividend yield of 1% that provide investors plenty of downside protection.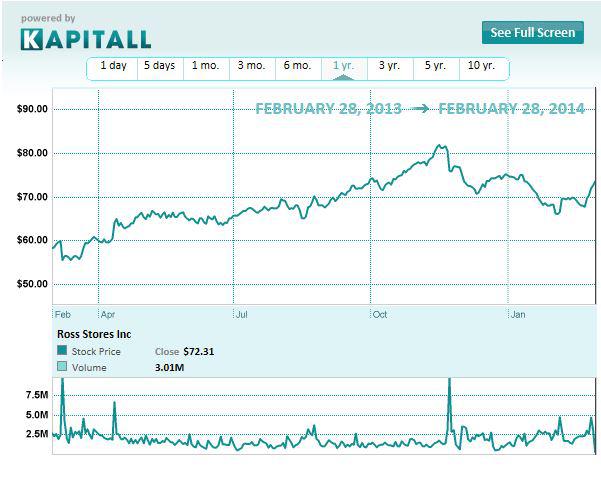 Click here to see more information on ROST.
Investors interested in the retail sector should watch consumer spending habits and employment figures. Any drops in these statistics translate directly into lower discretionary spending and hurt future earnings expectations.
Disclosure: I have no positions in any stocks mentioned, and no plans to initiate any positions within the next 72 hours.
Business relationship disclosure: Kapitall is a team of analysts. This article was written by Daniel Cross, one of our writers. We did not receive compensation for this article (other than from Seeking Alpha), and we have no business relationship with any company whose stock is mentioned in this article.