By Steven Carroll, Independent Commentator
When you read reports indicating that correlations are falling, and the time of the stock picker has returned (said in the voice you hear during movie trailers) you can believe it's true of the restaurant industry. During the crisis, correlations rose as macro events made stocks rise and fall together - due to FX, interest rates/Fed policies, and legislation. Actual company performance was less important than normal - and the traditional stock picker found it hard to outperform the benchmark.
As the Fed pulls back from its extraordinary stimulation efforts (or as the market looks past that unwinding) the factors that will matter are old fashioned stuff like earnings trends, the competitive landscape, M&A. Speaking of old fashioned, we take a look at the granddaddy of fast food restaurants, McDonald's Corp. (NYSE:MCD).
Looking at the restaurant sector gives you a taste of how hard the stock picking game actually is - even in a bull market. If you chose Wendy's Co. (NYSE:WEN) or Jack in the Box Inc. (NASDAQ:JACK) as your exposure you'd have made around 85% over the trailing 12 months (who said burgers can't be sexy?). If you picked the old staple, McDonald's, you'd have returned 2.9% -- barely beating inflation. The two-year return for MCD is actually negative, as the below chart highlights.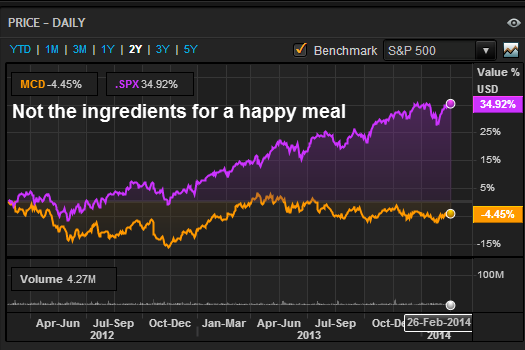 Source: Thomson Reuters Eikon
But if death, taxes and mean reversion are normally reliable - let's look at the outlook from here.
Are you lovin' it?
The market is clearly assuming Ronald's best days are behind him. The company is now offering a significant 3.4% dividend yield, the best in the class - and the lowest P/E, aside from Cracker Barrel, which has had a troubled 12 months.

Source: StarMine in Thomson Reuters Eikon
Big Mac, big fall? Maybe not.
So is this a story of another corporate behemoth, now priced for a slow decline against the upstarts of the sector? Certainly the growth of the next 12 months at MCD looks somewhat sedate (5.3%, versus some of its peers - Chipotle Mexican Grill Inc. (NYSE:CMG) at 23.5% makes you wonder at the wisdom of the original spinoff and even the peer median is forecast to hit a racy 17.5% growth rate.
It's a long race though - and where the market often starts to assume very little in the way of long-term EPS growth - that's when opportunities can emerge. Put another way, you don't make money buying the high-growth stock, if the market already anticipates it's going to deliver that high growth. So what's priced in for MCD at current levels?
The intrinsic value page of Thomson Reuters Eikon is full of interesting stats. Over the short term competitor growth looks great, but the reality of the trailing five-year EPS numbers are that MCD has grown at 22.7% whereas the peer median is a loss of -1.5%. So market darlings come and go while this company continues to deliver - and is trading at 88% of fair value. The peer median? 155%.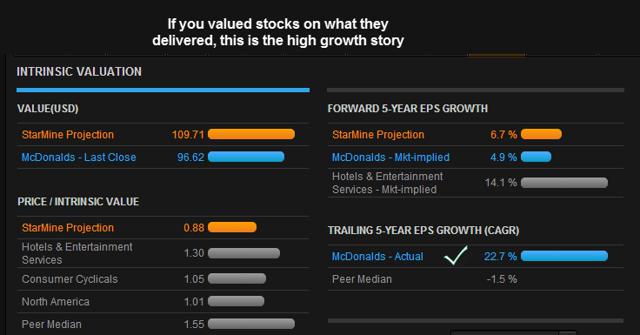 Source: StarMine in Thomson Reuters Eikon
What do the StarMine scores tell us? Let's do a head-to head-of the two extremes. High growth upstart Chipotle (and a spinoff to make the matchup even juicier) versus stolid, slightly dull McDonald's, the granddaddy of the sector.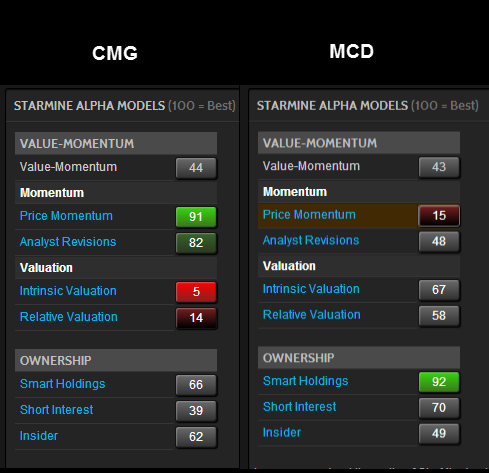 Source: StarMine in Thomson Reuters Eikon
Price vs. value
Unsurprisingly, Chipotle has an excellent price momentum score and analyst upgrades continue unabated. However, Warren Buffett says price is what you pay and value is what you get. Well, Chipotle is in the bottom 5% of North American stocks on a valuation basis with a market implied EPS CAGR of 26.6% for the next five years just to justify the current valuation.

Source: Thomson Reuters StarMine
Be careful
McDonald's is far more reasonable with a 4.9% growth rate.
There's no doubt which stock will grow its EPS level at the faster rate; that's never the question - it's which stock will grow faster than the market assumes based on the current valuation. If you think CMG may be the answer, remember its 26.6% handicap.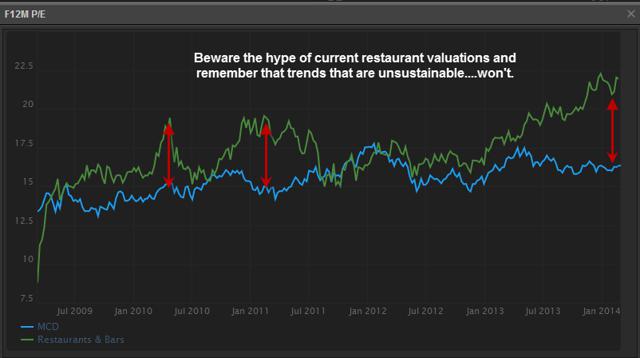 Source: Thomson Reuters Eikon
At the end of the meal, consider…
Dull? Maybe.
Needs a menu refresh? Probably.
Solid dividend? Absolutely.
Overhyped? Definitely not (but in a sector that is).
For those who want a solid performer at a price that doesn't scream "late stage bull market," McDonald's has a lot more to offer than its fashionable, faster growing peers.
Disclosure: I have no positions in any stocks mentioned, and no plans to initiate any positions within the next 72 hours. I wrote this article myself, and it expresses my own opinions. I am not receiving compensation for it. I have no business relationship with any company whose stock is mentioned in this article.