We been harping on dividend growth, as opposed to mere current dividend yield, in dozens of articles in recent years. Why? One, a fixation on high current yield can lead investors to pricey stocks with low-growth (and low dividend-growth) prospects. And two, for long-term value investors, a growing dividend is a great way to realize above-inflation-rate income growth paid out from companies that have good overall growth prospects.
We offer this reminder after Brendan Conway, in Barron's smart ETF column this past weekend, quoted Bank of America Merrill Lynch's Savita Subramanian as calling dividend growth "something of an investor dead zone," trading at a slight discount to higher-yielding shares.
The market strategist suggests why. With interest rates, including the 10-year Treasury rate, so low, income investors are desperate for yield and have invested heavily in fat-dividend payers, with less emphasis on the prospect of that dividend growing. Investors less (or not) interested in income, meanwhile, are piling into hot growth shares like Tesla (NASDAQ:TSLA), Netflix (NASDAQ:NFLX), Amazon (NASDAQ:AMZN) and the like.
Dividend growers occupy a sane middle ground. So, we look at two components of the S&P 500 Dividend Aristocrats - companies that have increased dividends every year for the last 25 consecutive years - Consolidated Edison (NYSE:ED), the utility, with a current dividend yield of 4.5%; and Aflac (NYSE:AFL), the insurer, with a current dividend yield of 2.4%. Nearly twice the cash back from ConEd. But look at dividend growth for the two over the past decade: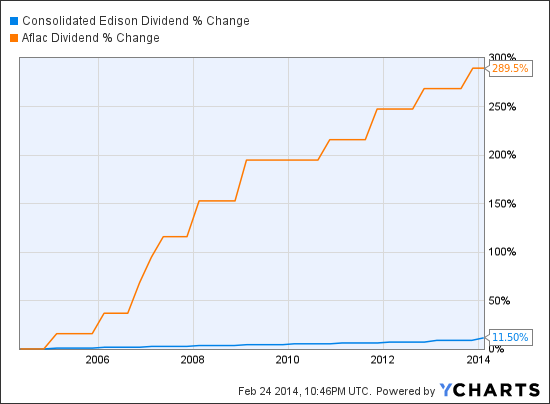 ED Dividend data by YCharts
It looks like ConEd is making small increases just to stay on the list. Aflac, meanwhile, is providing long-term holders with big income increases.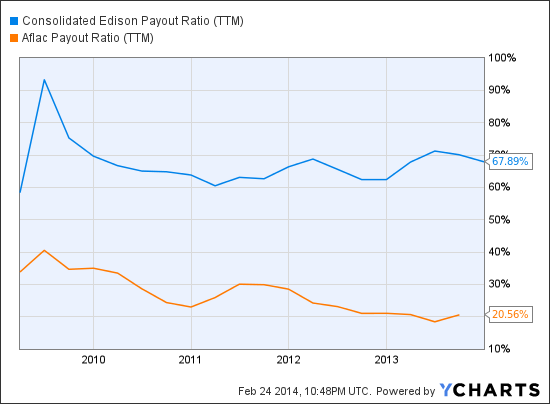 ED Payout Ratio (TTM) data by YCharts
With a low payout ratio, Aflac has more flexibility to boost its dividend. And it trades at a far lower forward PE ratio. Granted, as a utility ConEd has a very stable business.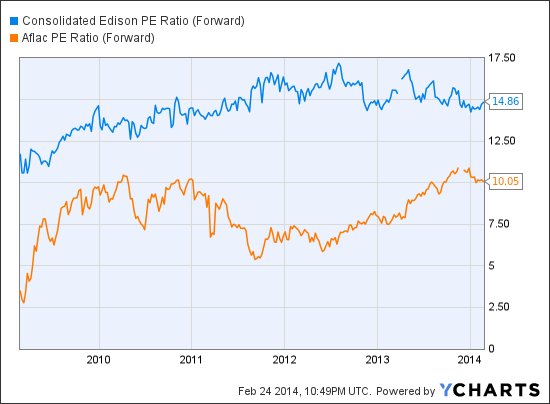 ED PE Ratio (Forward) data by YCharts
Focusing on dividend growth has led us to tech stock behemoths like Microsoft (NASDAQ:MSFT). A year ago, we screened the Dividend Aristocrats and found the fastest-growing dividends: Lowes (NYSE:LOW), Walgreens (WAG) and McDonald's (NYSE:MCD) atop the list.
Jeff Bailey, The Editor of YCharts, is a former reporter, editor and columnist at the Wall Street Journal and New York Times.

Disclosure: None