It is a debate that many investors are struggling with today. Stocks continue to set new highs following a relentless bull market over the last five years. As a result, many investors understandably want to continue to own stocks to participate in further gains. Some of these investors are also becoming increasingly concerned about owning stocks at this late stage of the market cycle, however, particularly since much of the advance to date has occurred despite a sputtering post crisis economy and corporate revenue and earnings growth that has effectively stalled over the last two years. And with the long anticipated economic recovery in 2014 that helped justify the lusty stock market gains in 2013 failing to materialize and the U.S. Federal Reserve remaining steadfast in their plan to wind down its QE3 stimulus program, it is reasonable for investors to wonder whether the next new high in stocks may end up being the last for years to come. So what is an investor to do? Sell now and miss the next leg higher in stocks? Or continue to hold as the market peaks and plunges into the next bear market? For those that are risk prudent, a select group of stocks have demonstrated the propensity to not only participate to the upside along with the broader market in the late stages of past bull markets, but perhaps more importantly have also shown the ability to continue posting gains long after the next bear market for the broader market is well underway.
The stocks in this select group share the following distinctive characteristics:
· Stability: Price volatility that ranks in the lowest quintile of the S&P 500
· Quality: Earnings growth and stability resulting in a S&P Quality Ranking of A or better
· Income: Consistent annual dividend growth over the past decade
· Performance: Ability to post gains long after the market peaks during the bear markets from 2000 to 2002 and from 2007 to 2009
An elite group of 15 stocks qualify in this regard. In order to better assess the performance of the 15 stocks in this group in the context of the current market, a starting point has been determined that could reasonably be considered comparable to where we are in the current cycle if indeed the stock market were to reach a final peak in the coming months. It should be noted that such an outcome is far from certain, as it is also possible that stocks could continue to rally into the distant future. Hence the interest in identifying stocks that have the ability to perform in either scenario.
The following is the list of 15 stocks shown graphically with their performance relative to the broader market both during the 2000 to 2002 and the 2007 to 2009 bear markets. Included are lines in orange to show how far into the bear market these stocks were able to generate or sustain upside before finally succumbing to the downside from broader bear market pressure if ever.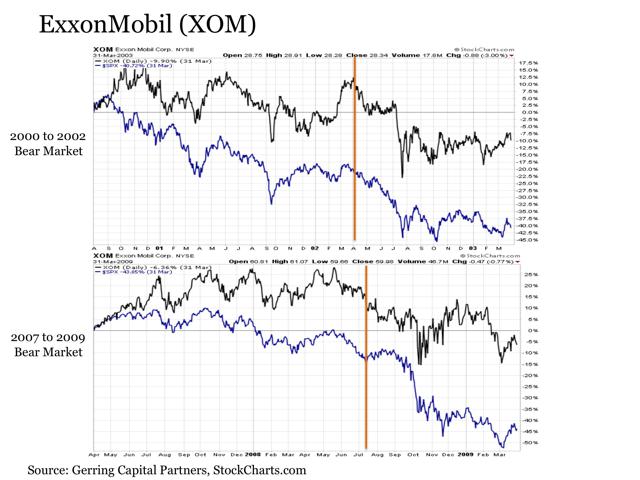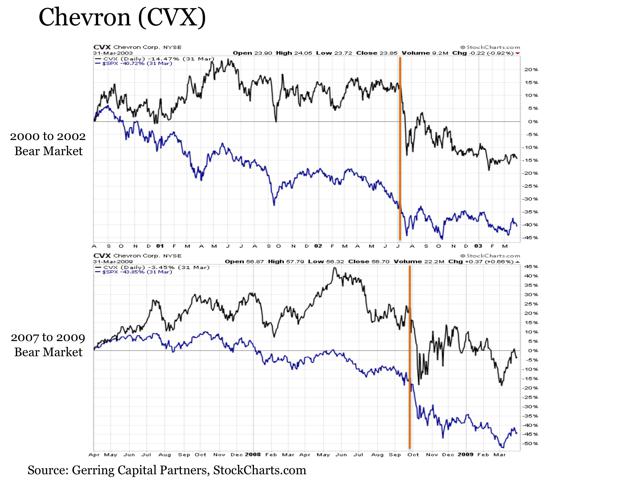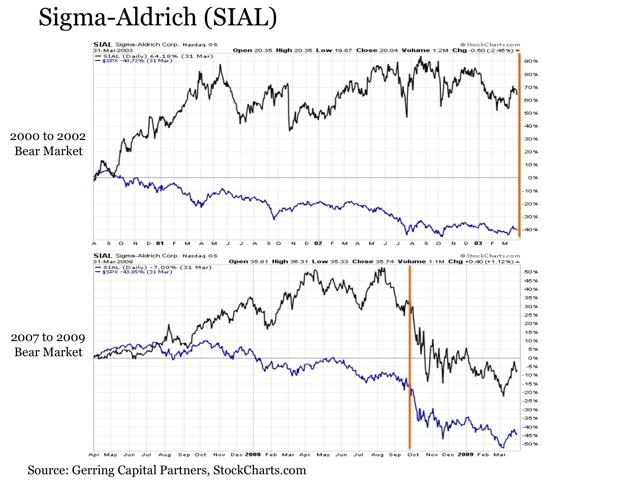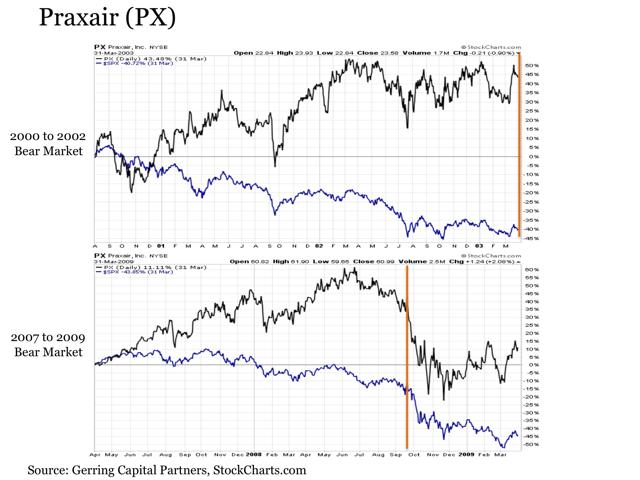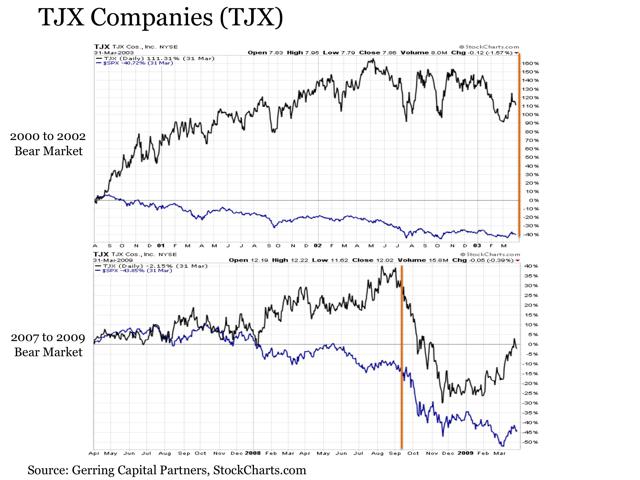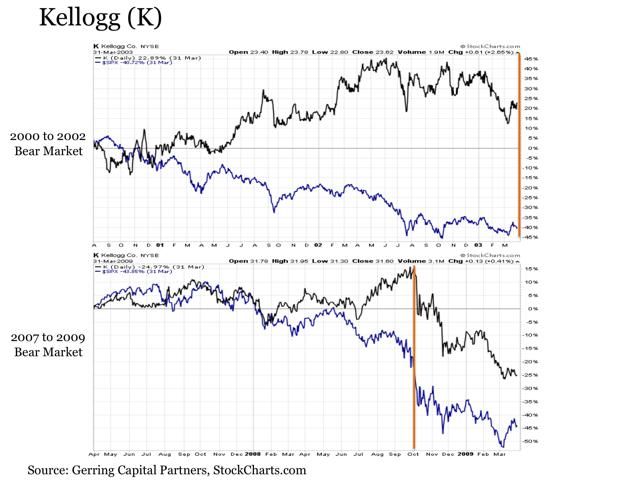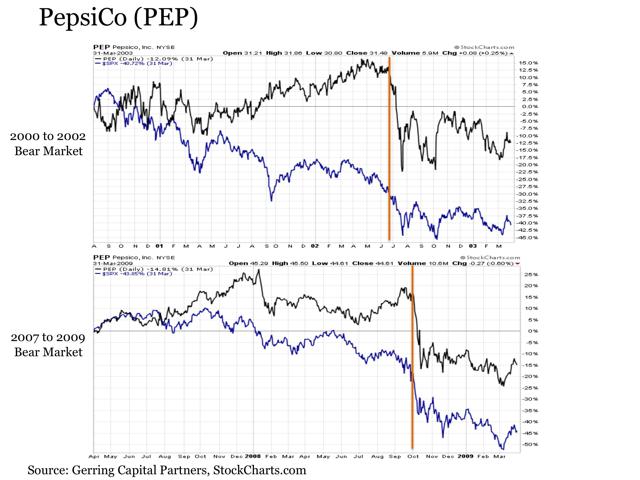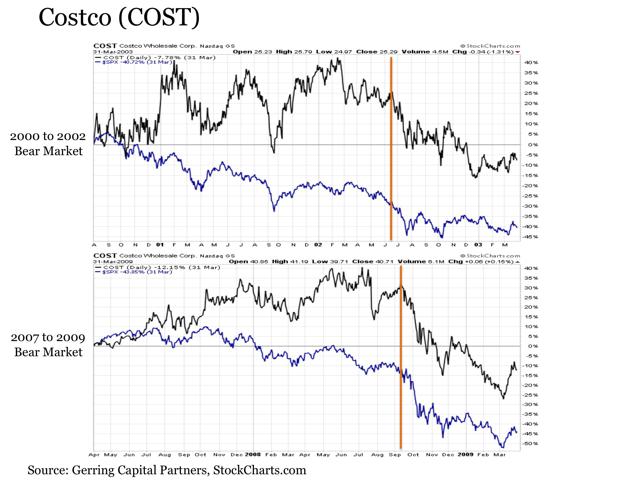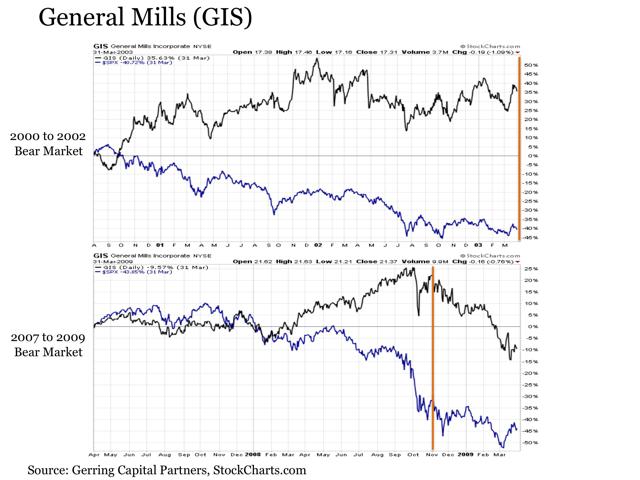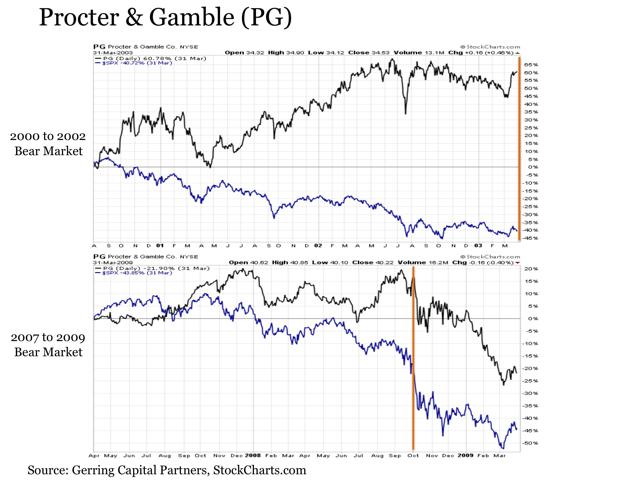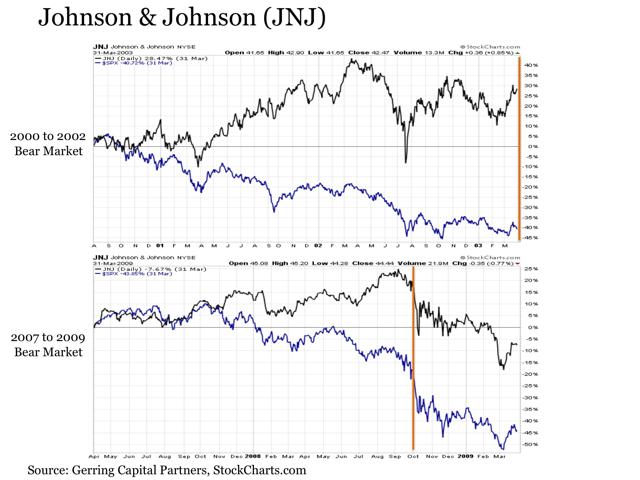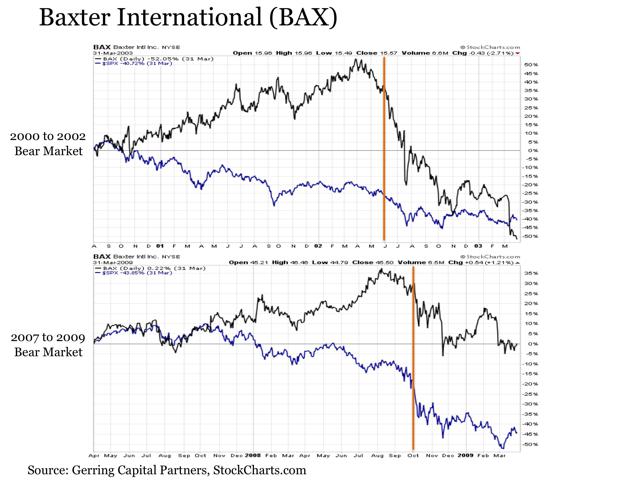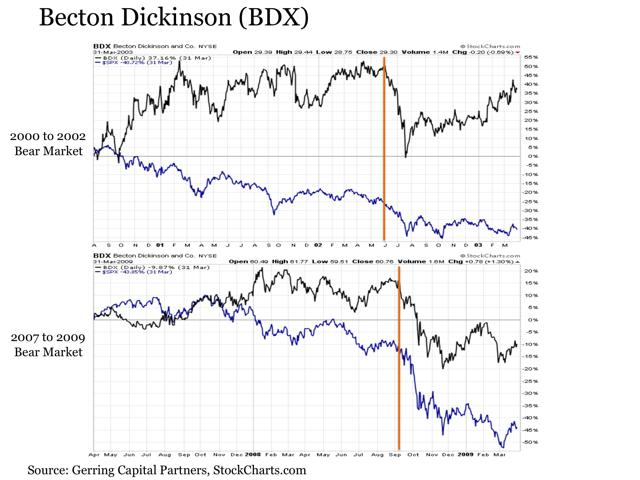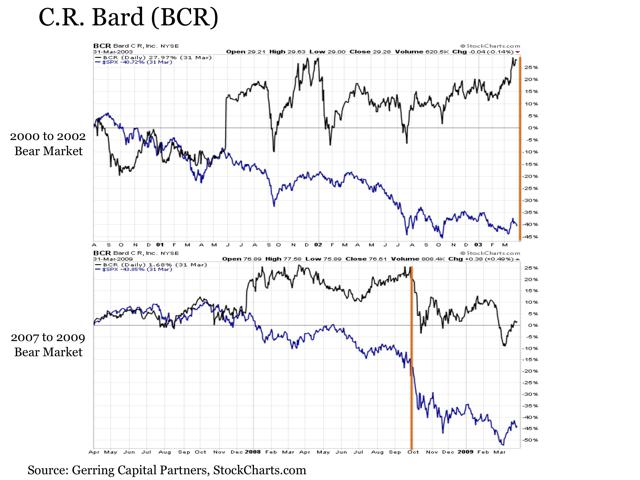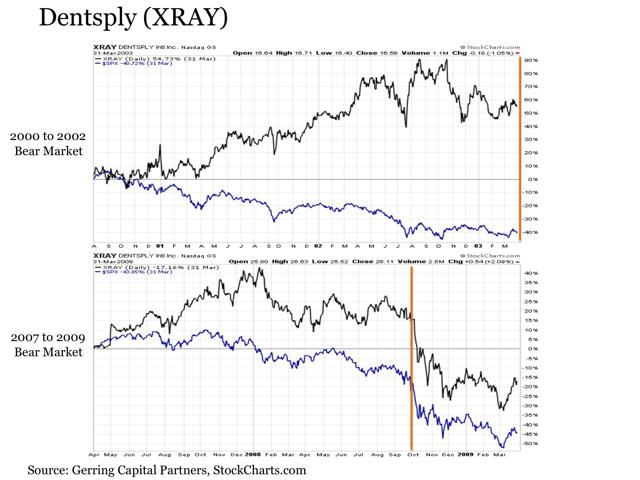 In summary, each of the above names have shown the ability to perform well and post solid gains at least for an extended period of time while the broader market had peaked and entered a bear market phase, thus providing investors with both the time and opportunity to exit with gains if necessary long after the overall averages had peaked and turned definitively lower.
An added point in support for each of the 15 stocks shown above is the fact that today's valuations as measured by the trailing 12-month price-to-earnings ratio are comparable if not lower than levels that existed entering the 2007 bear market.
Stock (Ticker): 2007 P/E Ratio v. 2014 P/E Ratio
ExxonMobil (NYSE:XOM): 12.9 v. 12.6
Chevron (NYSE:CVX): 10.6 v. 10.4
Sigma-Aldrich (NASDAQ:SIAL): 23.4 v. 23.1
Praxair (NYSE:PX): 24.5 v. 22.7
TJX Companies (NYSE:TJX): 20.2 v. 20.6
Kellogg (NYSE:K): 19.0 v. 12.2
PepsiCo (NYSE:PEP): 22.3 v. 18.3
Costco (NASDAQ:COST): 28.5 v. 24.9
General Mills (NYSE:GIS): 17.2 v. 18.6
Procter & Gamble (NYSE:PG): 22.6 v. 21.0
Johnson & Johnson (NYSE:JNJ): 18.4 v. 18.9
Baxter International (NYSE:BAX): 22.2 v. 18.7
Becton Dickinson (NYSE:BDX): 21.4 v. 24.0
C.R. Bard (NYSE:BCR): 24.7 v. 16.7
Dentsply (NASDAQ:XRAY): 26.8 v. 20.9
Of course, just because these 15 stocks held up well during the past two bear markets does not at all guarantee that they would do so again during the next bear market. And inclusion on the list of 15 stocks does not imply a recommendation to purchase these names. But the fact that they all share similarly strong fundamental characteristics and have shown the ability to perform well during past periods of heightened stress is notable. Thus, this group of 15 stocks represents a potential candidate list starting point to conduct a more in-depth fundamental and technical analysis to identify specific names that may merit inclusion in a stock portfolio that is designed to perform if the market continue to rise but also hold up well if the market were to finally peak and enter into a new bear market phase.
Disclosure: This article is for information purposes only. There are risks involved with investing including loss of principal. Gerring Capital Partners makes no explicit or implicit guarantee with respect to performance or the outcome of any investment or projections made. There is no guarantee that the goals of the strategies discussed by Gerring Capital Partners will be met.
Disclosure: I am long CVX, PEP, XOM. I wrote this article myself, and it expresses my own opinions. I am not receiving compensation for it (other than from Seeking Alpha). I have no business relationship with any company whose stock is mentioned in this article.
Additional disclosure: I own SPLV, which holds positions in each of the 15 stocks listed in this articles among other stocks in the ETF. I also hold a meaningful allocation to cash at the present time.