Apple (NASDAQ:AAPL) jumped 2% in Thursday's session because Samsung (OTC:SSNLF) was unable to meet the expectations the markets had leading up to the UNPACKED 5 event. The specs for the Samsung Galaxy S5 were below my expectations, and while many would agree that the Galaxy S5 should be able to attract consumers, the device was made with plastic, with a golf ball like exterior for the back.
In other words, the design philosophy that went into the device was below par when compared to Apple and even other Android handsets like HTC and Sony (NYSE:SNE). Samsung needed to come out with something revolutionary, but unfortunately the Samsung Galaxy S5 failed to impress analysts and tech reviewers.
If Apple is able to execute its product launch of the iPhone 6 effectively in 2014, I expect Apple's net income to grow as a result of higher shipment figures.
Apple remains in the dominant position
In the United States alone, Apple continues to pull ahead in market share. This leads me to wonder if Samsung is starting to become accustomed to the number two position in the high-end smartphone space. This is because Samsung didn't release an iPhone killer; instead it released a product that would get killed by the upcoming iPhone.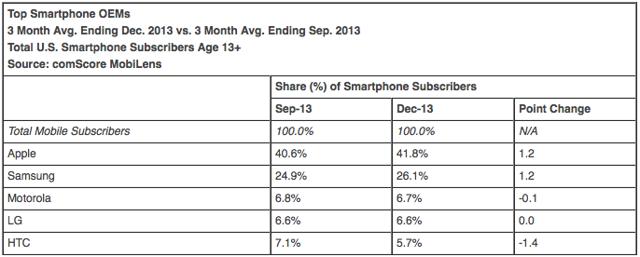 Source: ComScore
Going into the UNPACKED 5 event, Apple stock started to pullback on the announcement of new watches and the Galaxy S5. But looking over the conference, it seems that Samsung still hasn't figured out a way to make a "wow" product, and it tried to imitate health sensor technologies that Apple may or may not be working on.
This indicates that Samsung is heavily influenced by Apple, and the company isn't able to come up with its own unique hardware. For as much as Samsung likes to imitate Apple, however, I'm surprised Samsung didn't implement an aluminum or glass case in its most recent product update.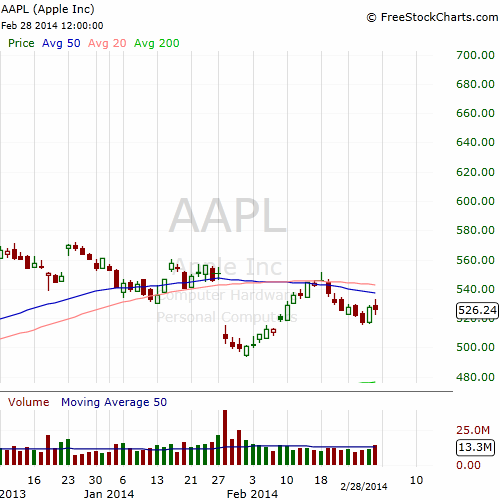 Source: FreeStockCharts
As you can tell, Apple has been able to recover some of its earlier losses in the week. Apple has been able to rally since the $500 level back in February, and ran into some resistance at the 20-day and 50-day moving average. Assuming Apple is able to break above the 20-Day and 50-day moving average, I think the stock will be able to sustain an up-trend. Therefore, I think now would be a good entry point to get into the stock.
The bar is set low for Apple
There were a lot of great articles on sapphire glass in the previous couple weeks on Seeking Alpha. But the general consensus on sapphire glass is more scratch resistance with a slightly negative impact to Apple's gross margin. Some are willing to speculate that a sapphire laminate would be just as effective, and it would mitigate the reduction in screen quality. In either case, it definitely seems that Apple doesn't need to do a whole lot this generation to prove that it has the better phone.
All Apple really needs to do is increase the size of the screen, include better display protection technologies (sapphire), improve the internal hardware (better CPU, more RAM, latest generation modem), increase the color variation (add three more color options), and include an updated version of iOS. Oh, and it also needs to add another unique feature, like it did with its previous iPhone generation (thumbprint sensor). If it can add in another unique ingredient and improve upon all the other facets of the phone, I'm fairly certain Apple will come out ahead of the Samsung Galaxy S5, and the Galaxy Note 4.
Sure, the iPhone 6 may not gain market share against Samsung in the low-end, but there's no doubt that in the high-end, Apple will continue to squeeze out the various OEMs. If that's the case, Apple should be able to grow sales above what analysts are currently estimating.

Source: Yahoo! Finance
The 5.9% and 5.7% sales growth forecasted for 2014 and 2015 by analysts was based on Apple's guidance. So if anything, Apple may have set the bar low enough so that it can easily hop over its own earnings estimates. Doing this has become easier as Samsung's next flagship product is likely to be outdone by the Apple iPhone 6.
Conclusion
While the Samsung Galaxy S5 isn't a bad device, I don't think it's a serious contender in the high-end for the current generation. It included a couple extra gadgets like a heartbeat sensor, and a fingerprint sensor. It seems that Samsung is becoming more heavily dependent on its massive marketing budget than on hardware or innovation. Because of this fact, I don't think Samsung's position in the high-end will improve in any meaningful way going into 2014.
I think that if Apple were to add meaningful improvements to the iPhone, the device could steal market share away from Samsung, and reverse declining sales growth. There's also further upside from the China Mobile deal that should add meaningful year-over-year shipment growth upon the launch of the iPhone 6. Considering all the upside catalysts, I'm convinced that Apple is a buy for 2014.
Disclosure: I have no positions in any stocks mentioned, and no plans to initiate any positions within the next 72 hours. I wrote this article myself, and it expresses my own opinions. I am not receiving compensation for it (other than from Seeking Alpha). I have no business relationship with any company whose stock is mentioned in this article.