The share price of Exxon Mobil (NYSE:XOM) has recently recovered by 7% since early February, largely driven by rise in the overall market as S&P 500 Index has appreciated by 6% over the period. In my view, price upside for XOM would look limited from here as the company continues to face headwinds and the recent run-up would only make the investment more expensive.
XOM's Q4 2013 results missed Street estimates driven by weak earnings from all business segments. In the call, management discussed the following headwinds for a few major projects which I believe would pose downside risk on management's 3% volume growth target for 2014:
XOM's total production in Q4 2013 was down by 1.8% year-on-year primarily driven by slower-than-expected production ramp-up of Kearl oil sands project and Kashagan project. Management noted that Kashagan's miss was a result of production outage due to pipeline leak. The company continued to investigate into the issue and did not provide any guidance for the two major projects.
For Groningen, the Dutch government is going to cut production from the region by approximately a quarter over the next 3 years due to concern that continued production at current level would cause serious geographical consequences (e.g. earthquakes). Given the magnitude of the restriction, the measure is expected to have material negative impact on 2014 production volume.
XOM's onshore production concession in Abu Dubai expired in January, 2014. The company used to generate 140K of production per day in this region.
XOM's cash balance has reached a 10-year low of just $5.3B and leverage has risen to 10-year high of 10.8% at December 31, 2013 as the company's cash spending on dividend and share repurchase has started to exceed free cash flow generation since 2006, and it needed additional borrowing to fund the capital return programs (see charts below).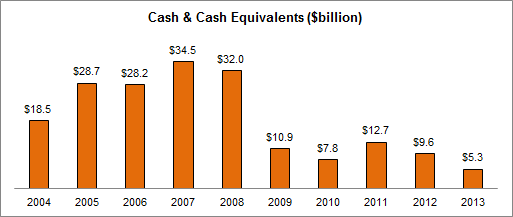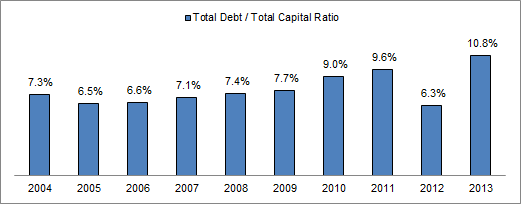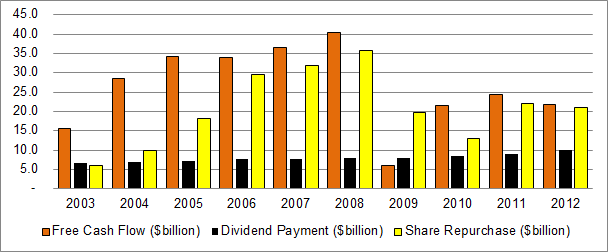 XOM's free cash flow generation in recent years has not been able to revert to its peak level in 2008 as capital expenditure continued to grow steadily in the past 10 years while operating cash flow was only able to achieve its peak level in 2008 (see chart below).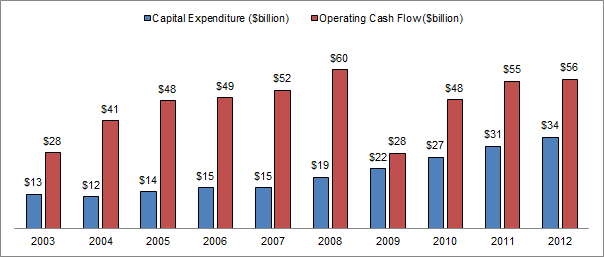 Given my views that 1) the company's production in 2014 may not experience notable growth due to the headwinds mentioned earlier; 2) capital expenditure is likely to remain high in 2014 as spending on major projects continues; and 3) XOM needs approximately $30B to $35B in 2014 in order to maintain the current pace of dividend growth and share buyback size, which considerably exceeds the current cash balance of just $5.3B, I expect the company to incur additional borrowing to fund its capital return plans, which is a negative sign to shareholders.
Despite the above, XOM continues to trade at premium valuations over its mega-cap peers (see chart below).

The stock's 2015 forward P/E multiple of 12.2x is 20% above peer average and its 2015 forward EV/EBITDA multiple is at a 28% premium. Consensus estimate predicts XOM's earnings to grow by just 4.6% over a long term, compared to peer average at 5.0%. By factoring in the earnings growth potential, XOM trades at 2.7x PEG ratio, representing an 18% premium over peer's average PEG. Given that 1) XOM has the lowest dividend yield and 2) there are better investment opportunities in the mega-cap oil & gas space (see my article for ConocoPhillips (NYSE:COP) and Chevron (NYSE:CVX)), I believe market XOM's valuation upside is limited.
In summary, XOM's valuations seem stretched based on the company's current fundamentals, presenting a mediocre or even a weak risk-reward profile. As such, I wouldn't recommend buying the shares at the current level.
All charts are created by the author and data used in the article and the charts is sourced from S&P Capital IQ, unless otherwise specified.
Disclosure: I am long XOM. I wrote this article myself, and it expresses my own opinions. I am not receiving compensation for it (other than from Seeking Alpha). I have no business relationship with any company whose stock is mentioned in this article.