The week ahead brings much uncertainty to global markets and is likely to lead most investors to take risk off this week. The degree of capital flight I see ahead will depend significantly on developments throughout the weekend on the Crimean Peninsula in the Ukraine. However, let there be no confusion, developments in Russia through Saturday morning call for taking risk off the investment table ASAP.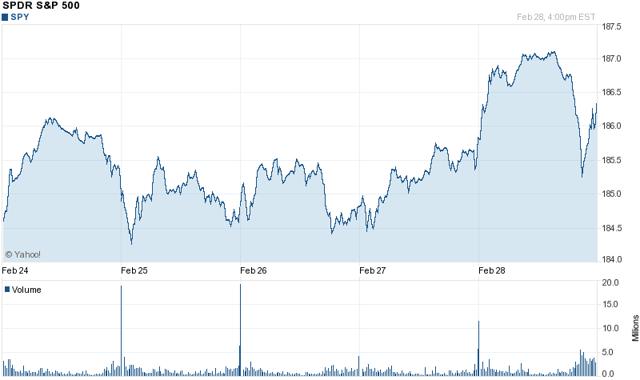 Stocks got a lift on Friday and the SPDR S&P 500 (NYSEARCA:SPY) shot higher in the early going Friday despite what was occurring in the Ukraine moment to moment. The reason for the gain was critically more important to investors in America, as U.S. economic data provided reassurances about a recently questionable situation here at home.
The first factor that gave stocks room to rise was the testimony of Federal Reserve Chair Janet Yellen on Thursday. Her reassurances again supported a floor for stocks. Then on Friday, GDP was revised lower, but that was expected by economists going into the day. Q4 GDP was marked down to a growth pace of 2.4%, cut from the advance estimate of 3.2% growth. The data that followed offered unexpected improvement and injected a note of confidence into investor sentiment.
First, the Chicago PMI data showed that conditions held steady in the Midwest recently despite an ongoing onslaught of weather. The Chicago Purchasing Managers Index was expected to deteriorate to a mark of 56.4 from the previous level of 59.6. Instead, the Chicago PMI improved to 59.8, injecting energy to securities trade.
Consumer Sentiment, as measured by Reuters and the University of Michigan, likewise offered an upside surprise. In its last check for February, the Consumer Sentiment Index gained to 81.6 from 81.2 in mid-February; that was a better read than economists expected as well, with the consensus estimate set for a gain to 81.5. Recent reports from retailers have offered reassurances about the economy as well, with good earnings reports this past week from major retailers including Target (NYSE:TGT) and even Sears (NASDAQ:SHLD).
Finally, the struggling housing market was supported by news that Pending Home Sales improved, with the index measuring contract signings for existing home sales (not new homes) steadying after a December plunge. The Pending Home Sales Index gained to 95.0 in January, from a revised higher December level of 94.9 (92.4 initially). It's not the best news, but it at least offered hope for a settling market ahead of the spring selling season.
| | | | | |
| --- | --- | --- | --- | --- |
| Sector Security | Friday | Last Week | Year-to-Date | Last 12 Mos. |
| SPDR S&P 500 | +0.25% | +1.3% | +0.9% | +22.5% |
| SPDR Dow Jones (NYSEARCA:DIA) | +0.29% | +1.4% | -1.5% | +15.8% |
| PowerShares QQQ (NASDAQ:QQQ) | -0.11% | +0.9% | +2.7% | +34.1% |
| SPDR Gold Trust (NYSEARCA:GLD) | -0.45% | +0.03% | +9.9% | -16.3% |
| PIMCO Total Return (NYSEARCA:BOND) | -0.33% | +0.04% | +1.7% | -2.9% |
| United States Oil (NYSEARCA:USO) | +0.14% | +0.1% | +4.0% | +12.2% |
The Important Geopolitical Catalyst
The geopolitical catalyst in Ukraine hardly impacted securities last week, with each of the sector measures above here gaining through the period. It was perhaps a sign that capital was getting to work throughout the investment spectrum. But what is not clear in the table above is what happened as investors started worrying about what was happening in the Ukrainian territory of Crimea. Sharp gains in stocks and the SPY backed off as the day neared its close. If not for the geopolitical catalyst, stocks and the SPY would have finished sharply higher on the day.
Geopolitics are often insignificant to U.S. investments, but in this case, it involves a major power moving against a sovereign nation of significance that is seeking western support. When Russia took action against the Republic of Georgia years ago, the west backed off and let Russia have its way. In this case, a much larger nation which borders the European Union is seeking closer partnership with the west after struggling to free itself from Russia's grip for more than two decades now.
Developments to this hour have worsened as I author this piece on Saturday morning. Importantly, after the close of trading on Friday, President Obama said that any violation of Ukrainian sovereignty would have "costs". The reported violations of Russian troops into the Ukraine, under the guise of paramilitary Crimean interests, have since been followed by a unanimous Russian Parliament (Upper House) approval to send Russian troops into Crimea. Also, the Russian Parliament has decided to recall its Ambassador to the United States, sending a very ominous message.
Over the days that follow, the situation could deteriorate depending on what Russia seeks, and whether it simply protects its military assets in the region or whether it seeks to annex Crimea, perhaps under the guise of supporting local interests there. It appears Russia is moving towards what would be considered the worst case scenario in the west. There is a possibility of a stronger response from NATO and/or western nations than occurred with regard to the Republic of Georgia, especially if the Ukrainian military engages the Russians in a serious manner and pays for it in and beyond Crimea.
So, given that we have a major world power taking an aggressive position that the United States opposes, investors should take risk off this week. That means capital will come out of riskier assets including stocks and the SPDR S&P 500 and move into flight to safety interests including gold and the SPDR Gold Trust . Selling and/or fear of others' selling will very likely dictate a selloff to start the week next week in this author's view. I suggest investors pay close attention to developments through the rest of the weekend to determine best investment direction. But as this situation is in its early stages, I would not buy on any declines, and rather ensure the situation does not get even worse. The gamble of going long too early on hope of a passive position from Putin's Russia is too high in my view, if not irresponsible risk-taking.
Disclosure: I have no positions in any stocks mentioned, and no plans to initiate any positions within the next 72 hours. I wrote this article myself, and it expresses my own opinions. I am not receiving compensation for it (other than from Seeking Alpha). I have no business relationship with any company whose stock is mentioned in this article.