When a company exhibits a better-than-expected quarter, most investors have a tendency to add that particular company to any one of a number of watch lists. With that being said, and in the case of SandRidge Energy (NYSE:SD), I not only wanted to highlight the company's solid Q4 performance but also note a number of reasons why this particular oil and gas play is currently on my radar.
Recent Performance and Trend Behavior
On Thursday, shares of SD, which currently possess a market cap of $3.06 billion, a forward P/E ratio of 180.86, and a gross margin of 48.60%, settled at a price of $6.33/share.
Based on a closing price of $6.33/share, shares of SD are trading 0.52% above their 20-day simple moving average, 4.11% above their 50-day simple moving average, and 11.90% above their 200-day simple moving average. It should be noted that these numbers indicate a short-term, mid-term and long-term uptrend for the stock, which generally translates into a moderate buying mode for both near-term traders and long-term investors.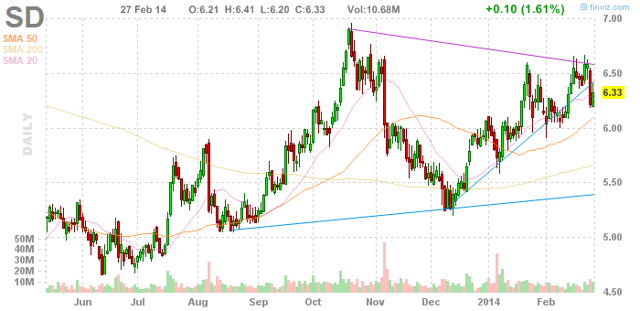 Although these numbers indicate somewhat of a buying mode for long-term investors, I strongly believe we could see the company's 20-day, 50-day, and 200-day simple moving averages improve in the wake of its stellar Q4 performance in which the company surpassed EPS estimates by a margin of $0.03/share and revenue estimates by an a margin of $11.72 million.
A Look At SandRidge Energy's Q4 Earnings
On Thursday, February 27, SandRidge Energy reported the results of very solid fourth quarter. Analysts had been expecting the company to earn $0.00/share on revenue of $453.38 million; however, SD impressed both investors and analysts when the company reported earnings of $0.03/share on revenue of $465.1 million. Contributing to the company's solid Q4 results was the company's lowest Mid-Continent operating cost to date of $6.91 per boe and an average Mid-Continent well cost of $2.9 million.
If SandRidge can continue to lower its Mid-Continent well costs to a near term range of $2.75 million-$2.85 million over the next several quarters, there's a very good chance the company can meet and/or exceed its both full-year EPS and revenue estimates which are calling for SandRidge to earn $0.04/share in terms of EPS and $1.61 billion in revenue.
Full-Year Oil & Gas Revenues Demonstrate A Solid Jump
SandRidge Energy's full-year oil and natural gas revenue increased 3% to $1.82 billion in 2013 from $1.76 billion in 2012 as a result of increases in average prices received for oil and natural gas production. The company's realized prices increased 6.31% to $97.58 per barrel of oil (versus $91.79 in prior year) and 34.93% to $3.36 per Mcf during 2013 (versus $2.49 in prior year).
The company's total production for 2013 was consistent with its total production for 2012 even though a 67.77% increase in Mid-Continent production and a 24.13% increase in Gulf of Mexico/Gulf Coast production took place.
(Source: SandRidge Energy Earnings-Related Press Release)
If the company can demonstrate steady increases in the average prices received for both oil (an estimated annual increase of 4%-4.5%) and natural gas (an estimated annual increase of at least 8%-10%), as well as a continued increase in both its Mid-Continent and Gulf of Mexico/Gulf Coast-based production, there's a very good chance the company's full-year revenues for 2014 will also increase by a considerable amount.
SandRidge Demonstrates Significant Decrease In Long-Term Debt
One of the more important things investors need to keep in mind when it comes to a company such as SandRidge is the company's current capital structure and how that particular structure changes on a year-over-year basis.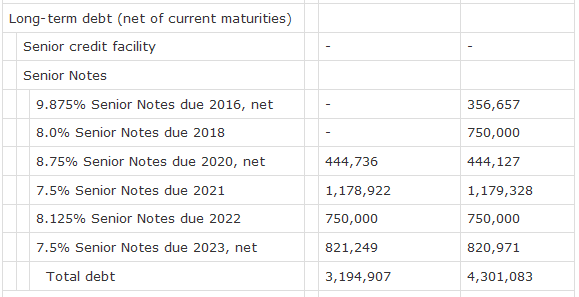 (Source: SandRidge Energy Earnings-Related Press Release)
When it comes to SandRidge, investors, in my opinion, should be pleased with fact that not only did the company's total debt decrease by $1.1 billion, its liquidity (as of Feb. 24) increased to $2.1 billion as a result of its Gulf of Mexico asset sales which generated $1.35 billion in cash.
Recently Disclosed Justice Department Probe
Recently, SandRidge disclosed that it had received a subpoena from the US Department of Justice back in December of 2013. This subpoena is part of a probe into potential antitrust violations during the purchase or lease of land, oil or natural gas rights.
Although no further details were discussed, it is believed by some that the subpoena is related to the company's prior management-related activities under the direction of former CEO Tom Ward (who was ousted after an independent review by Mayer Brown LLP found Mr. Ward was behind a number of deals between SandRidge and several family-related entities).
Why isn't this something to be ignored? I believe that although this may have nothing to do with the company's current operations, it could have something to do with the way SandRidge operated under the direction of Mr. Ward and a number of other entities the Ward family either controlled or operated.
If the Justice Department's probe finds that SandRidge had engaged in activity that was in violation of US antitrust laws, it could impose fines and/or penalties that could reach the hundreds of millions of dollars and have a direct impact on the company's current cash position, which stands at $2.1 billion (if we include the cash generated by the recent sale of its Gulf of Mexico assets).
Risk Factors (Most Recent 10-K)
According to the company's most recent 10-K there are a number of risk factors investors should consider before establishing a position. These risk factors include but are not limited to:
#1. Drilling for and producing oil and natural gas are high risk activities with many uncertainties that could adversely affect the company's business, financial condition or results of operations.
#2. Oil and natural gas prices fluctuate due to a number of factors that are beyond the company's control, and a decline in oil and natural gas prices could significantly affect the company's financial results and impede its growth.
#3. The company's estimated reserves are based on many assumptions that may turn out to be inaccurate. Any significant inaccuracies in these reserve estimates or underlying assumptions could materially affect the quantities and present value of the company's reserves. The company's current estimates of reserves could change, potentially in material amounts, in the future.
Additional Risk Factors
Aside from the above-mentioned risks as noted in the company's most recent 10-K, there are a few additional risks potential investors need to keep in mind before establishing a position in SandRidge. These factors include but are not limited to the following:
#4. Anytime a company such as SandRidge is issued a subpoena with regard to antitrust or anticompetitive practices, investors need to be aware that a near-term fallout could occur if SandRidge is found to have engaged in such practices.
#5. Although SandRidge is considered to be the "first mover" of horizontal Chester development targeting oil, with plans to rapidly accelerate the program in 2014 with 12 additional wells online by the end of Q2 (as noted in Friday's conference call); there are various things that have the potential to go wrong. For example, there is always the possibility that all 12 wells may not be online by the end of Q2 and the possibility that full-year production may not meet initial estimates since such things as unexpected downtime aren't yet accounted for.
Conclusion
For those of you who may be considering a position in SandRidge Energy, there are a number of things I'd keep a close eye on over the next several months. For example, I strongly recommend keeping a close eye on both the company's ability to continue to reduce its long-term debt over the next 12-24 months and its ability to continue to demonstrate steady increases in the average prices received for both its oil & natural gas production over the next 12-24 months.
Disclosure: I have no positions in any stocks mentioned, but may initiate a long position in SD over the next 72 hours. I wrote this article myself, and it expresses my own opinions. I am not receiving compensation for it (other than from Seeking Alpha). I have no business relationship with any company whose stock is mentioned in this article.