Just over a month ago, we took a look at Metals USA Holdings Corp (MUSA) after it's IPO. The private equity firm Apollo Group was the primary beneficiary with a convoluted transaction where MUSA would issue primary shares (with the capital proceeds paid to the company) but would then be required to make a payment to Apollo Group which basically represented the capital from the IPO price.
This transaction seemed bound to be a poor deal for investors who were really just funding Apollo's exit. And sure enough, the stock dropped from the offering price of $21 down to Wednesday's closing price of $14.80. That means investors in the actual IPO lost nearly a third of their capital over just about six weeks. Of course, the economic weakness and concern in Europe has helped to speed up the decline.
At this point, MUSA may be at a level low enough to consider buying. Forward earnings expectations are robust as the company has cut costs and is now operating more efficiently. The first quarter earnings report showed the company eking out a small gain which was better than management's previous guidance for modest losses. According to the press release, management appears relatively upbeat about future prospects:
Market conditions continue to improve, as we see increases in customer inquiries and order volumes. Raw material prices continue to rise and metal prices are following. ~Lourenco Goncalves, CEO
Analysts are expecting the company to earn $1.16 per share this year compared to a loss of 52 cents last year. In 2011, the expectations are for earnings of $1.94. So at the current price below $15.00, investors can pick the stock up for 13 times this year's earnings and less than 8 times next year's expectations. Of course those estimates aren't a given, but at this point the risks seem more contained with the stock trading at such a discount to the IPO price.
The prospect for the company to be acquired shouldn't be overlooked. With MUSA's market cap now approaching a half billion (from above) the company is well within the reach of larger metal conglomerates wishing to increase their business lines. Heck, Apollo Group could step in and buy the company again pocketing about $250 million and still owning the same company it started with before the transaction.
Fears of deflation and weak demand cannot be simply overlooked. But traders who bought on the IPO have likely pressured this stock down to a place where it makes fundamental sense to own. Investors will have to be patient, but could see a significant return if they weather volatility and hold the stock for 6 to 12 months.
High debt levels may continue to cause concern, but this is standard operating procedure for the capital intensive metal industry. The company has a healthy level of inventories, productive property and equipment, and has reduced costs to allow for healthy cash flow into the business. So despite the macro headwinds, I would cover shorts at this point and consider picking a few spots to add exposure cautiously.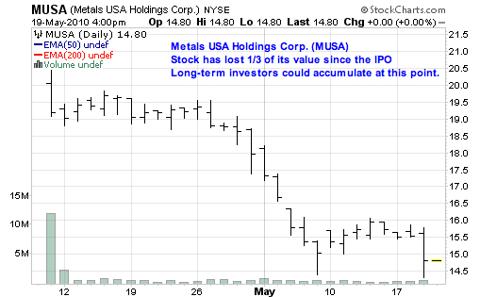 Full Disclosure: Author does not have a position in MUSA