The recent drought in California has affected everything from tomato prices to wine sales. Another victim perhaps will be the pickup truck--specifically those of Ford (NYSE:F) and General Motors (NYSE:GM).
The State of California is the nation's largest agricultural producer at $44.7 billion a year. The California Farm Water Coalition anticipates a $5 billion hit in 2014 from lost revenue--about a 9% loss. Ryan Jacobsen, the executive director of the Fresno County Farm Bureau, expects that 25% of irrigated field and orchards in the county will lay unplanted. That's a big decrease in farmers' pocket money.
California Farmers own 57% of all trucks and pickups used on farms. Mark Fields, Ford Motor Co.'s president of the Americas, has said that
When farmers have a good harvest, they invest in their businesses and a pickup is a tool.
And obviously, the opposite is also true. Following a 2012 drought in the Midwest, pickup sales dropped 15%, which was attributed to a large drop in overall revenue: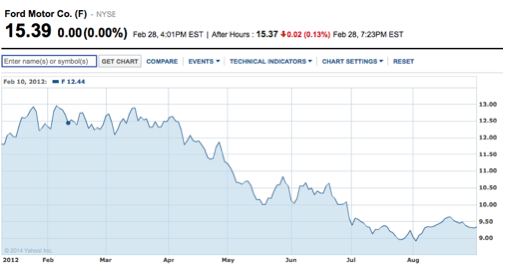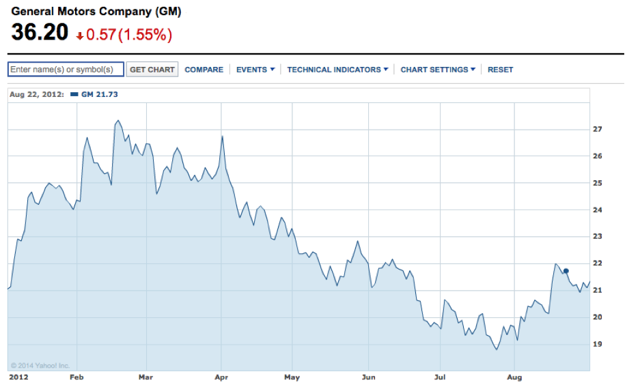 Farmer Clay Kelly says that
When folks get a good crop, everybody gets a new pickup truck. There's not going to be many new pickup trucks running this year.
In fact, around 37% of agricultural workers buy a new truck once every three years. Ford's SuperDuty trucks' motto is "We Own Work," clearly catering to farmers and other blue collar workers. Although Ford and GM (who have a combined 70% market share in American pickup sales) had their best year in 2013 since the 2008 recession, they will only see the potential impact after the farming season is over this spring.
Autoguide describes the pickup truck as:
an icon that embodies the working spirit. It's every blue collar employee's calling card and farmer's best friend. Truck buyers grow especially close to their vehicles as trucks are a key tool in earning a living, depending on them to last through days and years of service.
This man-and-machine relationship breeds intense brand loyalty, with some families staying true to a brand for years. When a farmer is given the choice to buy a new pickup from an American company or a foreign one, like Toyota Motors (TM), he will probably select the American one. Nearly every farmer has acquaintances who work at these American motor factories, and wish for them to retain their jobs. The chart below shows the dominance of American companies, specifically that of Ford.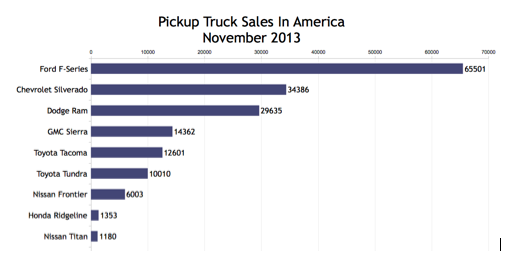 So when farmers have weak harvests and lower-than-usual income, they are less inclined to buy a new version of a pickup truck, and decide to make-do with their current one. Ford and GM should see rather significant long-term drops in the coming months that can potentially last until the holiday season (when most cars are sold) when a rebound is possible.
Disclosure: I have no positions in any stocks mentioned, and no plans to initiate any positions within the next 72 hours. I wrote this article myself, and it expresses my own opinions. I am not receiving compensation for it (other than from Seeking Alpha). I have no business relationship with any company whose stock is mentioned in this article.