Like many readers in the SA community, Seeking Alpha's Top Ideas are one of my best sources for solid investment ideas. In fact, my best investment thus far in my short investing career was derived from SA Top Ideas. An anonymous author that I now know personally, BuyTheDip SellTheRip, wrote a great article highlighting the turnaround at Career Education Corp. (NASDAQ:CECO). After reading the article, I was so excited about the stock that I felt I had to put it through my own due diligence process. I typically produce an article on every company I research as a way of structuring my research and keeping myself honest, and this was no exception. I wrote an article of my own a few days later, recommending shares at $4.90 and buying at that price simultaneously. Yesterday I sold my shares at $7.74 for a 58% gain in 2 and a half months. The same day that I sold my shares of CECO, I just so happened to read another Top Ideas article that is remarkably similar to CECO and I believe will play out similarly. Another anonymous author, Dr. Hugh Akston, wrote an article, Ruby Tuesday: A Ruby in the Rough, recommending the purchase of Ruby Tuesday (NYSE:RT) shares. With CECO on my mind, I was really astonished at how similar the two stories are and now after doing my own research, I feel even stronger about that. Similarities between CECO and RT include:
Similar revenue base ~$1B
Both historically low margin businesses in competitive industries
Extremely high operating leverage (quicker deterioration, quicker turnaround)
Recent management change
The RT article concludes 64% upside and I came to a similar 63%, very close to my return on CECO
Insider buying, primarily by the CEO in both cases
Poor operational trends (new student enrollments/same restaurant sales and other metrics) until recent improvement materialized in the last 1-2 quarters
A large, hard asset on the balance sheet limiting downside that is underappreciated by the market (Cash proceeds from the sale of International business for CECO, real estate holdings for RT)
Mid-single digits stock price
I could keep going. The point is that the situations are very similar and the money I made in CECO bodes well for RT.
Business Overview
Dr. Hugh Akston's article does a much better job than I could in giving background on the company. I don't feel there's much originally content for me to add here so I'll move on.
Indicators
Maybe it is faulty logic, but I derive a good deal of security from purchasing stocks closer to 52 week lows than 52 week highs, especially for turnaround plays. The chart is promising.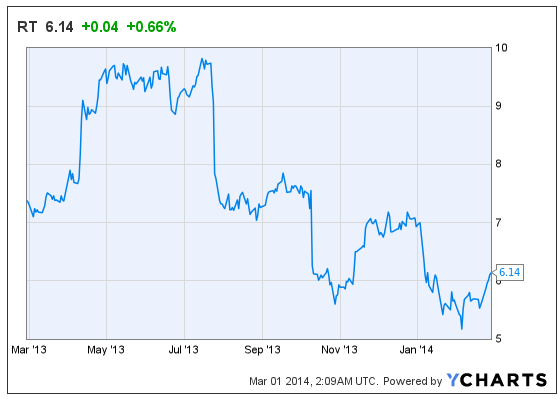 Days to cover is now at 7.74- substantial enough to indicate negativity and skepticism surrounding the name and to be a slight boost to demand on good news, but not enough to cause a major short squeeze. Still, as a contrarian, I find it meaningful.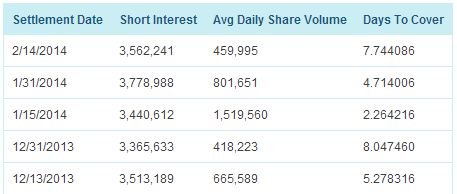 Source: Nasdaq.com
There have been several significant share purchases by insiders recently:

Source: SECForm4.com
Most significant has been CEO JJ Buettgen's total purchases of 150,000 shares at an average price of $5.80 per share for a total of $870k. Insider buys of that size for a company of Ruby Tuesday's size are always meaningful, but even more so when it comes from the CEO who is spearheading the operational turnaround.
Health of the Business
The screenshot below displays the metrics that I feel paint the most vivid picture of the health of a restaurant business. Before moving any further, it's important to note that the income from operations and operating margin figures I include are exclusive of all unordinary expenses, even closures and impairments that the company has not been drawing out. I feel this is a more pure number.
In general, the numbers show rather severe deterioration in the business from Q3 2013 to Q1 of this year, followed by definitive improvements in nearly every metric in Q2, and further improvements suggested by very strong same restaurant sales guidance for the remainder of the fiscal year.

Same restaurant sales in both company-owned and franchises weakened sequentially in both Q4 2013 and Q1 2014, but improved significantly in Q2.
I strongly suggest looking at the revenue, operating margin, and cash from ops numbers with a focus on YOY comparison, because restaurants are a seasonal business. For example, operating margin in Q2 came in 145bp worse than Q1, but 208bp better when you look at the YOY decline. It's no difficult task to check whether the business is seasonal and indeed it looks pretty clear that it is. Q2 has pretty clearly been the company's weakest quarter in the last 5 years.

Source: YCharts.com
What I've found in assessing turnarounds is that in some businesses, cash from operations tends to lag business trends and be relatively useless and distracting, while in others it is an extremely useful leading indicator that can be used to detect operational improvements, even before widely-followed numbers like same restaurant sales. A lot hinges on the timing of how the company collects payments. It seems that for education companies and retailers for example, cash from operations isn't very helpful because the number gets distorted at retailers by wide fluctuations in inventory and at education companies by fluctuations in receivables and unearned revenue. In the restaurant industry, however, where payment is typically collected at the point of sale and inventory turnover is much higher, I am apt to give the number more attention. Indeed, cash from operations YOY has been improving significantly since Q4 at RT, preceding improvements in all the other metrics I detailed.
In general, it certainly seems like the business is improving. I've been saying this in all my articles, but I think it's crucial to include so that my readers understand my approach to turnarounds. I firmly believe that the best way to approach turnarounds is to first confirm that the business is definitively improving, that it is already in the process of turning, before investing. By waiting, you likely will miss out on the best price, but many, many turnarounds never materialize and a 100% loss will destroy your track record and credibility for several years. As Warren Buffett says, "Rule No.1: Never lose money. Rule No.2: Never forget rule No.1." 10-20% returns are not difficult if you do not lose money during the course of the year. To actually preserve capital in practice requires an honest, conscious attitude towards risk assessment. You need to ask yourself, "Do I know with any degree of certainty that this thing is going to turn?" If the answer to that question takes an internal struggle to answer 'yes,' it's probably too risky. If your answer is a straight 'no,' it's definitely too risky, pending shares aren't being given to you for free. Eventually though, every turnaround has to reveal itself to the world. If you can't honestly identify definitive improvements in the business, the best thing to do in my opinion, is to wait until you can. If a turnaround is to be, eventually you'll know, so long as you're looking in the right places. Again, you probably won't get the best price by doing this, but in my experience, many proven turnarounds are still reasonably cheap, if not downright juicy like I believe RT to be.
So that's my approach to turnarounds and my entire purpose for this section. I wanted to establish that RT is definitively improving and indeed I can honestly say it is.
Valuation
I am of the view that far too many authors are too secretive and vague in explaining how they come to their valuation conclusions and I feel that that seriously hurts their credibility and limits the effectiveness of the article. For that reason, I will be as transparent and thorough here as possible. My valuation method in assessing turnarounds is not rocket science. I tend to use DCF for steady, high performing firms; DFCF and DDM for non-financial firms and financial services firms respectively. Turnarounds are extremely difficult to model though and I feel that attempting to model them creates a false sense of precision and certainty that can lead to poor investment decisions. Instead, I tend to just do a rough EV/FCF analysis.
Before I show the output I first want to go through all my assumptions and the reasoning behind them.
I am assuming revenue of $1,147.97M for fiscal 2014. This number implies a 5% YOY decrease in revenue in the 2H of the year, which I believe follows from the trend in total revenue YOY from Q1 to Q2 and the promising guidance for same restaurant sales in the 2H.
I am assuming a normalized cash from operations/revenue margin of 3.5%. This may be foreign to many readers. I am not assuming that this is the actual margin that RT will attain this year. Rather it is the long-term, sustainable average that I am applying to the business for the future. This reflects my view that long-term sustainable averages are more important in driving value than results in any given quarter or year. 3.5% is certainly low, but the restaurant industry is fiercely competitive and Ruby Tuesday has historically been a low margin business. Right now, on a trailing basis, the company is at about 3% so there is some improvement embedded in my assumption, but not much.
I assume maintenance capital expenditures of $26M. This is based on the midpoint of management's guidance excluding the non-recurring portion:
Capital expenditures are estimated to be $29 million to $33 million for the year, inclusive of approximately $5 million in capital initiatives to drive expense savings.
I assume a 'fair' multiple of 8x to assign to normalized FCF I calculated in order to value the continuing operations. 8 is rather low but I feel it is suitable for a business that is improving, but in a tough industry and just coming out of a difficult time. RT is also not a high-growth firm.
I assume $37.52M in current value of the company's tax loss carryforwards. The company currently has a valuation allowance of $45.4M. Management 'expect[s] to eventually reverse this reserve when we generate sufficient levels of pretax income in the future.' I figure it will take 2 years for the benefit to be fully realized and so I discounted the $45.4M for two years at a 10% discount rate.
I assumed the Ruby Tuesday brand is worth $15M. Goodwill on the Lime Fresh brand has been completely written off and the Ruby Tuesday brand goodwill that was acquired through the acquisition of franchise partnerships has also been impaired off. There is now no goodwill on Ruby Tuesday's balance sheet and yet the company has been around for 40 years and has a brand that 4 generations of Americans are familiar with. There are 12 Ruby Tuesdays within 50 miles of my permanent address, so the area is more heavily exposed than the average area in the US, but it's still worth mentioning that the Ruby Tuesday brand is deeply recognized here. I compared Google Trends search query data for 'Ruby Tuesday' with other major restaurant brands and found that while the brand is far from superior, it does hold its own when pitted up against some of the strongest restaurant brands in the US. Considering that my personal experience suggests brand strength, the brand houses 783 restaurants, 77 of which are franchises, and the brand has been built over 40 years and has generated nearly $14B in revenue in the last 10 years, I think there is certainly some value in it and even if I assign just $15M, at this price that is pretty substantial.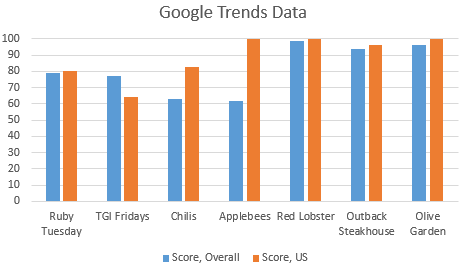 I assumed real estate value of $685.8M. I used the same data Dr. Hugh Akston used from sale leaseback transactions from 2012, 2013 and the first half of this fiscal year, as well as the revolver appraisal, but wanted to calculate the result myself because it is such a critical piece to the value of the company. The only difference between our valuations is the discount. He calculates a value identical to mine but then applies a 10% discount to be conservative. I did not apply any discount. I am all for being conservative but I generally try to be as accurate as possible at this point and then demand a large margin of safety from my estimated fair value per share output.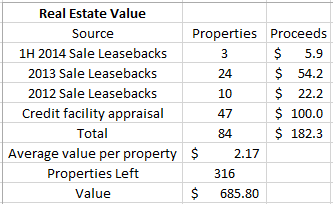 Below is the valuation screenshot itself: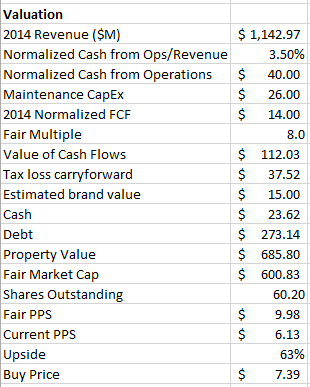 As you can see, I come up with a fair value estimate of just under $10 per share, implying 63% upside. The 'buy price' of $7.39 marks the price at which I would attain exactly my 35% demanded margin of safety/upside. Since shares now trade substantially below that at $6.13, I am most definitely a buyer. I would also add that based on the current speed of operational improvements and the fact that my valuation does not account for too great an improvement in the business (most of the value is derived from the real estate, not the operations), I expect most if not all of this upside to be realized in the next 12 months. A 60% return in one year is very compelling and given that improvements in the business are already being seen and much of the value is not even derived from the business itself, I don't consider the risks I am accepting to be too great.
Conclusion
Dr. Hugh Akston put a great company on my radar at an opportune time and I am grateful for that. I did my own research and ended up buying shares equal to about 10% allocation in my portfolio. I believe this is the next CECO in the land of opportunistic turnaround investments. If shares get down to $5.50 on no news, I will probably double my position. In this article, I've attempted to present the RT story in my own way, add original content, and share my approach to turnarounds. I sincerely hope it is helpful.
Disclosure: I am long RT. I wrote this article myself, and it expresses my own opinions. I am not receiving compensation for it (other than from Seeking Alpha). I have no business relationship with any company whose stock is mentioned in this article.