With President Vladimir Putin placing Russian forces in the Crimea and threatening to invade mainland Ukraine, North American investors must be wondering what they will wake up to on Monday.
I have a few thoughts on this latest crisis. I also think Canadian small-cap stocks such as Longview Oil (LGVWF), Surge Energy (OTCPK:ZPTAF) and Crew Energy (OTCPK:CWEGF) could benefit from a likely spike in the price of WTI and Brent international crude oil.
Stock market indices in North America and Europe could take a tumble next week, because the threat of war causes investor risk-aversion and a rush to the safety of the US dollar and treasuries.
Middle Eastern stock markets, which are open on Saturdays, were unfazed over events in Ukraine yesterday. But we'll get an early indication of how the more important markets may react when Japan, Hong Kong and the rest of Asia open tonight.
And the all-important NYMEX WTI and ICE Brent crude oil futures will open at 6pm EST for electronic trading. My bet is "up", in spite of a potentially stronger USD.
We are in the first week of the month, which contains important US economic indicators such as the Institute for Supply Management manufacturing and services indices and ends with the February US non-farm payrolls and unemployment rate, which could be weaker than expected.
Much of the weakness in recent US economic data has been blamed on the extraordinarily cold and snowy US weather, with good reason. Yet another winter storm is threatening to impact the East Coast today and tomorrow.
In my experience stock markets, in spite of all their ballyhooed ability to discount the future, often seem dull to impending events and then suddenly wake up to "bad news" in hurry. This could be one of those cases.
My wife and I, both world events and sports junkies, watched both the Ukrainian protests and the Sochi Olympics, and we winked to each other that Putin would be sending the tanks in as soon as the closing ceremonies were over. Seems that is going to be the case.
Let's look at some history.
When Saddam Hussein of Iraq invaded Kuwait, the DJIA lost 14.3% in the 16 trading days between August 1 and 22, 1990.
However, the market did not fall as much as one would think. And it rallied the day in January they bombed Baghdad. Why?
Because the market correctly deduced the USA and its allies would intervene with overwhelming force and kick him out. And that's what happened.
Unfortunately, Putin has figured, quite rightly, he has the upper hand in Ukraine, with the 2008 Georgian incursion as his playbook. Russia annexed South Ossetia and Abkazia, and there was little the West could do about it, or has done about it.
US President Obama knows you don't begin a fight you can't win.
Hence, the verbal posturing. "Russia's continued intervention violation of international law will lead to greater political and economic isolation," Obama told Putin on the phone, according to The Australian. Maybe so, but not particularly scary.
As someone once told me - "If you do, you can. If you don't, you can't".
What about economic sanctions and the boycott of oil exports, which eventually worked against Iran's nuclear ambitions? Clearly, a way to deter a habitual bully is to hit him in the pocketbook.
Russia is the third largest crude oil and liquids producer and second largest exporter after Saudi Arabia, with 10 million barrels per day produced, of which over 7 million bbls/day are exported.
Over 50% of Russian federal government revenues come from oil and gas (Energy Information Administration).
Russia's biggest oil customers in 2012 were Germany (~700K), the Netherlands (550K), China (500K), Poland (460K) and Belarus (420K).
Much of Russia's 7.2 million oil and condensate exports went to Western Europe and any interruption of these supplies would cause economic tumult in the EU-27. Another 2.2 million barrels per day of oil products were also exported.
Russia also provides the natural gas that heats many of the homes of the residents of Europe (and Ukraine).
The share of Russian natural gas exports in 2012 were split between Germany (24%), Eastern Europe (24%), Turkey (19%), Italy (11%), UK (6%), France (5%) and other Western Europe countries (10%). Ukraine is heavily dependent on Russian natural gas for its residential heating and industry, including fertilizers.
In my view, it's a non-starter to boycott Russian fossil fuel exports. And I don't expect German Chancellor Angela Merkel and Germany to support any measures. We have heard the obligatory call for restraint from the German Foreign Minister Steinmeyer already.
And there won't be much appetite for stiff economic measures against Russia in the European Parliament, which faces elections this year.
One big opportunity I see would be for the US to allow greater crude oil exports, and begin taking share of Russian oil going to Western Europe. I think the Keystone XL pipeline may become a beneficiary of the tensions with Russia and Venezuela as well.
Liberalized exports of oil from the USGC would allow the US to flex its muscles using growing and surplus light oil production at home to take market share from Russia and cut its importance to Europe. However oil exports are a long way from being authorized.
Russia's power is born from oil, and therefore oil might be the key to weakening its clout.
Here is a good article from Bloomberg News about the chances for oil exports getting more traction from the US Congress.
This is one reason I like Canadian light oil producers. If the US decides to export more oil (not to Canada!), the Canadian companies should do better, because the US will need to replace exported light oil, increasing demand from Canada, where light oil production has been steadily increasing. Note that Canadian light oil has not been subject to the recent testing sanctions imposed on the US Bakken producers.
No, the best thing for the stock market would be for the US and its allies to bark, but forget about biting the Russian bear in Ukraine.
Similar to Egypt when the Arab Spring brought forth thoughts of an oil price crisis, Ukraine imports more oil than it produces. The country produced only 80,000 bbls/day and imported 238,000 bbls/day in 2012, probably from, you guessed it, Russia.
The Egyptian crisis caused oil to rise due to fears the Suez Canal would be impacted, a major trade route for crude oil tankers. Similarly, a war in the Black Sea would impact both crude oil, grain and fertilizer exports from countries bordering that water body. I am also concerned whether any increase in protests in Venezuela will see its 750,000 bbls/day of exports to the USA be impacted.
All in all, I think there is interesting upside on Canadian light oil and natural gas stocks, due to the weather, and also the US might suddenly feel Canada is a friend in a pinch, with more secure oil supplies than other countries.
The Canadian Edmonton Par price, also called Mixed Sweet Blend, has been more closely tracking WTI and has benefited from a 10% depreciation in the Canadian dollar against the greenback over the past several months. The currency hasn't been this cheap since 2009, and provides both extra revenues for oil producers, but also a lower entry price for foreign investors.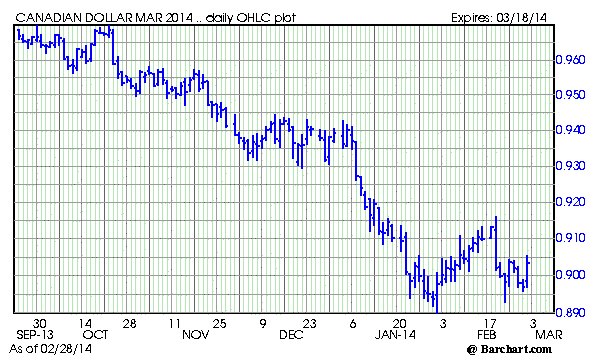 Recent postings by major Canadian refiner Imperial Oil (NYSEMKT:IMO) indicate a Canadian light oil price of $718/m3 or $114.15 CAD per barrel. Actual realizations by the companies I am recommending depend on quality and locational discounts, and the ability to obtain pipeline space.
Enbridge (NYSE:ENB) recently announced a 35% apportionment for March nominations on its Line 6B from Griffith, Indiana to Sarnia, Ontario. But other oil pipelines such as the Kinder Morgan (NYSE:KMI) Trans Mountain system from Edmonton to the Pacific West Coast are available, and local refineries process Edmonton Par.
Canadian small cap oil stocks are discounting weak prices that existed latest year. Although WTI prices are in backwardation with future prices discounting about $1/bbl per month through fall 2014, Canadian discounts have narrowed and prices have rallied.
In my view, higher Canadian oil (and gas) prices are sustainable, in spite of an extra heavy US refinery spring turnaround schedule this year curtailing over 10% of capacity through April, because the TransCanada Corp (NYSE:TRP) southern leg of the Keystone pipeline is draining stores of oil at Cushing, OK, the settlement location for WTI contracts and derivatives.
Here is an article on Longview Oil in the Financial Post where I discuss the potential takeover of the company. Longview trades mainly as LNV on the TSX. The stock closed at $5.38 CAD up 24 cents on a higher than average 1.924 million shares Friday (309K 50-day avg). The 52-week high is $6.75 and the low is $4.35.
I think LNV has immediate upside from here and above $7/share if you are patient, as the company has been approached by a larger, oil-weighted dividend-paying company that had been stalking the company unbeknownst to shareholders for the past few months - Surge Energy. Advantage Oil and Gas (NYSE:AAV-OLD), which organized and owned 45% of Longview, but sold the interest in a prospectus deal effective Friday, was unaware of Surge's intentions.
The announcement that Surge Energy was the mystery suitor that had approached Longview earlier in the month was no surprise to me. One of Longview's main assets is the Midale play near the historic Weyburn area which has been exploited with carbon dioxide and waterflood enhanced oil recover techniques for decades.
I expected Longview, with high operating netbacks (est. $38.20/bbl for 2014 by the company) and a low 19% corporate decline rate, would be of interest to one of the handful of yield-oriented plays in the oil patch in the Saskatchewan Midale. I would expect the acquirer to have lands contiguous with Longview's, and aim to raise netbacks by reducing LNV's above average $20/bbl operating costs.
It should be noted that Surge would have had to disclose its purchase of 9.3 million shares of Longview, a 19.8% interest, by the February 28 closing date of the Advantage distribution of 21.15 million shares, as it exceeded the 10% early warning threshold.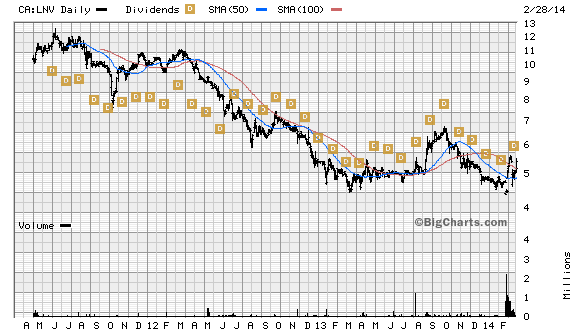 Longview's 2P (Proven and Probable) oil reserves were $11.23 bbls/share as of the 2012 activities statement, much lower than those for the likely acquirers which are generally in the $20 range.
This stock is for risk-takers, due to its small size and dependence on the Canadian oil price. As of the December 12, 2013 press release, Longview had hedged 2,000 bbls/day or roughly 31% of its estimated 2014 production at a lower than current price of $94.85 CAD.
We have no idea when Longview will announce its Q4 and year-end earnings or reserves statements, as the CEO of Longview unexpectedly passed away last weekend. The Chairman was appointed as interim CEO and I would expect the company will be finalizing the hiring of advisors to deal with the unsolicited approach by an unnamed suitor when it was disclosed on February 10.
Surge Energy may stall to try to knock the price of Longview down, or even walk away, especially if WTI oil starts falling due to the over 10% in refinery turnarounds going on in the USA during March and April.
Longview Oil was originally floated three years ago by its parent company and was over $10 per share in 2011.
But the small producer had problems funding development of its oil resources, especially when Canadian oil and gas prices were discounted heavily to the US benchmarks.
LNV pays a monthly dividend of 4 cents per share. The annualized dividend of $0.48 per year for an 8.9% yield, is payable monthly, and the stock goes "ex" at the end of the month. The dividend was reduced from 5 cents to a more manageable 4 cents when the company released updated guidance for 2014 on December 12.
As the article says, I think Surge may ultimately offer 1.25 of its own shares, which closed at $5.90. That would be $7.38 value.
We were buyers of Longview at the close Friday and will hold it for the eventual offer or for the dividend yield, which is sustainable.
Surge may offer a 1 for 1 swap given the price of Surge is down. But I would expect both shares to rally back to fair value if and when a deal were consummated, due to the synergies possible.
If Surge haggles or threatens to walk away other buyers of Longview are available, such as TORC Oil and Gas (OTCPK:VREYF), which also operates in S.E. Saskatchwan, has a higher stock price, lower dividend yield, and is also trying to "bulk up" with synergistic assets to reduce costs and raise netbacks.
Longview has several light oil wells with additional drilling targets, in Western Alberta and in the Lloydminster area, including in the Cardium, Belly River, Wabamun and the Gauconite Hoadley trend at Willesden Green, where Bonavista Petroleum is active (OTCPK:BNPUF).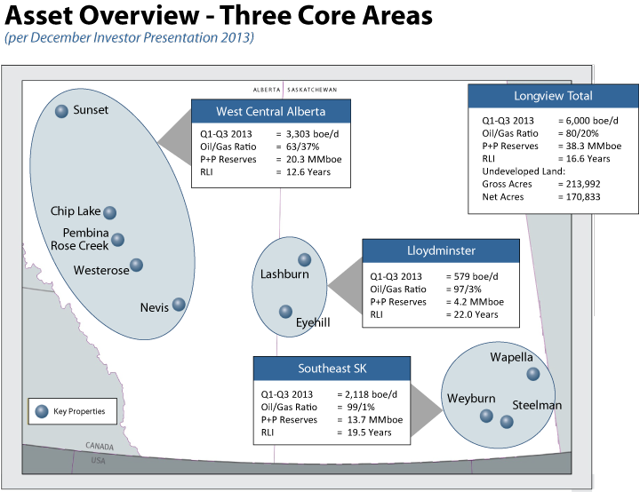 During March, we will see a plethora of Q4 earnings announcements from small and mid-cap energy companies, kicked off by Pengrowth Energy (PGH) tomorrow. We will hear about current operating conditions in the Western Canadian Sedimentary Basin (WCSB). Hopefully drilling has not been frozen over with the cold. I expect optimistic comments on the outlook for Canadian prices. This will be good for the oil stocks and I think will force Surge to play their hand.
I think Surge is undervalued as the stock has declined from the $6.50 area, probably due to insiders knowing they would make a play for Longview and dilute the stock. But Surge rose strongly on high volume Friday. The stock has $18.23 bbls of 2P reserves per share pro forma a $109 million acquisition made in January. The acquisition I suspect is contiguous to the Longview Midale play in S.E. Saskatchewan and is the primary reason for their interest.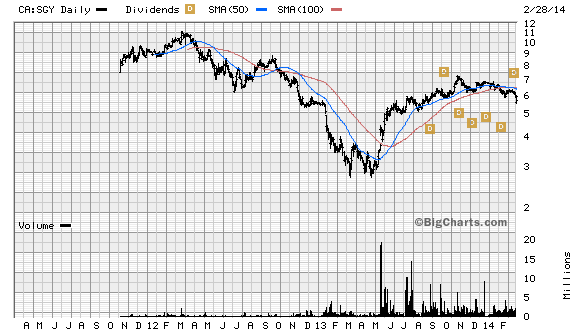 Surge has had its tribulations, and had to restructure and sell some assets when energy prices declined in 2012. The company seems to be rebounding and implementing a measured growth model to sustain the dividend and appeal to yield-oriented investors, similar to the playbook of Whitecap Resources (SPGWF).
Surge intends to start paying 4.5 cents per month, up from 4.333 cents, as of the next (April) dividend. The stock would yield 9.15% at the closing price on Friday, slightly more than Longview.
Surge offering 1.25 shares would be marginally cash flow negative for them. But I think that would be a small price to pay for the synergies they would obtain as Longview has higher reserves/share. Surge already owns 19.8% Longview obtained at $4.45 from the underwriters when Advantage sold its 45% interest, which would lower the overall cost of a deal. Advantage no longer has a stake in LNV, therefore I believe it is widely held.
My third favorite Canadian oil producing small-cap pick is Crew Energy, which I wrote about here a month ago. I recommended the stock at $6.82 CAD and it closed Friday at $7.97. Crew announces its Q4 results on March 7 before the market opens.
Crew has medium to heavy oil production in Saskatchewan and Alberta, but its growth area is in the British Columbia Montney play, which is primarily natural gas at Septimus and oil at Tower.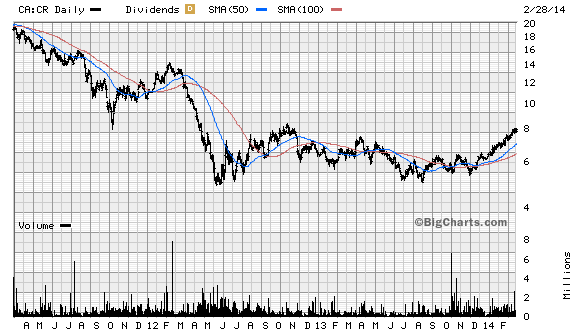 I think Crew has a good chance of being acquired by either Tourmaline Oil (OTCPK:TRMLF) or Arc Resources (OTCPK:AETUF), which operate in the same Montney play in British Columbia. Crew has 91 trillion cubic feet of gas originally in place and is trading at only 4.15 my $1.92 estimate for 2014 CFPS. My target range is $10.21-$10.45.
These stocks are all inexpensive relative to current commodity prices and should do particularly well as geopolitical risks cause oil prices to remain elevated or spike higher over events in Ukraine. These stocks can be volatile and are for risk-tolerant investors seeking greater growth in their portfolios. The primary trading venue for these stocks is the Toronto Stock Exchange.
Disclosure: I am long LGVWF, CWEGF. I wrote this article myself, and it expresses my own opinions. I am not receiving compensation for it (other than from Seeking Alpha). I have no business relationship with any company whose stock is mentioned in this article.