Ever since it was created by Earl Tupper in 1948, Tupperware's products have been a staple of the American home. Tupperware Brands Corporation (NYSE:TUP), as the parent company is now known, is a US based corporation that manufactures and sells products for their customer's homes and more particularly kitchens. From their original "kitchen storage" beginnings, Tupperware's product lines have expanded to included cutlery, microwave products, toys and gifts, microfiber textiles, cosmetics, toiletries, fragrances, jewelry, and nutritional supplements. Although Tupperware was an early pioneer in the use of using customers as dealers, the products are now also sold through a variety of larger distributors and dealers.
Tupperware Brands Corporation's closing stock price on Friday was $78.60. At that price, the stock sells at a PE (price to earnings) multiple of 15.2 and has a dividend yield of 3.5%. Those metrics look pretty good, relative to the average for the S&P 500. Companies that sell directly to consumers are starting to face headwinds on several fronts, as I discussed in my previous Seeking Alpha article about consumer staples companies being squeezed. To see all those reasons, click this LINK. I think a company like Tupperware will be more resilient to short term pricing pressures, because its products have a much longer cycle life than things like toilet paper or paper towels. An investment in quality food storage now, can continue to reward the consumer a decade from now. I know I have several Pyrex and Tupperware containers that are 8-10 years old and still going strong.
Discounted Cash Flow Valuation
The primary method I use when valuing a company is its discounted future cash flow, although I will discuss several other important metrics below. I completed my valuation spreadsheet below using historical data from GuruFocus.com. Over the past years Tupperware's earnings-per-share (NYSEARCA:EPS) and free-cash-flow (NYSE:FCF) have each more than tripled. The only real setback in EPS and FCF growth was in 2008 and I think we can cut management some slack for struggling a bit during the financial crisis. We'll get to a dividend analysis in the next section, but management has also done a great job returning cash to shareholders in the form of higher dividends.
In the table below, I approximated the future earnings growth rate would be two thirds (66%) of the average 10 year growth rate for the company. I used the lower of the EPS and FCF average growth rates because so many companies try to play games and goose their earnings numbers. I discounted the future earnings at a rate of 5% because, despite the Federal Reserve's ultra low interest rate policy, I fully expect the yield on treasury investments to rise in the coming years. A 2% premium over the 10 year bond seems low, but appropriate at the current time. Given all of those assumptions, shares of Tupperware Brands Corporation appears to be substantially undervalued.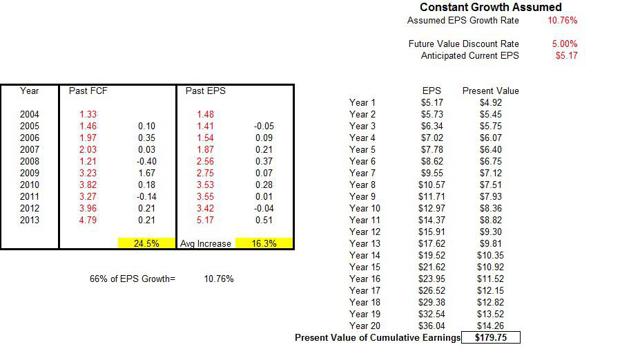 Dividend Analysis
I am a dividend investor at heart. While I love to find and buy undervalued companies, I really enjoy the passive cash flow that growing dividend streams provide. The long term average annual dividend growth rate for Tupperware Brands is 4.56%, and the 5 year average annual dividend growth rate is 26.12%. I ran my 50 year Discounted Dividend Analysis Model with a projected annual dividend growth rate of 8.59% (which is the lower of the 5 year and 10 year averages) and a discount rate of 10%. The present value of the next 50 years of dividends are $88.98 at the 10% discount rate , assuming annual dividend growth of 8.4% (two thirds of the average annual increase for the last 10 years). I have little concern that future dividend growth will be constrained by the current payout ratio (48%). These figures suggest to me that Tupperware Brands' shares are about undervalued. It is difficult to say what the world will look like in 20 years, much less 50 years. Below is a chart, courtesy of Gurufocus.com, of the company's 10 most recent years of dividend growth.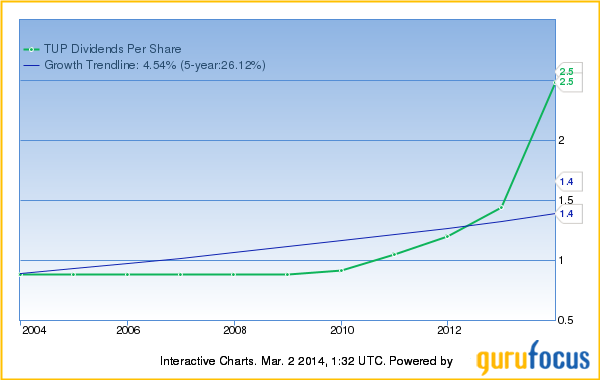 Other Metrics
I always look at any investment through the lens of its historical perspective. In keeping with that idea, below is how Tupperware Brands' currently compares to its 10 year ranges:
The current dividend payout ratio is 48%, vs. a 18% minimum and 507% maximum
The current dividend yield is 3.50%, vs. a 1.61% minimum and a 7.72% maximum
The current PE ratio of 15.20 compares to a 4.62 minimum and a 24.31 maximum
The lowest Return on Equity metric in the last 10 years was 22.4, but far more often ROE has been in the high 20s (or above)

Courtesy of Morningstar.com
Cash Flow and Revenue Trends

Courtesy of Gurufocus.com
Conclusion
I think the graphs above accurately show the changes taking place in Tupperware Brands over the last few years. It's stock price has steadily marched higher for the past 5 years, as management began to reward shareholders with increased value and dividends. In the short term there are a couple issues which require further consideration. The company increased its debt load in 2013, which is concerning because it held steady for so long. Additionally, Tupperware's price to book ratio is dramatically higher than in the past. This reflects a decline in book value over the recent years. I find this decline concerning and it certainly warrants further investigation. I am pleased, however, in management's willingness to return capital to shareholders. I am also pleased with the company's ability to generate high levels of free-cash-flow and return-on-equity. I will keep my eye on Tupperware Brands, and will likely invest in the coming weeks or months. Recently the stock price has been hit by analyst downgrades, which may provide an excellent entry point in the coming weeks.
Disclaimer: I do not own shares of TUP. This article is for informational purposes only and should not be considered a recommendation for anyone to buy, sell, or hold any equities. I am not a financial professional. The information above is provided by Yahoo Finance, Gurufocus.com and Morningstar.com.
Disclosure: I have no positions in any stocks mentioned, and no plans to initiate any positions within the next 72 hours. I wrote this article myself, and it expresses my own opinions. I am not receiving compensation for it (other than from Seeking Alpha). I have no business relationship with any company whose stock is mentioned in this article.