Over the past six months, shares of 3D Systems Corp. (NYSE:DDD) have been on a wild ride. DDD shares surged towards $100 per share towards the end of 2013 before falling sharply to $55 per share in early February after the company lowered its earnings forecast for Q4. Since putting in a temporary bottom at $54.63 on February 5, DDD shares have moved sharply higher. I believe the recent move higher in DDD shares is a selling opportunity.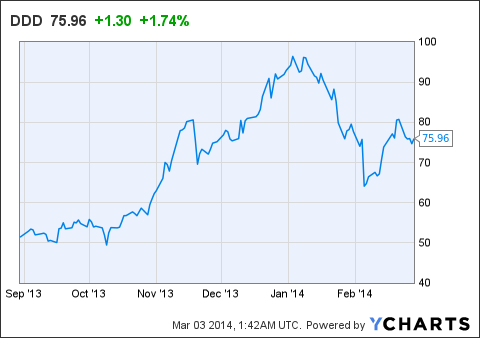 Q4 Earnings
After massive volatility leading up to DDD earnings results, investors' reaction to Q4 results was quite tepid with shares failing to make a major move up or down following the results. Not surprisingly, given that the stock trades at more than 15 times sales and more than 100 times past earnings, DDD reported a massive increase in both revenue and profits. Revenue rose 52% to $154 million while gross profit rose 53%. I do not believe strong earnings growth is enough to justify DDD's current valuation.
Valuation
DDD currently trades at 15 times sales, 8.26 times book value, 168 times trailing earnings, and 63 times forward earnings. Clearly, based on any metric DDD is an expensive stock. Of course, given the proper reasons, stocks can trade at excessive valuation for a long time. As an example, Amazon (NASDAQ:AMZN), one of the most exciting growth stories of the past ten years, has traded at more than 100 times earnings for a long time but has only managed to trade at a price/sales multiple in the low single digits, same applies to Netflix (NASDAQ:NFLX), another impressive tech growth story over the past few years. Part of reason why bulls have been able to justify a ridiculous valuation such as 15 times earnings is the high profit margins that have characterized DDD.
Competition
As has been pointed out in numerous articles, 3D printing is not a new concept. However, there have been some major industry changes in recent years. Technology has both improved and become cheaper which has ignited consumer demand. While 3D printers may well be the way of the future, I believe it is far too early to say what product will eventually dominate the market. Furthermore, larger, well funded competitors such as Hewlett-Packard (NYSE:HPQ), are starting to pay attention to 3D printing and will likely ramp up their game in the coming years. Interestingly, Apple (NASDAQ:AAPL) has also applied for 3D printing patents. Just because an industry is about to takeoff does not mean the first companies to the party will dominate. In recent history, one of the biggest industries to takeoff was the smartphone industry. However, some of the initial players such as Palm, BlackBerry (NASDAQ:BBRY), Nokia (NYSE:NOK), and Motorola did not fare particularly well once Apple entered the market with the iPhone. Tech giant IBM has also recently made a push into 3D printing. The bottom line here is that while 3D printing may be the way of the future, DDD is not guaranteed to dominate the industry just because it is a current industry leader.
Buyout Potential
DDD has been rumored as a potential takeover target for a while now with possible bidders said to be HP or IBM. While this thesis makes some sense, I think the current valuation is much too high for a takeover to occur. In addition to the high valuation based on price to sales or earnings, DDD is a risky takeover because of its large market cap. If 3D printing fails to live up to expectations, having paid $8 billion for DDD would be a major mistake.
Insider Selling
Over the past few months, insiders have been taking advantage of DDD's high stock price by selling shares. While insiders still own stock in the company, the fact that they are selling and not buying is at the very least a cautionary signal.
Acquisition Strategy
DDD has made over 40 acquisitions over the past three years. As noted bear Whitney Tilson has discussed, DDD's strategy appears to be to acquire growth as opposed to innovating. The fastest growing companies in recent history have not relied on a acquisition strategy. (think Apple, Amazon, Tesla, and Netflix) DDD's acquisition strategy leads me to believe that the company is trying to be all things to all consumers, a strategy that typically does not work. It should be noted that DDD is not the market leader in any of the market that it serves.
Short Covering
One factor that had been helping DDD shares into the end of 2013 was the large number of shorted shares being covered. As shown by the chart below, short interest fell from close to 30 million shares to 15 million shares in the final months of 2013. Not surprisingly, this also coincided with all-time highs for DDD shares. However, the short covering appears to be over as short interest has started to increase in early 2014. While it is possible that a possible takeover rumor sends short scrambling to cover, I believe it is unlikely that we will see a short covering rally in 2014.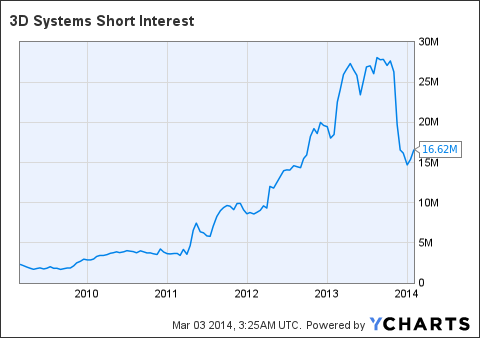 DDD Short Interest data by YCharts
Conclusion
I feel strongly that DDD is a sell. The current valuation assumes, in my view, a far too rosy future for DDD. While the 3D printing industry will continue to grow, especially the industrial segment, I do not believe we are close to seeing an explosion of consumer demand for 3D printing. Furthermore, even if consumer demand for 3D printing lives up to the hype, it is not clear that DDD will lead the industry. Competitors such as HPQ, IBM, and Stratasys (NASDAQ:SSYS) will be competing even more vigorously in the coming years. The fact that DDD has relied heavily on acquisition leads me to question management's ability to innovate and keep up with competitors. DDD is at best a second rate company and should be avoided at all costs.
Disclosure: I have no positions in any stocks mentioned, but may initiate a short position in DDD over the next 72 hours. I wrote this article myself, and it expresses my own opinions. I am not receiving compensation for it (other than from Seeking Alpha). I have no business relationship with any company whose stock is mentioned in this article.