Extreme weather conditions in the USA adversely affected numerous businesses this winter; however, there are some who managed to post good results. Home Depot Inc (NYSE:HD) is the largest U.S. home improvement retailer and it announced its fourth quarter and full year 2013 results on Tuesday, February 25th. The company topped analysts' expectations since it reported a quarterly EPS of 73 cents per share compared to analysts' estimates of 71 cents per share compiled by Bloomberg. In this article I will conduct a performance review of the company and conclude my research with a recommendation for investors regarding the stock.
Financial Performance
The fourth quarter of 2012 and full year 2012 were comprised of 14 and 53 weeks respectively, having a week more than that in the fourth quarter of 2013 and full year 2013. Adjusting the comparable periods' figures for the number of weeks included we arrive at the following figures for the company's y-o-y results. The company's quarterly sales increased 3.9% and the diluted EPS grew impressively by around 20%. However, this growth was partially driven by the 6.7% decline in the company's weighted average shares thanks to the share buyback program. The fourth quarter's gross margin expanded by 4.7% but this was mainly due to a 3.2% decline in cost of sales and a 4% drop in total operating expenses. It seems the cost-cutting approach of the company helped it to remain profitable.
Looking at the results from the full year perspective, net sales growth was 7.1% and translated to an even more impressive EPS growth of approximately 28.3%. However for full year 2013 not a single cost head dropped, rather all appear to be increasing. A 5.1% decline in the share count of the company this year also contributed to the growth in EPS. For the whole year the gross margin expansion was about 1.5%.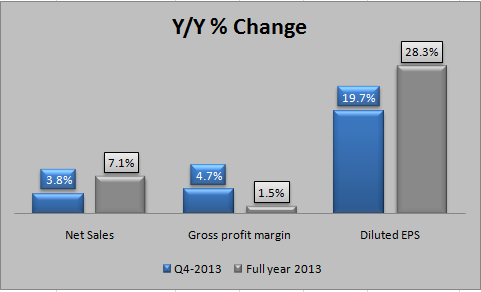 Source: Earnings Release
There are other metrics that are also important to observe keeping in mind the retail nature of the company's business. Comparable store sales during the fourth quarter increased 4.4% while US sales increased by 4.9%. Comparable store sales were quite impressive throughout the year since CS sales jumped 6.8% whereas CS sales in the US alone managed to increase by 7.5%. Other metrics such as sales/ square footage and number of customer transactions also showed positive growth excluding the effect of last year's extra week.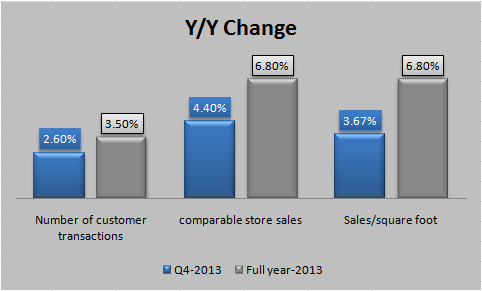 Source: Earnings Release
Financial Condition
Home Depot summed up its fourth quarter and full year 2013 with $1.9 billion in cash reflecting a 23% y-o-y decline. The company sees its total liabilities lifting 20% up, coming from 55% rise in long term liabilities and 6.2% decline in total current liabilities. Home Depot currently has a financing mix constituting debt that is 112.63% of equity. This debt to equity ratio is alarming especially when compared to the industry's 55.87%. However the company has an interest coverage of 12.20 that means it earns enough profits and can easily payoff its financing costs. To further analyze the matter I will use the CFO-to-debt ratio that implies whether the company has enough cash flow from its operations to pay its debts.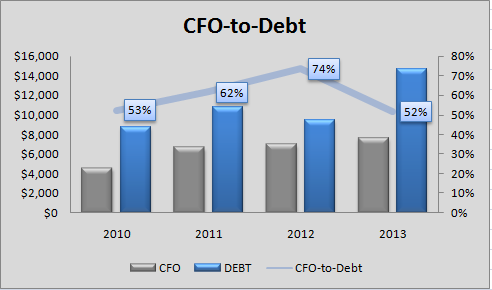 Source: Yahoo Finance
The graph above shows that the company has an impressive level of CFO that can be utilized to pay off its debts but the alarming thing is the steep decline in the ratio in 2013 from prior levels. Despite this fact the CFO-to-debt ratio remained above 50% throughout the period under analysis showing the fact that the company is not over leveraged.
What to Expect in 2014
Home Depot has provided its forecasts for 2014 according to which sales growth is expected to be 4.8% and its trickle down effect will lead the EPS growth to 16.8% reaching a level of $4.38. The company aims to generate $8.8 billion from its operations, 1.5 million of which will be allocated to Capital Expenditures. Comparable store sales growth is expected to be about 4.6% and the company has plans to open 7 new stores in 2014. Shares worth $5 billion will be repurchased in fiscal year 2014 and will reduce the share float by 61million shares (4.5%) based on today's stock price of $80.98.
Enviable Shareholders' Payoff
Home Depot Inc. has a history of paying and maintaining generous dividend payouts and the BOD has announced a 21% increase in quarterly dividend per share from $0.39 to $0.47. The company is targeting a dividend payout ratio of 50% in an industry where 29% is the norm. On an annualized basis the 2013 dividend encompasses a 35% increase y-o-y as depicted in the graph below.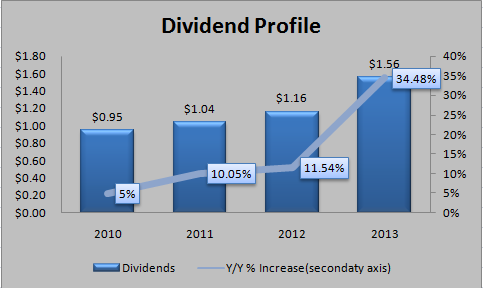 Source: 1stock1
Apart from dividends, Home Depot also transfers returns to investor's wallets through its share buyback program. During 2013 the company repurchased stocks worth around $8.6 billion denoting a 114% increase from the previous year's repurchase total. In 2014 the company forecasts share repurchases of approximately $5 billion that will help the diluted EPS to grow by 16.5%. Throughout 2013, Home Depot's stock secured a price appreciation of 26.69% outperforming the S&P 500 index.

Source: Y-Charts
The Road Ahead
Home Depot Inc. is a home improvement chain that follows revenue trends from the housing industry of the US since it is the core market for the retailer and contributes 89% to its total revenues. The US housing industry is currently suffering because of various reasons some of which are unsuitable weather for construction, soft household formation, and huge debt levels on students making them unable to obtain mortgage loans. Currently MBA (Mortgage Bankers Association) mortgage applications stand at negative 4.1 compared to negative 0.21 by the end of January 2014. The NAHB Housing Market Index also declined 10 points since January 2014.
Despite the gloomy growth of the housing market in 2013, this industry is expected to revive again in 2014 and 2015 and show promising results. This is also supported by the expected high single digit growth in 2014 and 2015 in terms of total construction spending. This is supported by the forecasts of mortgage applications reaching -0.07 in 2015 and 0.48 by 2020. The Housing Market Index provided by the National Association of Home Builders is also expected to increase to 58.73 from the current level of 46 points. Home prices will also rise by 4% in 2014 and that will encourage people to invest in houses and even mortgage affordability will remain favorable for the medium term in the future. That is why it is expected that the housing market will become resurgent once again and that will bode well for the future of Home Depot Inc.
Apart from the economist expectations for 2014 and 2015, Home Depot should see profits once this harsh winter is over and spring arrives. Once the warm weather arrives Americans are expected to actively renovate and repair their snow damaged homes and gardens. Comparable store sales will definitely jump once US citizens will rush to Home Depot stores in the spring. Online traffic will also receive a boost from such a scenario. This pattern was also followed in the past when the company's sales were bolstered after Super Storm Sandy hit America in 2012. However, apart from the effects of the weather, the company will benefit for two reasons. Firstly the company is the biggest player in this market because Home Depot and Lowe's Companies (NYSE:LOW) potentially make a duopoly since there is no third big box store present. Secondly the housing market is a market that represents the basic needs of the population in terms of residence and on average people have enough disposable income to spend on it. Disposable personal income is expected to reach $13,218 billion in 2015 from the current level of $12,551 billion. The consumer confidence interval is also expected to be bolstered over time and that means a bright future for Home Depot in the USA.
The company operates a total of 2263 retail stores in all 50 states of the USA as well as in Canada and Mexico. The company has opted for a slow expansion strategy where it aims to increase sales at its existing stores and online channels rather than through opening new stores. This way the company is managing to cut down in-store costs along with its capital expenditures. The online channel is also gaining customer attraction since online sales grew 53% in 2013 compared to 38% growth in 2012. Moreover the company is planning to start providing home deliveries for online orders that will also facilitate customer spending and will definitely boost sales.
Bottom Line
Home Depot has survived and reported positive results despite the challenging retail environment and poor weather conditions. The company has various strong points such as its sales and earnings growth, robust cash flows, and a healthy balance sheet that all outweigh the financial risk carried by the company due to the huge debt levels on its balance sheet. The company is generating a robust ROE of 35.55 that is 3 times the industry's return on equity. Moreover the upcoming trends and expectations for the spring season indicate the fact that the company will continue earning robust returns. In this scenario, I believe shareholders will be handsomely rewarded in coming quarters and years both in terms of dividends and share repurchases along with stock price appreciation. Currently the stock is trading at a low forward P/E of 15.72 compared to its competitor Lowe's who is trading at 18.22. Therefore in my opinion this stock is worth buying for the long term.
Disclosure: I have no positions in any stocks mentioned, and no plans to initiate any positions within the next 72 hours.
Business relationship disclosure: The article has been written by a Blackstone Equity Research research analyst. Blackstone Equity Research is not receiving compensation for it (other than from Seeking Alpha). Blackstone Equity Research has no business relationship with any company whose stock is mentioned in this article.