Pharmaceutical companies are reliant upon two crucial elements of their business: patent exclusivity and drug pipelines. Exclusivity assures the company of the opportunity to recover the R&D costs associated with their products, as well as being a major source of profits. A vibrant pipeline provides the company with the future prospective candidates for patent exclusivity necessary for an important fact of pharmaceutical life: patent exclusivity expires.
While researching major pharmaceutical firms recently, I noticed that some of them were involved in - or at least considering - activities apparently aimed at either increasing profitability in the short term or in increasing cash on hand. This led me to examine the current state of these companies' patents and pipelines to see what might be behind those activities.
The "Top" Major Drug Manufacturers
To begin with, I should be clear about what constitutes a "top" pharmaceutical - or a "major" drug manufacturer for the purposes of this article. In part, the designation comes from the screener I typically use: FINVIZ.com. FINVIZ differentiates between "major" drug manufacturers and "other" drug manufacturers - I do not know the basis for the differentiation.1
Readers familiar with my previous articles know that I rely heavily on PIC (Preferred Investment Criteria) - a set of criteria used to screen for companies that have reasonably solid fundamentals in terms of effective management, efficient operations and liquidity.2
Using the PIC criteria as filters on FINVIZ (after setting "Sector" to "Healthcare" and "Industry" to "Drug Manufacturers - Major") I got a list of six companies. After scoring the companies with respect to their performance, I narrowed the list down to three companies that seem to be outperforming their competitors:
Eli Lilly & Company (NYSE:LLY) ("Lilly")
Pfizer, Inc. (NYSE:PFE) ("Pfizer")
Johnson & Johnson (NYSE:JNJ)
(The order in which the companies are listed reflects their standings after scores were determined - that is, Lilly was the best of the group, followed by Pfizer and Johnson & Johnson, which were tied for second.3)
In what follows, I want to discuss the patent expirations4 with which these companies are confronted, the drugs the companies have in their respective pipelines,5 and any noteworthy prospects or developments that may apply. While it would be impractical to try to be comprehensive and complete, I do hope to inform potential investors of some of the basic factors that will influence the performance of these companies over the next five years.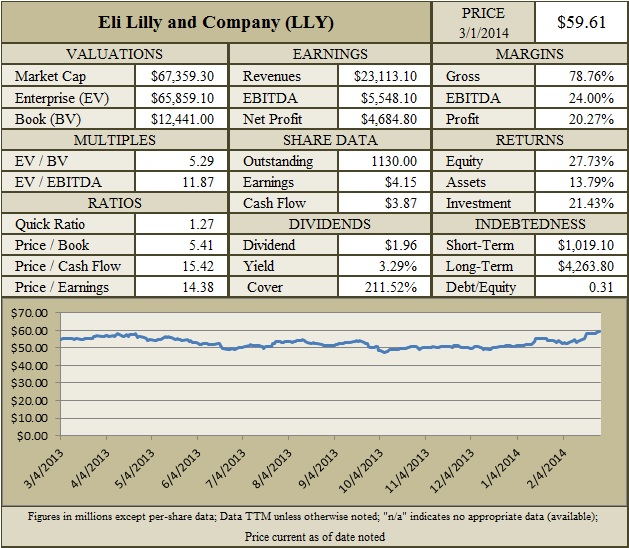 Patent Expirations
The following table provides the patent expiration scenario for Lilly:
Eli Lilly & Company Patent Expirations

2012 - 13

2014

2015

2016

2017

2018

5

2

0

1

7

0
Lilly is currently entering a "quiet" period in patent expiry, although it has suffered some serious losses in the past couple of years. Notably, the Company lost exclusivity on two major drugs in 2013: Cymbalta and Humalog. Revenues (U.S.) from Cymbalta dropped 49% in 2013, while Humalog managed an increase in sales of 31%.6
Expiries in 2014 are of variations of Humalog (in combinations); the next significant loss will be Strattera in 2016. Strattera has seen a 33% increase in U.S. sales in 2013 over 2012.
Lilly will be hit with seven expiries in 2017, including major psychiatric drugs Prozac7, Symbyax and Zyprexa, as well as Axiron, Evista, and Effient. Zyprexa has seen sales drop by 35% YOY, while Evista sales have increased by 18%, and Effient has risen by 10%.
Pipeline
Lilly currently has more than 60 drug candidates at various stages of its drug pipeline. Given that it can take a drug candidate from 10 - 15 years to go from initial discovery to final approval from the FDA, it is most important to examine those candidates that have already been submitted for regulatory review, are in Phase III clinical trials, or is a previously approved drug being considered for a new indication or line extension (NILEX). Lilly's pipeline breaks down as follows:
Lilly Pipeline Breakdown by Stage

Phase I

Phase II

Phase III

Regulatory Review

NILEX

26

25

8

4

1
Of the four candidates submitted for regulatory review, three are treatments for diabetes and one is for pancreatic enzyme deficiency. The NILEX drug is an insulin product. The eight Phase III candidates are:
Baricitinib (rheumatoid arthritis)
Tabalumab (lupus)
Ixekizumab (psoriasis/psoriatic arthritis)
Evacetrapib (vascular disease)
Basal insulin peglispro (diabetes)
Solanezumab (Alzheimer's)
Tanezumab (pain)
Necitumumab (squamous non-small cell lung cancer)
Of the drugs in Phase I or Phase II, 23 are cancer or other oncological treatments; nine focus on neuroscience; three are for musculoskeletal disorders; ten relate to diabetes; four deal with cardiovascular diseases; one deals with lupus.
Prospects
The year 2017 looms large in Lilly's future. Having lost exclusivity on some significant income-generating drugs makes it important that the Company shore up its position in the next three years. Its pipeline speaks well to Lilly's long-term prospects; the short term may be another issue.
Goldman Sachs' analysts found Lilly's pipeline "underwhelming," particularly in the short term, citing diabetes treatments that are not significantly differentiated from the current market.8 However, diabetes treatments represent a relatively small portion of the drugs occupying the pipeline, although three of the four drugs submitted for review are diabetes-related, as is its lone NILEX drug.
Fitch Ratings sees the Company as likely increasing its debt load during 2014 but maintaining adequate liquidity. The prospect for return to revenue growth in 2015 - 2016 is good, and Fitch sees aggressive share repurchases (upwards of $5 billion) through 2017, but limited dividend increases.9 Fitch's review does not take into consideration the expiries Lilly will confront in 2017.
Lilly has dodged one bullet in having its expiration date for Cialis extended past 2017, since the drug - in competition with Viagra, the patent for which expires in 2020 - accounts for over $2 billion in revenue for 2013, with U.S. sales up 33% from 2012.
Share buy-backs of the size mentioned above may blunt the effect of revenue losses from Cialis' patent expiry, but the Company will need more. It is not clear that the drugs Lilly will likely bring to market in the near future will be enough to significantly improve its outlook.
Year-to-date, shares in Lilly are up nearly 17%.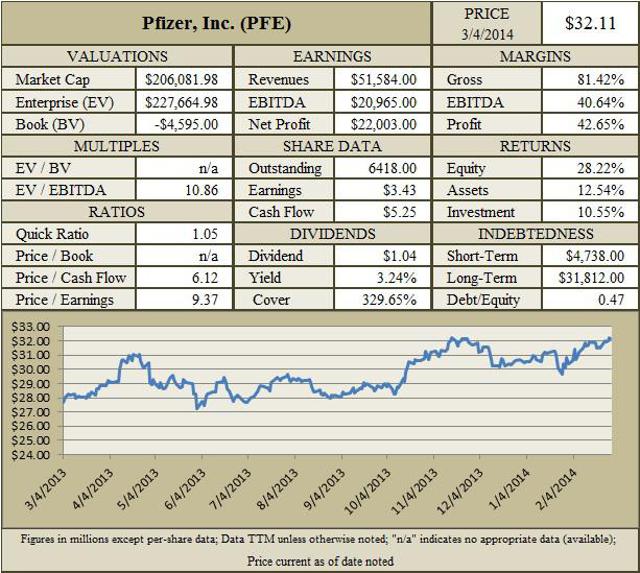 Patent Expirations
Pfizer would appear to be at the tail end of a major stretch of patent expirations. One of its most prominent drugs - Lipitor - lost protection in 2011, followed by a series of losses in 2013 (including exclusivity of Viagra in Europe). Revenue from Lipitor was down by more than $5.5 billion in 2012 from Lipitor's expiration.10 Pfizer has a difficult year ahead of it, then something of a respite before being hit with a large number of expirations in 2018. (Figures below include those drugs Pfizer acquired when it purchased Wyeth Pharmaceuticals.)
Pfizer, Inc. Patent Expirations

2012 - 13

2014

2015

2016

2017

2018

9

6

4

1

3

7
Between 2014 and 2017 Pfizer will lose exclusivity on 14 drugs, although arguably these are not major contributors to the Company's revenues.11 Of those drugs losing exclusivity in 2018, only Zythromax is cited in Pfizer's 8-K for 2013, having sales of $387 million. The other drugs fit under the category of "all other biopharmaceutical products."
Pipeline
Pfizer Pipeline Breakdown by Stage

Phase I

Phase II

Phase III

Regulatory Review

NILEX

31

24

20

6

1812
Of the 81 candidates in its pipeline, a significant number represent additional indications for some of the Company's more recently approved drugs. One such drug is Xeljanz (tofacitinib), a first-of-its-kind treatment (it is a JAK1 inhibitor) for rheumatoid arthritis, which is being studied as a treatment for four other immune-system-related diseases. In 2013, Xeljanz saw sales of over $100 million, and has the potential to be a major revenue producer.
Drugs in regulatory review are:
Eliquis (cardiovascular)(a NILEX drug)13
Celebrex (chronic pain)(a NILEX drug)
Remoxy (moderate to severe pain)
Tafamidis meglumine (polyneuropathy)
Viviant (osteoporosis)
Conjugated estrogens/bazedoxifene (menopausal symptoms/osteoporosis)
Prospects
In 2012, Pfizer completed the sale of its nutrition operations to Nestlé S.A. ADR (OTCPK:NSRGY) for $11.85 billion. In 2013, the Company spun off its animal health division to form Zoetis Inc. (NYSE:ZTS) for more than $10 billion. These moves represent an effort by Pfizer to narrow its business focus;14 the moves no doubt also improved Pfizer's cash-on-hand situation, something to help offset the nearly $32 billion long-term debts it carries.
Although the Company has recently released some promising drugs such as Xalkori, Eliquis, Xeljanz and others, Fitch Ratings believes that revenues will be flat through 2016, although Fitch also believes that Pfizer will have strong cash flow and will be committed to increasing dividends.15
Pfizer recently received affirmation of its patent exclusivity for its drug Viagra through 2020 after a challenge by Teva Pharmaceutical Industries Limited (NYSE:TEVA), although Teva will be permitted to produce a generic version of the drug. Teva will be required to pay royalties to Pfizer for its sales of the Viagra generic.16
The world's largest drug manufacturer has little to worry about, either in the short term or in the long run.
Year-to-date, Pfizer is up nearly 5%.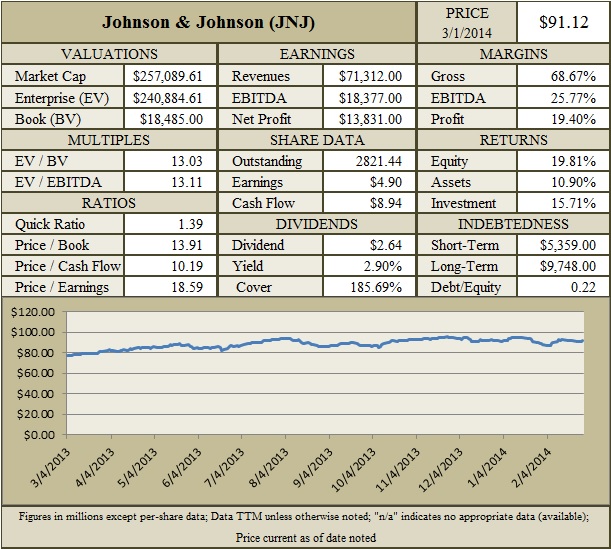 Patent Expirations
Drug development within Johnson & Johnson is handled by their subsidiary, Janssen, which was acquired by Johnson & Johnson in 1961. Janssen consists of Janssen R&D LLC, Janssen Pharmaceuticals Inc., Janssen Healthcare Innovation and Janssen Diagnostics. Here is the current status of Janssen patents:
Johnson & Johnson (Janssen) Patent Expirations

2012 - 13

2014

2015

2016

2017

2018

1

4

7

2

4

2
The most recent expiry Janssen saw prior to 2014 was for its neurological drug Invega Sustenna in 2012. The drug actually achieved a sales increase of 56.8% YOY, earning $1,248 million in 2013. Two of the drugs for which it loses patent exclusivity in 2014 are Risperdal and Risperdal Consta, which accounted for $1,318 million in revenues in 2013.
Johnson & Johnson will see the largest loss of exclusivity in 2015, when seven of its drugs face patent expiry. None of the drugs scheduled to lose patent protection are listed specifically in Johnson & Johnson's 4Q13 earnings report, but are in the areas of pain relief, migraine control and antibiotics - areas rife with competition, no doubt minimalizing revenues.
After 2015, the patents that expire are largely additional patents on drugs that will have already lost exclusivity, notably Invega and Risperdal. Concerta, for which patents expire in 2017 and 2018, accounted for $782 million in 2013 - down 27% from 2012. Significant revenue losses would seem, then, to be nominal.
Pipeline
Johnson & Johnson currently has four drugs awaiting regulatory review:
Sirturo (Europe) - tuberculosis
Simeprevir (Europe) - hepatitis C
Ibrutinib - leukemia
Siltuximab - multicentric Castleman's disease
The Company also has seven drugs it expects to file between 2014 and 2017:
Sirukumab - rheumatoid arthritis
Guselkumab - psoriasis
Esketamine - depression
TMC647055/JNJ56914845(GSK805)/Simeprevir - hepatitis C
Daratumumab - myeloma
Yondelis - sarcoma
JNJ56021927/ARN-509 - prostate cancer
In addition, it has approximately four NILEX drugs in more than 10 Phase III clinical trials, and five new drugs also in Phase III trials. Janssen also lists 17 drugs currently undergoing global clinical trials by way of Contact Research Organizations ("CROs"), but no indication given as to expectations of submission to the FDA.
Prospects
In January 2014, Johnson & Johnson agreed to sell its Ortho-Clinical Diagnostics business to the Carlyle Group for $4.5 billion, part of a move by the giant to divest itself of those operations that were "slow-growing."17 "Slow growth" is a more aggressive reason for divesting itself of an operation, while the divestitures by Pfizer and Lilly seem more like efforts to shore up prospects and bring in cash.
Given that it does not face significant patent-protection losses beyond 2015, and considering the drug prospects it has ready to present for regulatory review, there is little to be concerned about regarding Johnson & Johnson's short-term or long-term prospects; total pharmaceutical sales accounted for approximately 40% of the Company's global revenues.
Year-to-date, Johnson & Johnson is up over 0.5%.
Summary
There is no likelihood that any of these companies will suffer excessively with respect to revenues lost from expired patent exclusivity. I would suggest that Johnson & Johnson represents the company that finds itself in the most secure situation.
Pfizer seems well positioned to continue steady - if somewhat muted - growth over the next five years (although Xeljanz could become the next Lipitor if it lives up to its potential).
I am most concerned about Lilly in the short run, as its upcoming drugs for the near future may not provide it with the differentiation that would enhance profitability. 2017 looms large in Lilly's future.
All said and done, however, any of these companies would provide a solid foundation for a portfolio looking for growth and income.
1 I examined the categories to try to determine why they were divided into two; I compared market cap, revenue, name recognition, longevity, and various measures, and could not come up with any meaningful criterion. FINVIZ lists 43 "majors" and 37 "others."
2 According to the PIC, returns (assets, equity and investment) must be greater than 0; operating margin must be greater than 15%; debt/equity ratio must be less than 1; quick ratio must be greater than 1; dividend payout ratio must be less than 100%. Additional criteria are occasionally used: performance (TTM) and (mrq) must be positive.
3 The remaining companies, in order of rating, were AstraZeneca (NYSE:AZN), Merck & Company, Inc. (NYSE:MRK) and Bristol-Myers Squibb (NYSE:BMY).
4 Patent expiration information acquired from Q1Medicare.com. These expirations apply only to the U.S. - other expiries may apply to foreign countries/regions.
5 Pipeline information per company website.
6 Even though a patent might expire on a drug it can take up to a couple of years before generic equivalents show up on the market.
7 Prozac lost its original patent exclusivity in 2001; the 2017 expiration is for Prozac Weekly.
8 Cited in Barron's here.
9 Fitch Ratings, here.
10 Pfizer 2012 Annual Report, available here.
11 According to the 2012 Annual Report, the drugs facing expiry over the next four years had an aggregate loss of revenue of more than $300 million in 2012 over 2011.
12 Pfizer includes NILEX drugs in the counts for each Phase.
13 Eliquis is a collaborative product between Pfizer and Bristol-Myers Squibb.
14 Reorganization plans led to speculation in 2013 (that may still persist) that Pfizer intended to divest itself of its consumer healthcare unit. Pfizer was quick to reject the suggestion, according to Bloomberg.
15 Fitch Ratings, here.
16 Wall Street Journal, here.
17 Wall Street Journal, here.
Disclosure: I have no positions in any stocks mentioned, and no plans to initiate any positions within the next 72 hours. I wrote this article myself, and it expresses my own opinions. I am not receiving compensation for it (other than from Seeking Alpha). I have no business relationship with any company whose stock is mentioned in this article.