The share price of Micron Technology (NASDAQ:MU) has appreciated by 188% over the past 12 months, substantially outperforming a 22% return for S&P 500 Index. I expect there remains a significant room for further price appreciation owing to favorable industry dynamics, solid company fundamentals, and the stock's cheap valuation.
Management provided their medium-term outlook for DRAM and NAND markets in an Analyst Day event in early February. In all, the company expects a favorable industry dynamics as supply growth continues to slow down but demand is likely to remain robust. Management expects DRAM supply growth to slow down from 23% in 2013 to 22% in 2017 and NAND supply growth to drop from 43% in 2013 to 28% in 2017. On the demand side, it is expected that both DRAM and NAND demand to grow robustly at CAGRs of 27% and 38%, respectively, through 2017. In my view, this favorable industry trend would be a function of shift in industry players' focus from aggressively capturing market share towards improving quality and inventory management as well as disciplined pricing following an industry consolidation and this should eventually lead to improved profitability (i.e. gross margin) for incumbents such as Micron.
To better capitalize on the favorable industry development, the company plans to shift greater amount of focus towards end-market segments with better growth and profitability potentials. Management has identified 4 lucrative end-markets (i.e. embedded, networking, server, and enterprise storage) and plans to increase revenue mix from these segments from the current 27% level to 43% by 2015. As a note, the enterprise business is expected to be the primary demand driver for both DRAM and NAND markets with estimated demand CAGRs of 46% and 55%, respectively, through 2017.
Since the acquisition of Elpida, it is believed that Micron has yet to fully realize operating synergies from combining the Elpida business. As the integration has almost completed, management should start to focus on driving post-transaction operational excellence in this year, which would benefit operating margin.
With cash and short-term investments balance continues to grow (see chart below), management plans to reduce the company's current leverage (i.e. total debt to capital) from 36% to 20-25% over the current and next fiscal years.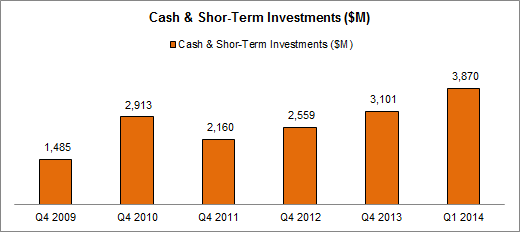 Based on Micron's current total debt of $5.8B and the mid-point (22.5%) of management's target, the debt load is expected to be reduced to $3.6B. Given Micron's improved cash flow profile (see chart below) and that the company's profitability is expected to pick up materially in the current and next fiscal years (i.e. consensus estimate predicts EBITDA margin to grow from 27.6% in fiscal 2013 to 35.11% in fiscal 2015), I believe the company to be able to fund the deleverage plan by using its internally-generated cash flow. Assuming an unchanged enterprise value and cash position, the deleverage initiative would bring in 12% return on shareholder value.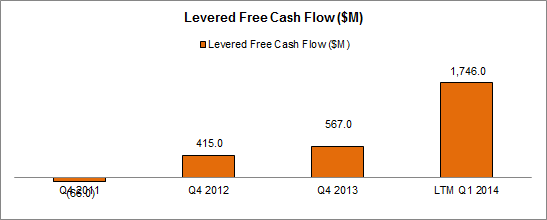 Despite the significant price run-up and robust growth prospect, Micron shares continue to trade at cheap valuation. The stock's 2015 forward P/E multiple of 8.8x is at 44% discount to the same multiple of S&P 500 Index, which is about 15.7x. By factoring in Micron's higher consensus long-term earnings growth estimate of 10.8%, compared to the average estimate of 9.5% for S&P 500 companies, the stock trades at just 0.8x PEG, which is 51% below S&P 500's 1.7x. As the company continues to drive top-line and profitability growth, I expect the valuation multiple to expand over time. Based on a 1.0x PEG, the stock should trade at $30, representing a 22% upside.
Looking forward, Micron should benefit from the favorable industry growth trend post the industry consolidation. Management's initiative to enhance shareholder value by targeting end-markets with more lucrative prospects and reducing debt load should lead to increased valuation. With the shares now trading at below 1.0x PEG, Micron offers very compelling risk/reward.
All charts are created by the author and data used in the article and the charts is sourced from S&P Capital IQ, unless otherwise specified.
Disclosure: I am long MU. I wrote this article myself, and it expresses my own opinions. I am not receiving compensation for it (other than from Seeking Alpha). I have no business relationship with any company whose stock is mentioned in this article.