As we enter a new week and witness the tension building between the Russians and the western backed Ukrainians, it appears that Eastern Europe enters uncertain and potentially dangerous times with echoes of the cold war. Just a couple of days after Sochi, the millions of dollars that went into building Russia's PR seems to have gone down the drain. This weekend we read that Russian military forces had invaded the Crimea in the pretext of securing national interests and defending ethnic Russians in the aftermath of the Ukrainian riots. As I write this article, I'm hearing reports that Ukrainian military bases in the Crimea are surrounded and local military forces have been ordered to lay down their arms and leave the region. Those units have been instructed by Kiev that they are to defend their positions and fire back if they come under attack; they are not to surrender. Protests by the new government in Kiev went unheeded by the Kremlin and it has come to light that the deposed President of Ukraine, Viktor Yanukovych has fled for Moscow with the Russians affirming him to be the legitimate head of the Ukrainian state.
With every news release, the tension appears to only rise. Certainly the communication back-channels between the main powers have been activated to prevent armed conflict, which has the potential to draw in the most powerful armies in the world. It's easy to overstate the danger in the current crisis and perceive the global appetite for war as being non-existent, yet I feel the markets tell it like it is in periods of added risk and instruments respond quite quickly with prices factoring in new geopolitical events. I believe that it will get much worse before it gets better, and even if the stand-off does not lead to all-out conflict between armies, it will be remembered as a close call. With this in mind, this new belligerency presents us with excellent trading opportunities. I will discuss the two most obvious ones here.
Natural Gas (BOIL, GAZ, FCG, NWN, UNG)
Russia supplies a large part of Europe's natural gas. In fact 50% of Russia's immense NG production is delivered to Europe which is up to 34% of Europe's total supply. 80% of that gas passes through Ukrainian pipelines which has been a source of controversy in the past. One of the first things the leadership in Ukraine would do in order to pressure Russia to pull back its troops would be to simply turn off the tap. Cutting off European gas supply would create a shortage in the market at the tail end of winter and this shock would cause gas to become far more expensive. The other main gas supplying countries will see their GDP lifted as they will then receive a higher return for their NG production i.e Qatar, Norway, Canada.
It may be a good idea to buy natural gas at the current level, but because this is situation is "fluid", stop losses are imperative. It's also worth noting that cold March is forecasted for the USA which will lead to reduced stockpiles of the heating fuel.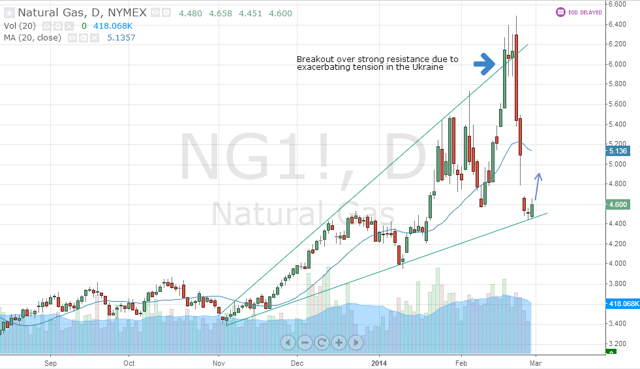 The Ruble
President Obama has already warned Putin about the economic costs of military engagement. The ruble is particularly sensitive to the risk of this eventuality. Although Russia's self sufficiency will shield it from many of the default economic threats, it's increased isolation will cause the Ruble to plummet as exports are dramatically curtailed. Putin does not seem to be the sort to back down in the face of confrontation even at the expense of his country's sluggish economy. Again, with the ruble place a stop if you plan on selling. how much depreciation there is before we see some price stability is hard to estimate, but the sentiment is most definitely to short.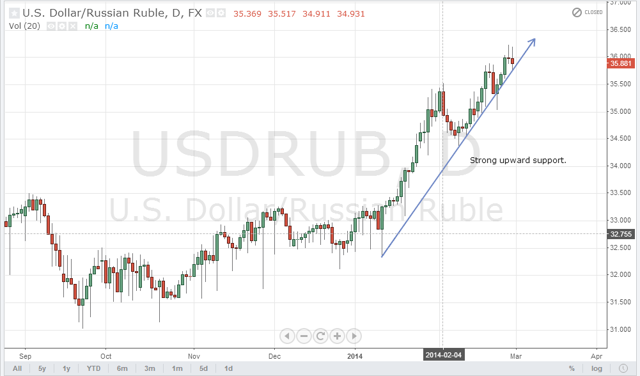 I look forward to hearing your thoughts on this new geopolitical crisis. I certainly will be following the situation closely.
Disclosure: I have no positions in any stocks mentioned, and no plans to initiate any positions within the next 72 hours. I wrote this article myself, and it expresses my own opinions. I am not receiving compensation for it (other than from Seeking Alpha). I have no business relationship with any company whose stock is mentioned in this article.