Gartner forecasts the CRM market for 2014 at $23.9 billion.
That forecast suggests the CRM market grew by one third since 2012 when it was an $18 billion market, a growth rate of about 14% versus the 12.5% growth rate in 2012.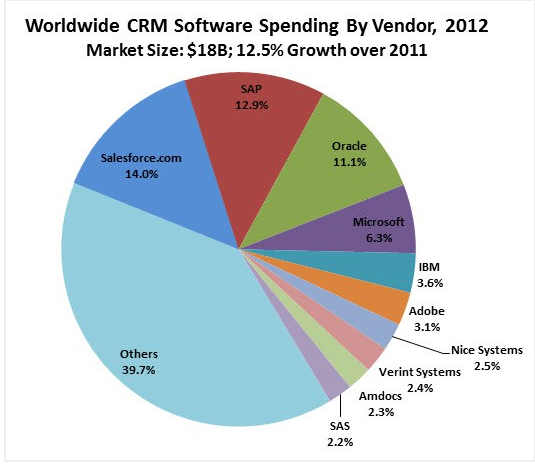 Source: Forbes
Salesforce.com (NYSE:CRM) reported fiscal 2013 revenues of $4 billion and guided to revenues of $5.3 billion in 2014 at its last earnings conference.
Achievement of $5.3 billion revenues would put Salesforce.com at about a 22% share of the Gartner forecast market versus 14% in 2012.
If Salesforce.com is taking share, someone must be losing it. Who?
In April 2013, Gartner reported CRM industry sales in calendar 2012 as follows:

What is interesting is that everyone is growing. If Gartner is right that the 2014 market will be $23.9 billion, that will represent an increase of $5.8 billion from 2012 in absolute dollars. Salesforce.com would have garnered about $2.7 billion of that growth increment if it achieves its $5.3 billion revenue guidance. That performance would mean that Salesforce.com is capturing about 51% of the growth in the market.
According to the Gartner 2012 table above, Salesforce.com was not the fastest growing player in CRM space - that would be IBM (NYSE:IBM) with 39.4% growth, while Salesforce.com would be in a tie with Microsoft (NASDAQ:MSFT) with a 26% growth rate.
If one simply projects the CRM market with each competitor growing at the rate it grew from 2011 to 2012 through to 2014, the picture looks like this by my arithmetic: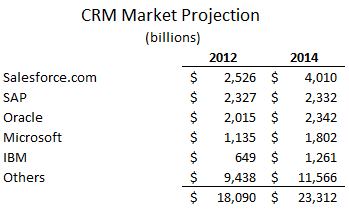 Source: Michael Blair analysis
The trendline would put Salesforce.com calendar 2014 revenues at $4.0 billion, a long way shy of the $5.3 billion the company forecasts for its fiscal 2015, which comprises 11 months of calendar 2014. Of course, the Gartner numbers are calendar year and Salesforce.com fiscal year ends in January. A few hundred million of the difference reflects the Salesforce.com acquisition of Exact Target in 2013. Exact Target revenues contributed $195 million to Salesforce.com fiscal 2014 sales and likely represent $400 million to $500 million of the fiscal 2015 picture. I can find no evidence to explain the additional $800 million in the fiscal 2015 guidance.
I have no idea how Salesforce.com can be taking massive amounts of market share from competitors who are not reporting corresponding market share losses of the same magnitude, at least not in reports that I can find.
To use a word familiar to Salesforce.com CEO Mark Benioff, it is simply amazing.
There are a few alternative possibilities:
The Gartner data are simply unreliable and bear no resemblance to the market or its growth rate; and/or,
Salesforce.com competitors are quietly bleeding market share; and/or,
The Salesforce.com revenues have a different source.
Salesforce.com's Investor Community November 19, 2103 set out some interesting data that go to its sales figures. One slide showed declining attrition from existing customers. I read the chart as showing the attrition rate declining from 16% in Q412 to 14% in Q413 and 12% in Q414 more or less.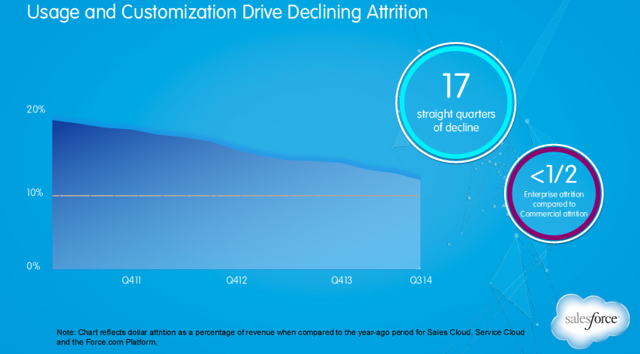 The presentation then went with a slide that showed added sales to existing customers more than offset that attrition with about $2 added for every $1 lost in FY12; $2.25 for every $1 lost in FY13 and about $2.50 added for every $1 lost in FY14.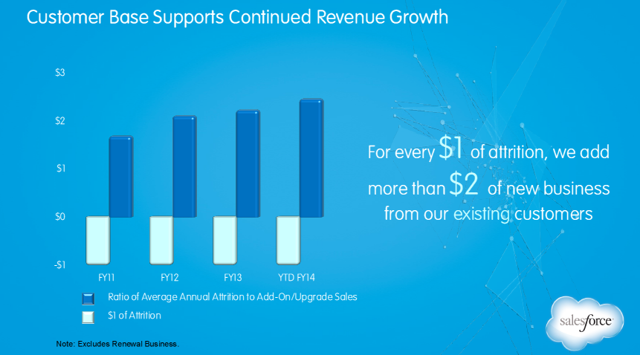 Taking those data at face value, I estimated their implications for Salesforce.com reported revenues as set out below. For example, if Salesforce.com suffered 16% attrition from its fiscal 2011 revenues (excluding professional fees) of $1,551 million, it would have had attrition of $248 million, but added twice that, or $496 million, from existing customers, raising what I will call its base revenues in fiscal 2012 to $2,047 million. Since it reported $2,267 million in revenues, the balance had to come from new customers.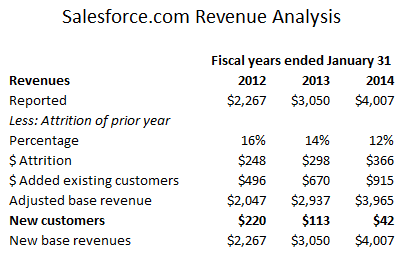 The same analysis shows that revenues from new customers must have dropped to about $113 million in 2013 and a mere $42 million in 2014.
In the midst of all this, Salesforce.com continued to report steady growth in revenues, which it paraded in its November 19, 2013 Investor Community presentation with this slide. Given the churn, the offsetting growth in revenues from existing customers, and the apparent decline in new customer revenues, the performance is, well, amazing.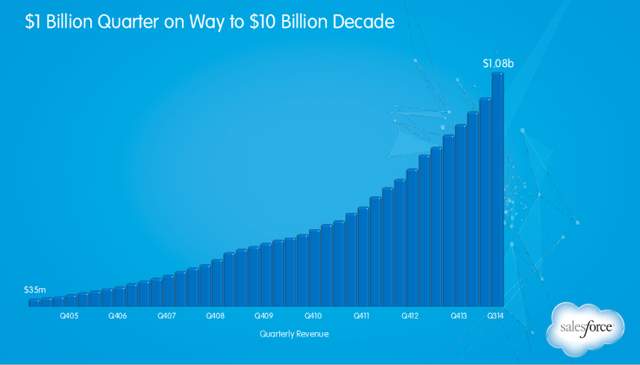 Despite the "amazing" performance, key executives and directors of Salesforce.com are jumping ship.
Salesforce.com CFO Graham Smith is stepping down in March 2015.

Source: Salesforce.com website
Mr. Smith is 53 years of age and has been with Salesforce.com since 2007.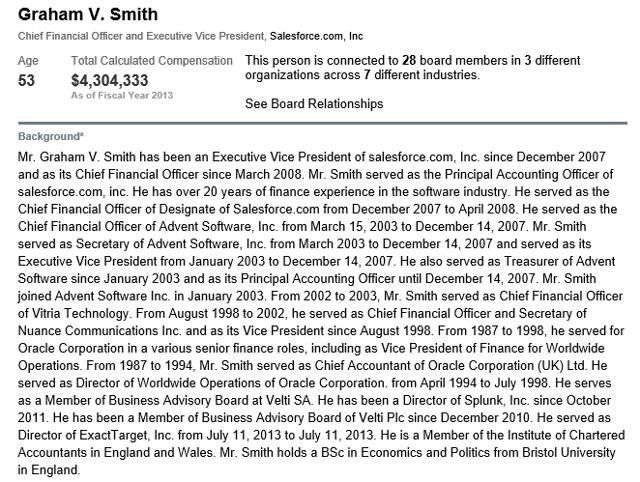 Source: Bloomberg
I have no idea what prompted Mr. Smith to decide it was time to leave Salesforce.com at 53 years of age.
Mr. Smith is not the first departure. On January 31, 2014 Blair Crump, aged 51, resigned from his post as President, Global Enterprise. Mr. Crump felt it either necessary or at least valuable to enter into a mutual release with Salesforce.com, as disclosed in the Salesforce.com 8-K announcing his departure:

These executive departures followed the September 10, 2013 departures of two directors of Salesforce.com - Stratton Sclavos and Shirley Young.
There is enough uncertainty and ambiguity in the data from Salesforce.com's investor community presentation and financial reports that I am doubtful they are reliable.
I am short the stock.
Disclosure: I am short CRM. I wrote this article myself, and it expresses my own opinions. I am not receiving compensation for it (other than from Seeking Alpha). I have no business relationship with any company whose stock is mentioned in this article.