Executive summary:
Fracking is dramatically altering the chances of the US becoming energy independent.
With surging energy production comes many investment opportunities.
An increasingly threatening Russia may be catalyst needed to unit America and focus her efforts on greater energy production.
The trend in atmospheric CO2 levels is unchanged over the past 5, 10, 15 and even 50 years. No policy has altered that trend, and yet many have lost their jobs as a result of those policies. That too may be a catalyst for greater energy production in the US.
_______________________________________
What I find amazing about the emerging shale oil and gas industry is just how little we seem to know about it. It seems like every other day I read a headline about a new shale discovery. This week was no different. The headlines this time are about the Tuscaloosa Marine Shale.
the Tuscaloosa Marine Shale, a geologic formation that stretches in boomerang shape across Louisiana's midsection and into southern Mississippi. Drillers have known about the formation north of the Gulf of Mexico for years, but affordable technology to remove the oil from the shale's tight pores was slow to develop.
The technology changes so fast in this industry that fields that were once considered unrecoverable suddenly become recoverable. The following graphic shows how over just a 2 year time frame estimates can increase dramatically. Note how the Tuscaloosa Marine Shale isn't even included on the graph from 2009.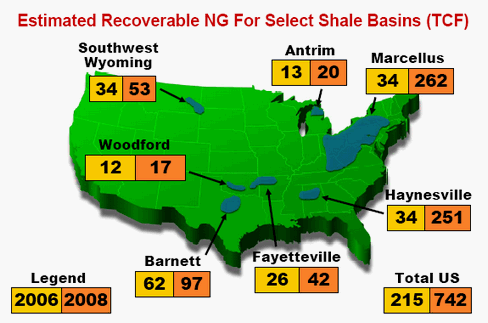 Note: Haynesville Shale is mislocated on the map and should be further to the left in Louisiana.
Rising estimates of U.S. recoverable natural gas reserves from shale deposits could keep natural gas prices low over the next few years. The above map shows the sharp increase in recoverable reserves from select shale basin in trillion cubic feet from 2006 to 2008.

Recent advances in horizontal drilling and rock fracturing techniques have made shale gas - traditionally quite costly to develop - more viable and help boost reserve estimates.
The 2013 numbers aren't out yet, but from the 2012 Oil and Gas Journal report fracking gas is making a big impact on increasing new proven reserves.
Top producers, their 2012 production averages, and year-to-year changes are Russia, 10.45 million b/d, up 1.2%; Saudi Arabia, 9.96 million b/d, up 6.6%; the US, 6.33 million b/d, up 11.9%; China, 4.08 million b/d, up fractionally; and Canada, 3.095 million b/d, up 6.6%. Evident in those numbers is the surging importance of production from unconventional resources-shales and other low-permeability formations in the US and Canada and oil sands and heavy oil in the latter.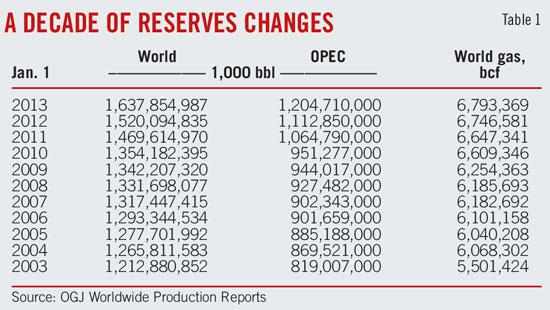 Non-OPEC oil production has been surging.
Non-OPEC oil production

The production surges by the US and Canada have helped push non-OPEC production up by 1.4% in 2012. Other notable non-OPEC production gains have come from Brazil (0.7%) and Colombia (2.4%).
At the end of 2012, global estimates stood at 1.6 trillion bbls.
OGJ's new estimate for global oil reserves of 1.6 trillion bbl is up 115 billion bbl from the number published at this time last year (OGJ, Dec. 5, 2011, p. 26)...Where possible, OGJ uses data from its surveys and published official estimates. Most reserves estimates come from governments, which control most reserves. Government reserves estimates frequently are influenced by geopolitical pressures.
Proven gas reserves in the US are 272,509 billion cubic feet. Converting that to barrels of oil equivalent or BOE, the US has an estimated 280 billion MBtus, which is 48.25 billion BOE. Given that the US consumes 19 million barrels per day, or 6.8 billion barrels per year, the current natural gas reserves represents the equivalent of 7 years of US oil consumption. The key point, however, isn't the vast size of the reserves, it is that estimates have been increasing with each new find.
Louisiana State University scientists estimate the formation holds 7 billion barrels of oil, though that total isn't proven yet. Most of it is a light, sweet crude that can be sold to refiners for more than $100 a barrel. By comparison, the federal government estimates that the U.S. has about 40 billion barrels of proved oil reserves.
The US natural gas proven reserves chart looks like the Bitcoin before Mt Gox.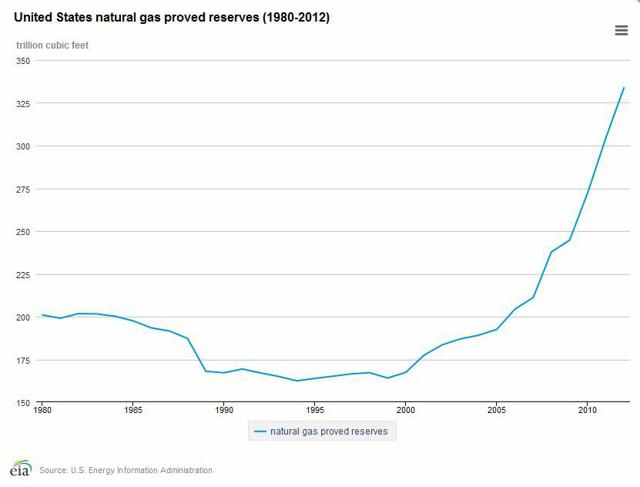 So does the chart for US oil proven reserves.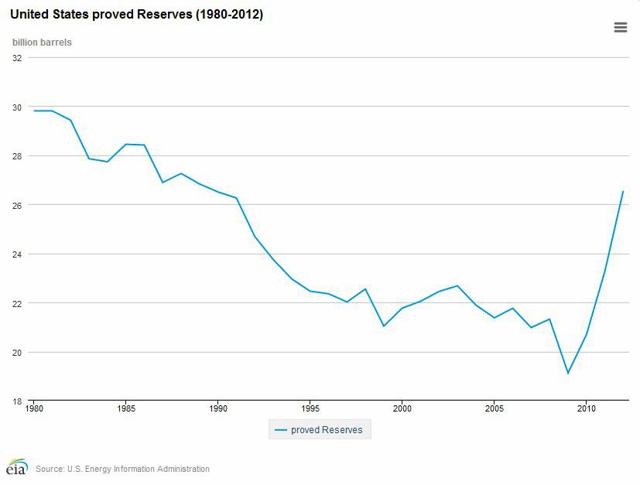 Global shale fields, many virtually untouched, show the enormous potential for greater global energy production.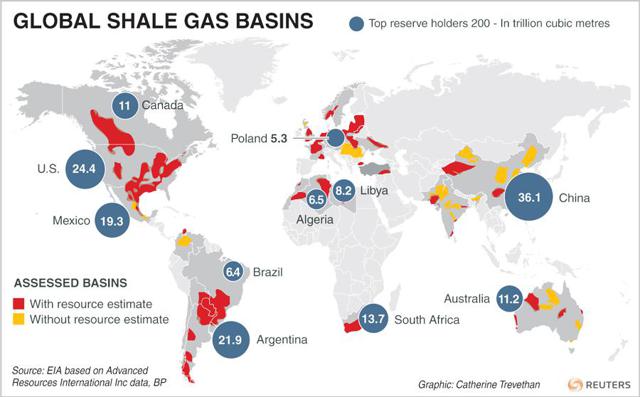 Some sources even show greater potential.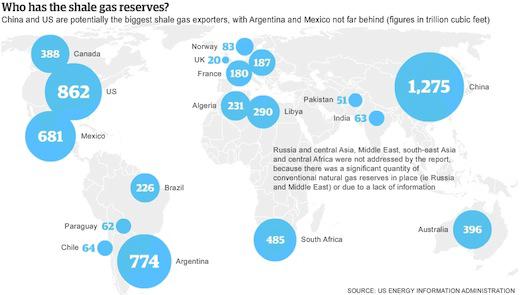 While the US is still a net energy importer. Estimates are for the US to be the world's top oil producer by 2015, and energy independent by 2020.

It is no wonder that Saudi Prince Alwaleed is highly concerned.
PRINCE ALWALEED: Fracking Is Going To Crush The Saudi Economy If Nothing Is Done
Abu Dhabi is concerned enough to bankroll an anti-fracking propaganda movie that played throughout the US. It appears some Hollywood types would rather help fund undemocratic oil rich Nation's Kings and Princes than create jobs and wealth for the unemployed US worker.
Matt Damon's new film on fracking, "Promised Land", is generating some buzz -- though probably not the kind studio execs were hoping for.

Last week, the conservative think tank Heritage Foundation pointed out that in the trailer for film, one of the financial backers listed is Image Nation Abu Dhabi.

Image Nation Abu Dhabi is, in turn, owned by Abu Dhabi Media - a state media company for the United Arab Emirates. The UAE, an OPEC member, is the world's third-largest oil exporter.
Russia also sees it power grip slipping. A few years back Russia could simply cut off a Nation's gas supply to get them to bow to its wishes.
MOSCOW - Gazprom, the Russian gas monopoly, halted nearly all its natural gas exports to Europe on Tuesday, sharply escalating its pricing dispute with neighboring Ukraine. The cutoff led to immediate shortages from France to Turkey and underscored Moscow's increasingly confrontational posture toward the West.
Fracking threatens Russia's ability to effectively use such thuggish totalitarian bully tactics. Because no bully likes to give up its power, it is reported that Russia is working to undermine Fracking in the US, which shouldn't be too difficult in the short-term considering he has an anti-fracking ally in the White House.
PITTSBURGH (NYSE:AP) - The Kremlin is watching, European nations are rebelling, and some suspect Moscow is secretly bankrolling a campaign to derail the West's strategic plans.

It's not some Cold War movie; it's about the U.S. boom in natural gas drilling, and the political implications are enormous.

Like falling dominoes, the drilling process called hydraulic fracturing, or fracking, is shaking up world energy markets from Washington to Moscow to Beijing. Some predict what was once unthinkable: that the U.S. won't need to import natural gas in the near future, and that Russia could be the big loser.
President Obama's opposition to fracking however may be changing. 2014 and 2016 are election years, and Republicans have always needed shale rich Ohio to win the White House. The following quote highlights just how important following politics is to understanding and analyzing this industry. I also like how the New York Times gives President Obama cover by failing to point out that the shale gas revolution has occurred largely in spite of his policies and mostly on private land. Five years into his presidency he still hasn't decided on the Keystone XL Pipeline.
Production of domestic oil and natural gas has surged in recent years as hydraulic fracturing and horizontal drilling have opened new fields and allowed renewed production from formations that had seemed depleted.

President Obama has strongly endorsed the new production as a boon to the economy and energy security. And the president, under intense criticism of his energy policies from Republicans and oil industry officials as he faces a re-election contest, has recently taken steps to ease government regulation of oil operations.
Administrations are always short-term events, however, limited to 8 years by the 22nd Amendment of our US Constitution. One only needs to look back to the 1979 election to understand just how important an election can be to the energy industry. In 8 short years, the World went from having a 10 year supply of oil left according to then President Jimmy Carter, to an oil glut under President Reagan. Most importantly, the surge in oil production and collapse of oil prices robbed the former USSR of resources needed to fight the Cold War. A very similar situation exists today with Russia returning to the bully of its past.
If Russia continues to push around the US, it is very very likely that the mood of the voters will change dramatically. Fighting "climate change" and other divisive issues that are currently consuming America's attention are luxury issues, issues that a rich distracted Nation can focus on to tear itself apart as the politicians jockey for power and control. Simply read the headlines from Washington and then look at what is important to the American people. The concerns of the American people are a distant afterthought to those in Washington. Climate change by the way registers dead last on the poll.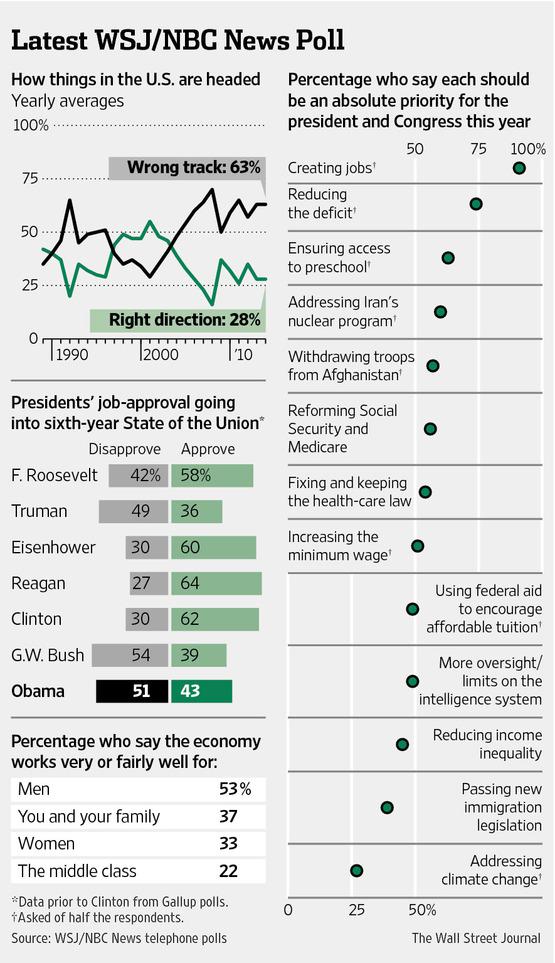 Russia's belligerence is likely to act as a counter productive kick in the crotch to the freedom loving American voter. Nothing can energize and unify America like a totalitarian bully communist threat. Americans love to fight the commies, and energy production will be essential for America to fight back against the communist threat. Going into the elections, however, the current administration will have to do some work if they want to stay in power as America's attention shifts and focuses.
The biggest obstacle to greater energy production is the belief that CO2 causes global warming and climate change. The entire alternative energy movement is based upon that belief. CO2 production is actually tracked by the EIA to highlight its importance.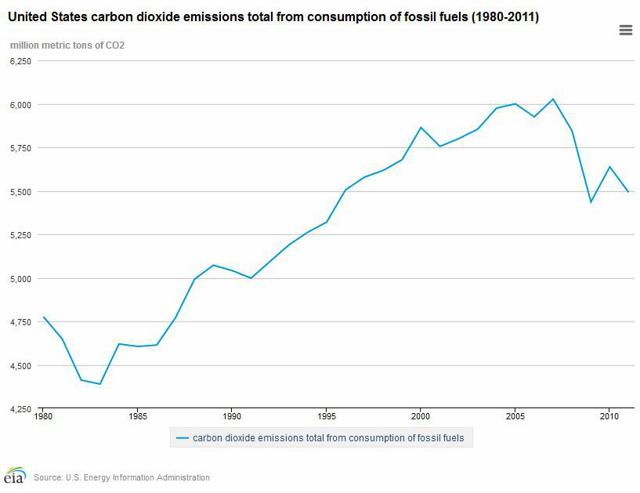 The problem is, that decrease in CO2 production has come at a tremendous price to the American worker, especially those in the coal industry. Coal production has actually decreased in the US over the past 5 years, during an era of exceptionally high unemployment.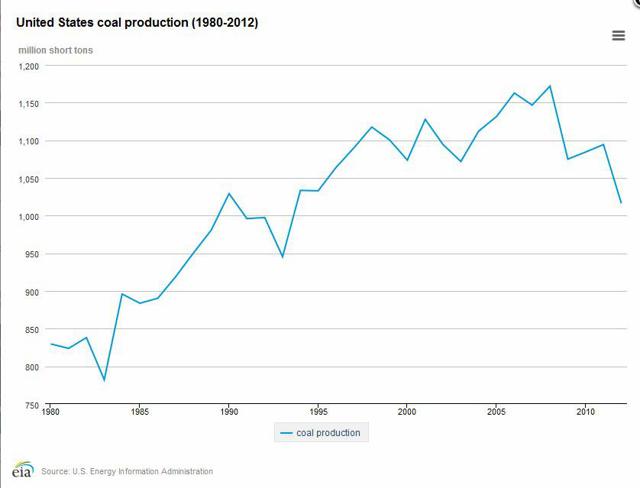 The entire focus of the climate change agenda is to lower or slow the growth of CO2 in the atmosphere. Man produces 5% of atmospheric CO2, most of it necessary to maintain a decent quality of life, so there isn't really anything a government policy can or will ever be able to do to slow the growth of atmospheric CO2. These policies are pure folly. Don't take my word for it, simply look at the atmospheric CO2 chart. The CO2 trend is 100% completely unchanged over the past 5 years. There is absolutely no change whatsoever.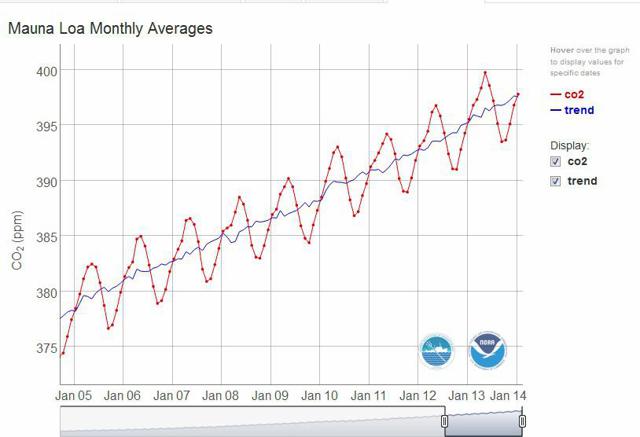 And the trend of the past 5 years is completely unchanged from the 50 years before that.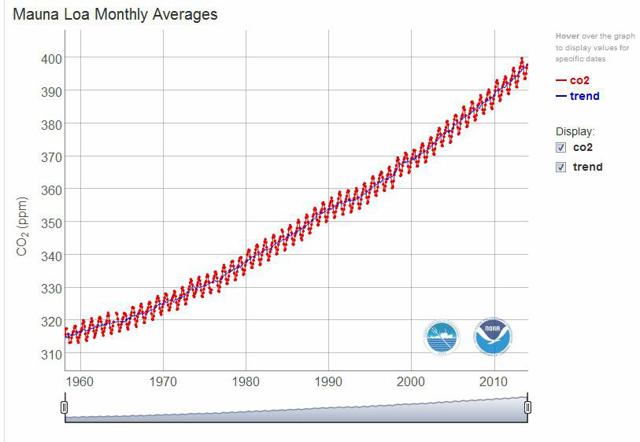 I can already see the commercials of an unemployed coal miner standing in front of an atmospheric CO2 chart asking, "I lost my job for this?" With an emerging communist threat, and the complete and utter failure of government policies to impact atmospheric CO2 levels, I would expect the Nation's focus to turn to energy production. When and if that happens, I would expect gains to be made in the oil and gas industry similar to what happened in the 1980's. The more belligerent and threatening Russia becomes, the more likely this investment theme is to materialize.
Companies to consider related to shale oil and gas are:
Kodiak Oil and Gas (NYSE:KOG)
Oasis Petroleum (NYSE:OAS)
Continental Resources (NYSE:CLR)
Whiting Petroleum (NYSE:WLL)
Power Solutions International (OTCPK:PSIX)
EQT Corporation (NYSE:EQT)
Cabot Oil & Gas Corp. (NYSE:COG)
Antero Resources Corp. (NYSE:AR)
National Fuel Gas Co. (NYSE:NFG)
Consol Energy Inc. (NYSE:CNX)
Ultra Petroleum Corp. (NASDAQ:UPL)
Gastar Exploration Inc. (NYSEMKT:GST)
Stone Energy Corp. (SGY)
Rex Energy Corporation (NASDAQ:REXX)
Southwestern Energy Co. (NYSE:SWN)
Devon Energy Corp. (NYSE:DVN)
Quicksilver Resources Inc. (NYSE:KWK)
EV Energy Partners LP (NASDAQ:EVEP-OLD)
Carrizo Oil & Gas Inc. (NASDAQ:CRZO)
Chesapeake Energy Corp. (NYSE:CHK)
EXCO Resources Inc. (NYSE:XCO)
Goodrich Petroleum Corp. (NYSEMKT:GDP)
Forest Oil Corp. (NYSE:FST)
Cimarex Energy Co. (NYSE:XEC)
PetroQuest Energy Inc. (NYSE:PQ)
Vanguard Natural Resource LLC (NYSE:VNR)
Penn Virginia Corp. (PVA)
SM Energy Co. (NYSE:SM)
Rosetta Resources Inc. (NASDAQ:ROSE)
Swift Energy Co. (NYSEARCA:SFY)
Cheniere Energy (NYSEMKT:LNG)
Dow Chemical (NYSE:DOW)
LyondellBasell (NYSE:LYB)
Royal Dutch Shell ADR (NYSE:RDS.A)
Chevron (NYSE:CVX)
ConocoPhillips (NYSE:COP)
Williams Companies (NYSE:WMB)
Halliburton (NYSE:HAL)
Schlumberger (NYSE:SLB)
In addition to the chemical, drilling, pipeline, exporting and refining companies, there is an industry that has yet to make it to America but may, gas-to-liquids or GTL. The economics are very solid, and should only improve if the supply of natural gas outpaces the production of oil. RDS.A already has a large plant in Qatar, but has recently backed out of a project in the US. Sasol (NYSE:SSL) however looks to be going ahead. This technology called the Fischer-Tropsch process can also be used for coal-to-liquids or CTL as well. A truly "all the above" energy policy that includes more fracking, GTL and CTL plants would go a long way towards US energy independence and provide Alexander Putin plenty of sleepless nights.
South Africa's Sasol Ltd. (SSL), the largest producer of motor fuel from coal, announced plans last year to build a $14 billion gas-to-liquids plant in Louisiana.

"While we cannot speak to another company's plans, we continue to view our proposed GTL facility in Louisiana as a very attractive opportunity as we advance it through the front-end engineering and design phase," Russell Johnson, a spokesman for Johannesburg-based Sasol, said in an e-mail today.
Disclaimer: This article is not an investment recommendation or solicitation. Any analysis presented in this article is illustrative in nature, is based on an incomplete set of information and has limitations to its accuracy, and is not meant to be relied upon for investment decisions. Please consult a qualified investment advisor. The information upon which this material is based was obtained from sources believed to be reliable, but has not been independently verified. Therefore, the author cannot guarantee its accuracy. Any opinions or estimates constitute the author's best judgment as of the date of publication, and are subject to change without notice. Past performance is no guarantee of future results. For my full disclaimer and disclosure, click here.
Disclosure: I am long SYNM. I wrote this article myself, and it expresses my own opinions. I am not receiving compensation for it (other than from Seeking Alpha). I have no business relationship with any company whose stock is mentioned in this article.
Additional disclosure: I own calls on REGI