Tesla Motors Inc. (NASDAQ:TSLA) has experienced a stock price appreciation of 19% after Morgan Stanley doubled its projected price for the stock from $153 to $320. Year to date the stock increased 65%. Even the CEO Elon Musk believes the stock is ahead of what the company has accomplished so far and is trading at 15 times its revenue.
The revenue earned by a company provides a sustainable base for its stock price appreciation or decline. The current price hype observable in Tesla's stock is the result of herding behavior. The market is following the projected price set by Morgan Stanley at $320 but will the stock be able to reach such a pricey level? The high price at which Tesla is currently trading is driven by hope in a future that seems very optimistic. However, there are some risks and uncertainties that surround this rosy picture, can hinder Tesla's growth, and can cause the stock price to significantly decline. The market for electric vehicles is robust. Tesla plans to sell 35,000 cars in 2014 including international deliveries. The US had a target set back in 2011 to put 1 million electric vehicles on the road by 2015 to reduce the country's dependence on oil. Moreover, historically, electric vehicle adoption also remained robust and outperformed other automobiles as depicted in the figure below.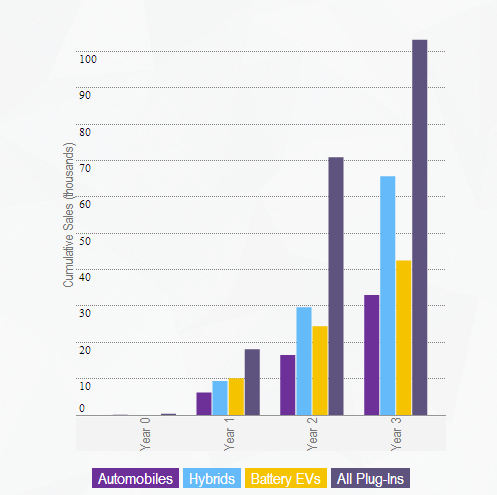 Source: Daily Finance
The following is the EV sales target set by the Electric Vehicle Initiative to be attained by 2020 that aims for 20 million EVs on the road by 2020 representing 2% of total passenger cars.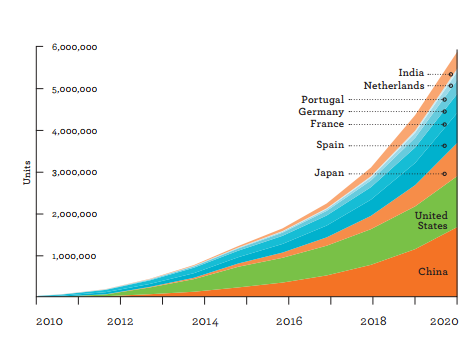 Source: International Energy Agency
That projection will really help accelerate the demand for electric vehicles with the passage of time. Tesla can see the evolving demand therefore it is striving towards enhancing its production capacity and reducing cost barriers. However Tesla is not operating in a vacuum and its BEV is facing competition from Nissan Motor Co. (OTCPK:NSANF), General Motors (NYSE:GM) and Toyota Motors(NYSE:TM). Tesla is manufacturing electric vehicles and is operating in a niche market that differs from the traditional ICE vehicles market. Also, the company's sales volume lags far behind other players in the industry. This fact is depicted in the company's share of the automobile market in 2013. However the company's CEO claimed that the demand is far greater than the current production capacity.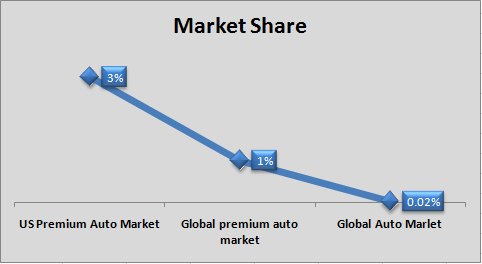 Source: Corporate presentation
GIGA Factory: Step Towards Cheaper Batteries & Affordable Cars
Giga Factory is no doubt an idea that can revolutionize not only the electric vehicle market but also pave the way for the phenomenal pace of the energy storage market. By 2020 the annual battery production by the factory will exceed global production in 2013. Tesla wants to ramp up its production capacity in order to be able to meet the global demand of batteries for electric vehicles. After the factory buildup the company will be able to make 500,000 cars per annum by 2020 and a potential 30% decline in battery costs (per-kilowatt costs) will be achieved in the first year. Battery packs are the most costly part of Tesla Motors that drive its sales price to almost 2-3 times an average American car. Tesla has realized the fact that the market for a car with a sale price of $75,000 is smaller than for those with a price tag of $35,000-$45,000. By achieving cost efficiency Tesla will be able to meet global demand for its vehicles at a more affordable price. The company aims to make a Generation III vehicle with a price tag that is more competitive than the luxury cars it makes today making it price competitive to ICE Vehicles. The Giga factory can really aid the company in achieving its set target.
Tesla Battery: Energy Storage System At Home
With battery production on such a mass scale Tesla can provide a new dynamic to the power storage industry in the USA because the rising prices of fuel and oil have made customers more inclusive of batteries and solar panels to reduce their electricity bills. The same can be said for customers switching to electric vehicles over traditional vehicles with internal combustion engines. The idea of batteries that can store large amounts of energy from various sources accompanied with solar panels can enable customers get rid of traditional and costly power supplies.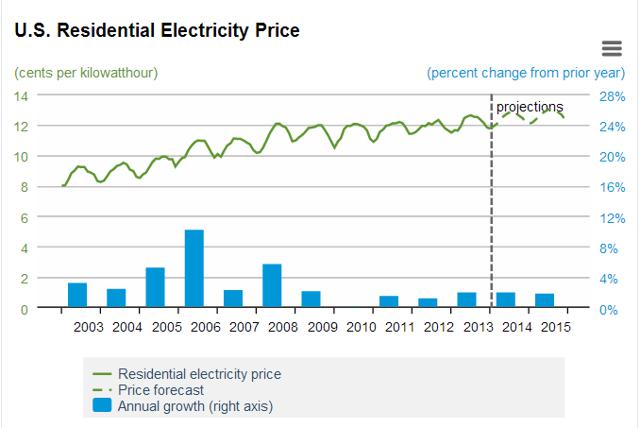 Source: US Energy information Administration
The graph above shows the increase in electricity prices up to 2015. The increasing trend will continue over the long term because of rising energy consumption around the globe.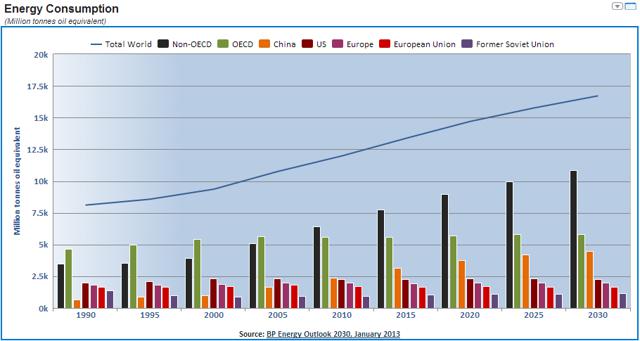 Source: knoema.com
Tesla offers the ability to store energy and enough to power the average home for 3.5 days. Solar panels will generate electricity in day light and excess energy stored in batteries can be used at night. The company is expected to work closely with Solar City Corp. (SCTY) so customers will be able to purchase solar panels and batteries at one location. The US Solar energy industry is gaining momentum y-o-y (see graph below).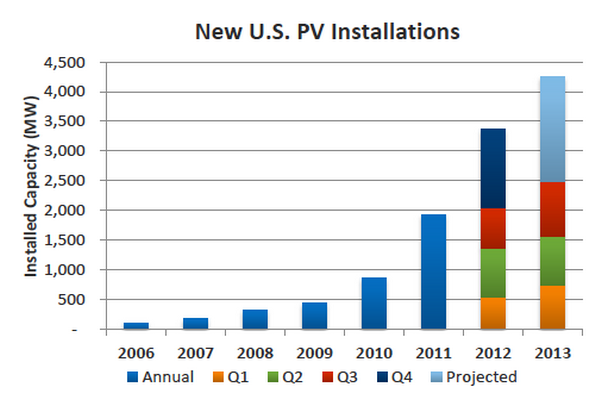 Source: Clean-technica
This scenario makes this lithium-ion battery production project very much enviable and provides support to the bullish investment case. However, to be adopted on a mass scale this home energy storage system has to be really cheap otherwise it will be difficult for consumers to opt for a more expensive option rather than the traditional utility.
Potential Headwinds and Tailwinds
Tesla is not the only company producing electric cars. Therefore, if the global infrastructure for electric vehicles evolves over time and many different governments appreciate and encourage the use of more fuel conservative technology other auto manufacturers will also try to capitalize on this market. They will definitely try harder to bring more innovative EV models to the market that will compete with Tesla's Model S and Model X. However its supercharging network and Giga factory will turn out to be a strategic asset for the company generating revenues over a longer time period. The factory will produce 50GWh battery packs. The following table sums up the expected consumption of each battery pack's capacity and each car model and the excess capacity that can be used to sell the packs to other parties. I have assumed that Tesla will sell 500,000 cars by 2020, 60% of which will be the Model E since it is a mass market vehicle. The Model S has a battery size of 85KWh and the Model E has a battery size of 48 KWh. However, that may change by the time we enter 2020 and therefore I have incorporated current as well as expected battery sizes.

The Giga factory will produce battery packs in excess of Tesla's consumption and therefore these can be sold to outer businesses such as solar energy companies like Solar City or automakers like Toyota and Daimler. Tesla may also charge other auto makers for charging their cars on its stations generating annual revenues with an increasing trend as more and more companies launch their EVs. This is something that will maintain Tesla's position in the market as long as no other facility is available in the market on such a huge scale. Tesla's upcoming Model X in 2015 will also bolster the company's revenue since the company expects to price it more expensively than the Model S. International demand for Tesla cars, such as in China, also warrant the company's success in terms of revenue growth. In short, Tesla's Model S and Model X will continue bolstering its revenue stream targeting the luxury car segment while the Model E will be targeted to a wider market due to its affordability.
Bottom Line
Tesla's stock is trading at an expensive price level above $200 but the Giga factory has put the company into a complete different dimension. It can enable the company to supply the energy storage market and that will make Tesla far more than just an automaker company. This energy storage opportunity can justify the current price level of the stock. The price is not supported by a sustainable base until the idea of Giga factory comes to fruition and starts bolstering the company's revenue year over year. It is hard to believe that until the mass adoption of the company's vehicles no effective competition will hit the market.
Despite its lofty price levels, the stock is still a buy for the long term. Investors should grab it now at a price below $260-$270 in order to enjoy large gains when the battery factory and battery production becomes the low hanging fruit for Tesla Motors. If this possibility becomes reality the stock price will undoubtedly skyrocket.
Disclosure: I have no positions in any stocks mentioned, and no plans to initiate any positions within the next 72 hours.
Business relationship disclosure: The article has been written by a Blackstone Equity Research research analyst. Blackstone Equity Research is not receiving compensation for it (other than from Seeking Alpha). Blackstone Equity Research has no business relationship with any company whose stock is mentioned in this article.