Sunday, March 9 will mark the conclusion of the 25 day quiet period on underwriter research that began with Concert Pharmaceuticals (NASDAQ:CNCE)'s February 12 IPO.
The IPO underwriters will be permitted to release research reports on CNCE into the market beginning on the twelfth, likely leading to a short-term rise in the price of CNCE shares. Since pricing at $14 per share-the high end of the IPO's expected range-CNCE has bounced between $14 and $16.26 per share. CNCE closed at $14.28 on February 28.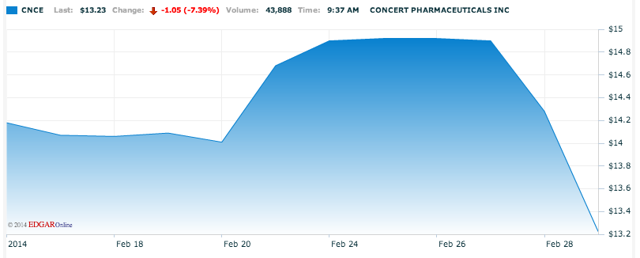 (Source: Nasdaq.com)
The firm's underwriters, including UBS Investment Bank, Wells Fargo Securities LLC, JMP Securities LLC, and Roth Capital Partners Inc, will attempt to bolster the small-molecule biopharmaceutical firm's market performance with an influx of positive information, beginning on the ninth.
Our research over the past two years, along with research performed in recent academic studies, has provided empirical evidence of a correlation between the visibility and quantity of an IPO's underwriters and a corresponding, temporary increase in the price of the firm's shares at the end of the quiet period.
The short-term price increase will typically begin a few days before the conclusion of the quiet period, as savvy investors anticipate the impending release of positive information and begin to buy up shares in advance. These early purchases create a perception of increased demand, leading to an increase in the price of shares.
Business
CNCE is a clinical stage biopharm, seeking to use deuterium substitution to discover and develop novel small molecule drugs that improve upon existing drugs and clinical candidates. Deuterium substitution can create drugs with improved pharmacokinetic or metabolic properties and improved clinical safety, tolerability and/or efficacy. Deuterated analogs of currently approved drugs sometimes are able to exploit expedited pathways to FDA approval.
CNCE is currently developing three clinical-stage treatments, including CTP-499 for diabetic kidney disease; CTP-354, for spasticity associated with multiple sclerosis; and AVP-786 for neurologic and psychiatric disorders, through a collaboration with Avanir Pharmaceuticals Inc (NASDAQ:AVNR). The firm also participates in collaborations with Celgene Corporation (NASDAQ:CELG) for deuterated compounds, including CTP-730 for inflammatory diseases, and with Jazz Pharmaceuticals plc (NASDAQ:JAZZ) for JZP-386, the active ingredient in Xyrem, which is in preclinical development for narcolepsy.
Management
Roger D. Tung, Ph.D. co-founded CNCE and has served as CNCE's CEO and President since April 2006. Dr. Tung previously served as a founding scientist at Vertex and served in various roles with that firm, most recently as its Vice President of Drug Discovery. He also held several positions at Merck, Sharp & Dohme Research Laboratories, and The Squibb Institute for Medicinal Chemistry. Dr. Tung holds a B.A. in Chemistry from Reed College and a Ph.D. in Medicinal Chemistry from the University of Wisconsin-Madison.
Conclusion
Though CNCE has been less than explosive on the market thus far, we believe that the firm is still a good buy for growth investors.
CNCE's business strategy-improving upon existing drugs through a well-understood chemical technique-should yield relatively swift FDA approvals and should allow the firm to capture significant portions of the existing markets for the drugs that it modifies.
The upcoming quiet expiration's burst of positive information presents investors with an opportune moment to set up a long position in CNCE.
Disclosure: I am long CNCE. I wrote this article myself, and it expresses my own opinions. I am not receiving compensation for it (other than from Seeking Alpha). I have no business relationship with any company whose stock is mentioned in this article.