Indiana community bank Lakeland Financial (NASDAQ:LKFN) has stuck to a defined de novo banking strategy for decades. It all boils down to this: Find a new market, gradually open branches, and build market share. It's not a sexy game plan. Lakeland doesn't grow through M&A. The bank doesn't roll out branches in rapid fire. On average, Lakeland has opened one branch a year for the last 16 years.
In other words, Lakeland is methodical in its approach -and arguably a bit boring - except for one small thing: The bank has grown its loan portfolio and net income through all the business cycles of the past 25 years. It has performed well in good times, in bad times, when the economy was humming and when the economy was in a state of collapse.
With Rare Exception, Every Year A Record Shattered
Except for 2009, Lakeland has reported record profits in each of the last 25 years. Lakeland has been seemingly immune to economic disasters. The bank sailed through the Dot Com crash. And judging by yearly P&L statements, it is as if the Great Recession never happened.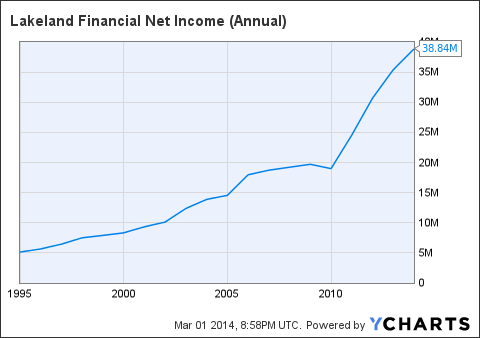 Remarkably, Lakeland has managed to increase its loan portfolio in each of the last 25 years, an incredible feat virtually without parallel in the banking industry. This year the bank grew its portfolio by 12%.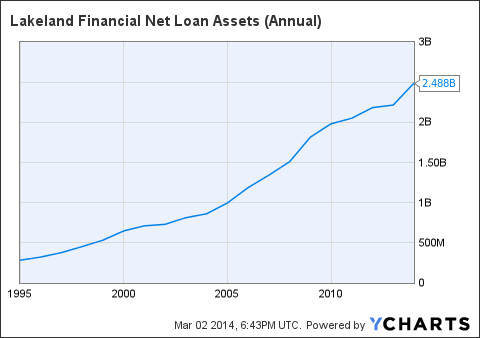 To put this in perspective, MB Financial (NASDAQ:MBFI), PacWest Bancorp (NASDAQ:PACW), and Old National Bancorp (NYSE:ONB) all have had lackluster loan production despite aggressive M&A activity. Lakeland has managed a steady increase in its portfolio without making a single acquisition.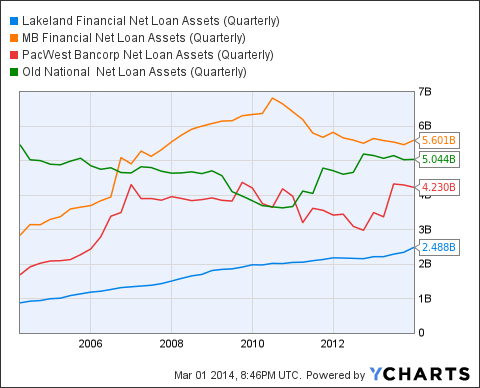 Background
Founded in 1872, Lakeland Financial operates 47 Lake City Bank branches, providing mostly commercial loans (C&I, CRE, Agriculture) with a smattering of residential and home equity. The bank holds the first, second, or third market share spot in most of its markets, including several major Indiana MSAs.
Catalyst: This Rural Bank Is Making It In The City
This rural bank has entered more populated MSAs starting with South Bend (1997), Fort Wayne (1999), and Indianapolis (2011).
Rural banks don't usually have success in the city because the competition can be severe. Lakeland is the exception. The bank expanded into Fort Wayne with 4 office branches, pulling a 10% market share in this 360,000 population city. Even more impressive, its branch deposits range from $68 to $288 million, averaging $150 million a branch, 3x the average Fort Wayne branch. The Lake City Fort Wayne branches are deposit machines.
Indianapolis is a much more difficult market with 22 competing banks and 254 branches. However, in only two years, its Indianapolis branch has grown to a whopping $76 million in deposits. According to Lakeland's CEO, "Lake City Bank has experienced the fastest growth in our history in our first Indianapolis office." In January, the bank opened its second branch. The strong showing in Fort Wayne and Indianapolis suggests the Lakeland model should transfer favorably to the city. Indeed, the strong 12% organic loan growth undoubtedly flows from the bank's move to higher population centers.
Catalyst: The Bank Is Well-Positioned For Higher Rates
I expect interest rates to rise. Because almost all of its commercial loans are variable or mature in less than 5 years, Lakeland should benefit from an upturn in long-term rates.
Valuation
Lakeland isn't cheap, trading at 1.96X TBV and 16X EPS. However, its metrics deserve a high valuation as they are just below stratosphere level: ROA 1.35, ROE 13.14, efficiency ratio 51. Credit is equally stellar with net charge-offs 0.16% and NPL only 0.94%. Management conservatively manages the loan loss reserves at 2X NPLs. With improving net charge-offs and nonperforming loans, Lakeside can reverse its loan loss reserves, boosting the bottom line as well as tangible equity.
Lower quality regionals receive equal or higher valuations. For example, PacWest, Old National, and MB Financial have weaker growth and worse returns yet are priced at similar or higher P:TBV.
Risks
- Lakeland serves only Northern Indiana and Indianapolis making the bank vulnerable to a local downturn.
- The bank would be adversely affected by declining interest rates.
Bottom Line
To summarize, the bank has demonstrated the ability to thrive in a wide variety of economic conditions and that, in itself, makes the company attractive. The company's move into more highly populated MSAs has been highly successful and has the potential to accelerate revenue and earnings growth. Accumulate.
Disclosure: I have no positions in any stocks mentioned, and no plans to initiate any positions within the next 72 hours. I wrote this article myself, and it expresses my own opinions. I am not receiving compensation for it (other than from Seeking Alpha). I have no business relationship with any company whose stock is mentioned in this article.
Additional disclosure: The opinions in this document are for informational and educational purposes only and should not be construed as a recommendation to buy or sell the stocks mentioned. Past performance of the companies discussed may not continue and the companies may not achieve the earnings growth as predicted. The information in this document is believed to be accurate, but under no circumstances should a person act upon the information contained within. We do not recommend that anyone act upon any investment information without first consulting an investment advisor as to the suitability of such investments for his specific situation.