For investors looking for a company with a strong history of creating shareholder value, Southern Company (NYSE:SO) is a dividend paying utility that currently offers a beta of 0.17 coupled with a yield of 4.80%.
According to the Southern Company's website if you invested 30 years ago, near the height of the 10 year bond, you would now have an annualized return of ~14.6%. If you invested 10 years ago the investor would have an annualized return of ~9.2% and even an investment placed 5 years ago would have an annualized return of ~7.1%. There is no doubt that these are excellent returns but looking forward is it reasonable to expect these returns out of this company in an inflationary environment?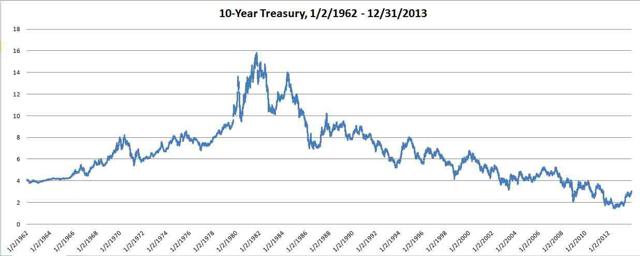 Chart sourced by (bond.about.com)
In an excellent article by Richard Shaw, entitled Fed Targeting 4% to 5% nominal 10-year treasury yield and Baa Corporates approaching 7%, he describes many scenarios that could lead to inflationary pressures over the next one to three years. In the article he states "Clearly it is time to think more about where interest rates might go". So if you have a dividend stock like Southern Company this is a factor to consider.
Southern Company and the 10 year Treasury Rate
As the chart below indicates there is a distinct co-relation between Southern Company stock price and the 10 year Treasury Rate. This is evident in the 5 year chart listed below. As the 10 year bond has set recent lows, Southern Company's price has set record highs.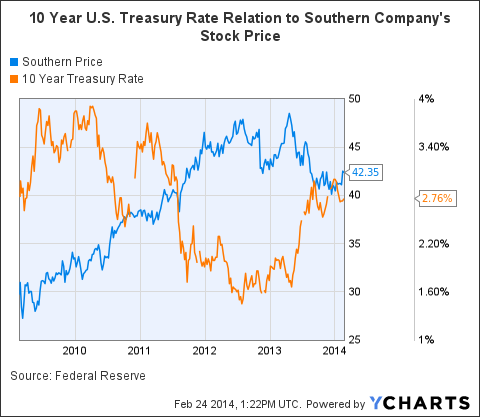 SO data by YCharts
In mid 2013, as the 10 year rate began to increase, Southern Company's price began to sell off. Over the past five years, the two metrics look to be "mirror images" of each other. So moving forward if the 10 year bond increases how will this affect the Utility Sector and Southern Company?
As there many analysts are expecting a slow and steady increase in the 10 year bond, with estimates in the 4% range in the next three years, the chart above indicates that this will have a damping effect of the potential for capital appreciation over the next few years.
This co-relation is evident in analysts' most recent price targets. Currently, targets set in 2014 indicate range from $42.00 to $46.00. To accompany these targets analysts give projections of Equal Weight, Hold or Fair Value.
As one of the reasons for the limited potential of capital appreciation over the next couple of years is the expected increase in the 10 year bond, what do future earnings look like? and potential for dividend increases?
If the investor is expecting limited capital appreciation over the next couple years and inflationally pressures rising this puts pressure on the company to create shareholder value in other forms. A company that does not do this will watch its shareholders real rate of return slowly begin to doctorate.
So, as there is significant speculation that the 10 year bond is on the rise, will Southern Company's dividend be able to keep up with inflation?
Dividend
Southern Company has a long history of dividend increases. The company has over 262 consecutive quarters or more than 64 years, of dividend payments. Currently, Southern Company pays a $2.03 per share annually. With the increase in April 2013 this marked the 13th consecutive year of dividend increases.
At current levels Southern Company offers a yield of ~4.80%, which equates to a payout of $2.03.
Annual Dividends Issued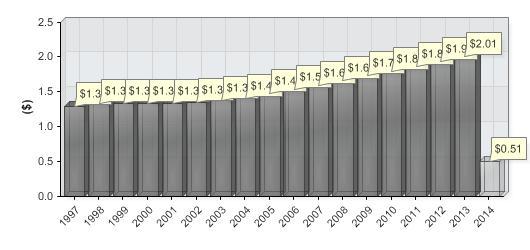 Chart Sourced by (Southern Company)
Analysts' Estimates
Analysts at MSN Money are estimating an EPS for FY 2014 at $2.77 while moderate growth is expected to continue into 2015 as EPS estimates increase to $2.86.
Bloomberg Businessweek supports this growth as it expects the company's revenues to be around $17.8 billion for FY 2014 and increase to $17.9 billion for FY 2015.
As the company historically has a payout ratio in the mid 70% , looking at future earnings and revenue will reinforce the company's estimates for dividend growth.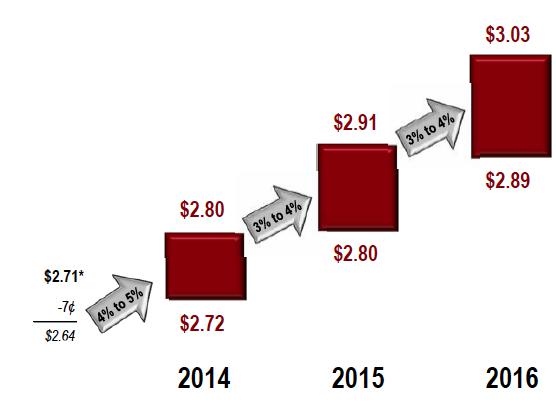 Photo sourced (SO)
To support Southern Company's projections analysts at the Nasdaq are projecting earnings to increase at a rate of ~4.05% yoy over the next five years.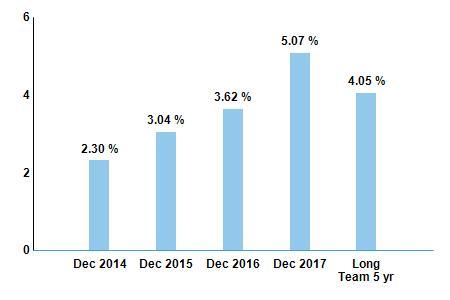 As the company and analysts estimate earnings to increase over the next three to five years and the company historically has a payout ratio of 70% will the dividend increases be able to keep up with inflationary pressures?
Using analysts EPS estimates while calculation a payout ratio of 75% this should give dividend payout estimates until 2017.
2014 - 2.77 * .75 = $2.08 payout
2015 - 2.86 * .75 = $2.15 payout
2016 - 2.96 * .75 = $2.22 payout
2017 - 3.11 * .75 = $2.33 payout
Using the method above the 2017 dividend payout should be around $2.33. So how does this compare against the estimated increase in the 10 year bond?
In a recent publication by Donald van Deventer PH. D. the article predicts the latest implied forward rate forecast from Kamakura Corporation. Within the article, there are forecasts for the next 60 months of U.S. Treasury yield curves and a long range forecast that estimate the next 61 - 120 month forecast.
| | | |
| --- | --- | --- |
| | 10 year bond | Southern Company estimated |
| Year | estimate | Dividend Increase % |
| 2013 | 2.75 | 2.46% |
| 2014 | 2.65 | 2.08% |
| 2015 | 3.07 | 3.37% |
| 2016 | 3.46 | 3.26% |
| 2017 | 3.77 | 4.95% |
As the chart above indicates the estimated dividend increase is only expected to beat inflation a couple of times over the next few years. Having stated that as 2015 and 2017 estimates look to be significantly stronger than inflation, dividend growth looks over the whole period, looks to outpace inflation.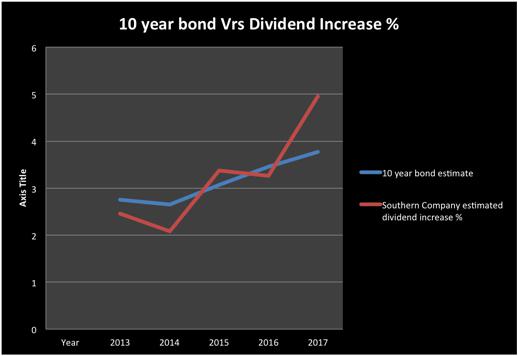 As the charts and predictions above have revealed that Southern Company's dividend growth will outperform inflation over the next few years, current lows in the stock price are providing an opportunity for investment potential.
Conclusion
Currently, the Utility sector is not the most attractive place to be. External pressures like the expected increase in the 10 year bond are putting a damper on the potential for capital appreciation. In regards to Southern Company, I believe that these external pressures will dampen the P/E ratio moving forward but as earnings look to be stable and increasing, the investor will be rewarded in the form of dividend growth. As the company's current yield is ~4.8% and dividend growth looks to be able to beat inflation, this formula should continue to create impressive long-term annualized returns. Accumulate on weakness
Disclosure: I have no positions in any stocks mentioned, and no plans to initiate any positions within the next 72 hours. I wrote this article myself, and it expresses my own opinions. I am not receiving compensation for it (other than from Seeking Alpha). I have no business relationship with any company whose stock is mentioned in this article.