Buyout stocks are my favorite way to make money when the market is going down. With interest rates at rock-bottom, companies with lots of cash have few ways to make a decent return on their money. Acquiring undervalued companies is becoming a very popular choice. According to my contacts, M&A negotiation activity is reaching a fever pitch.
Here are a few types of M&A plays I like during market downturns:
Type #1: Up for Sale ... Like Novell (NASDAQ:NOVL)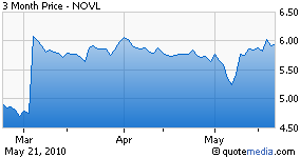 If you've holding this stock, you're pretty happy. It's up 44% this year and has a buyout offer on the table for $5.75 per share from Elliott Associates. More interestingly, NOVL rejected this offer and started the process of assembling bidders, presumably to sell the company for the highest possible price.
On Wednesday, the Wall Street Journal reported that NOVL has set a bidding deadline for this week. After that, the top bidders will enter a final round of bidding. The stock shot up over $6 on this news.
Better yet, after the bell on Wednesday, it was reported that upwards of twenty companies have expressed interest in NOVL. I viewed this as great news for the bidding, and thought the stock would go even higher on Thursday. Instead, the stock dropped in sympathy with the broader-market sell-off.
Why did this happen? Well, looking at how the stock has traded since receiving the offer from Elliott, NOVL actually has had a tendancy to drop on down days. To me, it's pretty clear that certain funds/investors have no choice but to sell NOVL's stock on down days.
It's certainly not reasonable to assume that NOVL's final buyout price will be affected much by the market dropping on a given day. Therefore, on days like this I tend to buy more NOVL.
By the way, with twenty potential bidders at the table, I can see NOVL being bought for upwards of $7.50. This roughly represents 3x maintenance + 1.5x its Linux revs + 1x its other license/services revenues + its net tangible asset value. One of my smartest friends also pointed out that $7.50 is about 10x LTM EBITDA, a reasonable valuation for an LBO firm with easy access to debt at current terms.
In my opinion, NOVL's maintenance revenue stream is the biggest swing factor. At 4x maintenance, the same calculation gets me to a $8.75 buyout price. At 2x maintenance, I "only" get $6.25. Personally, I see 3x maintenance as the right number because of the large number of potential bidders, offset by NOVL's maintenance renewal-rate (85% versus 95% for primo maintenance streams). Considering Thursday's closing price of 5.91, there appears to be plenty of meat left on this bone.
Type #2: Already Acquired ... Like Double-Take (DBTK)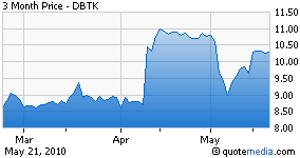 DBTK has agreed to an offer to be acquired by Thoma Bravo for $10.55 per share. The deal should close in about 3-months. Despite this firm and accepted offer, DBTK's stock also dropped with the market on Thursday. The reasons may be the same as for NOVL ... and as in NOVL's case, it also makes no sense.
Based on an intraday price of $10.25, an investor stands to reap 30 cents of profit by owning DBTK until the closing date of the acquisition. That doesn't seem like much, but 30 cents is almost 3% for a 3-month investment, which equates to 12% annualized. As the market falls off a cliff, I'd love to know where else I can get better than 12% on what is essentially a done deal.
Type #3: Management Seeking to Maximize Shareholder Value ... Like RealNetworks (NASDAQ:RNWK)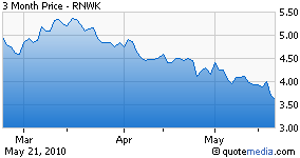 This is a great stock to buy during market corrections, because its risk-to-reward ratio increases very rapidly as it drops. But like NOVL and DBTK, RNWK should also have a floor under its valuation. Instead, it moves with the market. Over the last 20 trading days, the correlation has been high, with a beta of 1.86. Also like NOVL, management's new focus on driving shareholder value should lead to a break-up or sale of the company, and possibly a large cash dividend.
When I first wrote about this, the stock was trading around $4.25. It's closer to $3.62 as I write this. Meanwhile, its breakup value is probably $6-9. $3.00 of this already exists as cash on the balance sheet. The other $3-6 comes from the perceived value of its individual businesses. Management seems intent on selling off those businesses. If successful, RNWK will have no businesses, but $6-9 per share of cash in the bank.
In all likelihood, I believe they would distribute that cash to investors as a special dividend. If this happened, the stock will drop to $0 (or close to it), giving investors two things:
A capital loss of roughly $4 (depending on your cost basis), which investors would be able to use to offset gains on other stocks, taxed at close to 40% (state + federal).
$6-9 in cash to be taxed at 15% (dividend tax rate).
At a $6 break-up value, an investor's final total post tax benefit would be around $2.50 per share, a 60% low-risk return on investment. To get that post-tax return from a typical investment, you would have to generate a 100% pre-tax profit.
Fundamentally, Wall Street estimates call for a 17 cent loss in 2010 and a 39 cent loss in 2011, but these numbers bely how the company is really doing. In reality, RNWK has been actually been generating cash, which is the most important measure of profitability. This is further demonstrated by the increasing value of its balance sheet. This is happening at a good enough clip to justify a $4.25 valuation even without any shareholder-value activities, in my opinion.
So, at the high-end of RNWK's break-up value range, the total post tax profit would be about $5.25 per share (again, based on a $4 price). If things go horribly wrong and the stock's value drops to its cash level of $3, the post-tax loss from these levels would be about 45 cents. So, the risk-to-reward ratio right now is upwards of 12-to-1.
Disclosure: Author long NOVL, DBTK, and RNWK