As you can tell, I'm obviously not a huge fan of buying into equities at IPO, unless if you're an early subscriber to the IPO and have the option of dumping stock onto the public. My harshness towards investing into equities on the day of IPO comes from all the memories of getting burned by them.
In many instances IPOs tend to underperform in the first year, and first-day trading tends to over-inflate the value of the equity initially, eventually the steam runs out, and investors who bought on the day of the IPO are left holding the bag for a couple months or a couple years before experiencing an actual ROI.
That being the case, King Digital Entertainment (BATS:KING) (in other words Candy Crush) will publicly list themselves on the market in 2014, and is expected to issue $500 million in stock. While, the company has no debt, and fairly high growth rates, it seems maturation of the product may happen at some point, and if anything the future value of the business cannot be well understood.
Going into 2015 my greatest concern is the longevity of the Candy Crush franchise as I demand that a business has reasonable prospects of sustaining five-years of revenue and earnings growth, otherwise it simply isn't a momentum investment. It's just a high-risk gamble with massive downside and limited upside.
Quick review of financials
I see no consistent trend in revenue between 2009 and 2013. As you can tell between 2012 and 2013 revenue growth suddenly accelerated as demand for Candy Crush skyrocketed. I had to ask my roommate what made Candy Crush so fun, and my roommate said, "It's pretty challenging." Clearly, you don't need cutting edge technology for a puzzle game, so it's not like you need to go out and buy a $400 game system to play Candy Crush. This helps the bullish investment case, but it doesn't indicate that there's a consistent trend in demand for the product, and that's what makes me wonder if the product adoption cycle will be too rapid to capitalize on.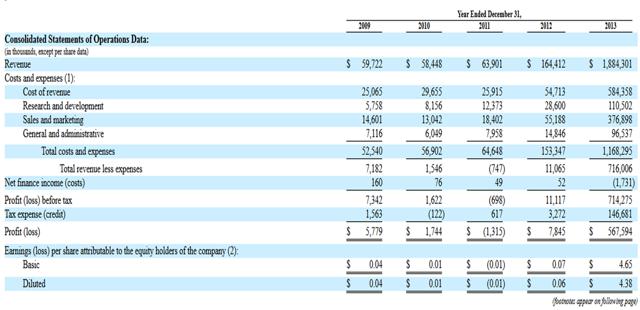 Source: King Digital Entertainment F-1
As revenues started to soar between 2012, and 2013, the company saw a sizeable increase in the cost of revenue category, which can be explained by King Digital Entertainment:
Nearly all purchases of virtual items were made through Apple's iOS, Google's Android, Amazon's Kindle and Facebook platforms during the year ended December 31, 2013. These platforms typically charge us approximately 30% of the after-tax payments they collect, which reflects their normal terms of trade. We recognize the gross amount of these transactions as revenue and record a corresponding cost of revenue for the amount paid to our platform partners.
This indicates that the cost of revenue category is an unavoidable expense that will continue to trend higher. Sure King Digital Entertainment could negotiate lower fees, but knowing how shrewd Google, and Apple are when it comes to negotiating favorable business partnerships, I have no way of asserting that gross margins will improve in the foreseeable future.
Furthermore, the company's spending on advertising, and R&D has trended higher. I guess the cost category I really want to focus on is advertising, which is explained in further detail by King Digital Entertainment:
Our sales and marketing expenses primarily consist of performance marketing spend related to player acquisition across a variety of mobile and media platforms worldwide. Sales and marketing also includes salaries, benefits and share-based compensation for our sales and marketing colleagues, as well as consulting fees. In addition, sales and marketing expenses include general marketing, branding, advertising and public relations costs, as well as allocated facilities and other overhead costs.
Candy Crush spends money on promoting its various games, which can be shown by Google's "recommended for you" section of the Android Play Store. The added cost of advertising is an avoidable cost category. However, to reduce on tax expenditure and improve the product portfolio, King Digital Entertainment invests some of its cash inflow back into its operations.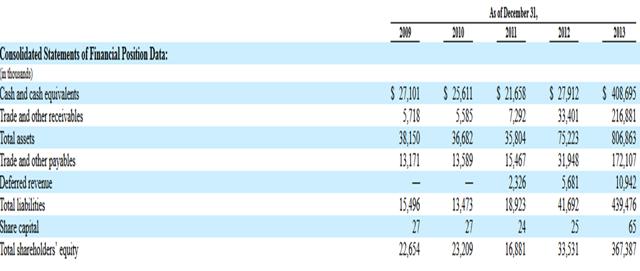 Source: King Digital Entertainment F-1
The balance sheet is pretty straight forward. Shareholder equity is considered a liability as it is capital paid-in from other shareholders, but on the bright side, the company has no debt, and has a ton of cash. So balance sheet metrics are strong when compared to other businesses that operate in other sectors of the economy.
Investment perspective
The company has a lot of cash generative capability, and plus it has no debt. Markets tend to reward investments for high growth, and on the day of IPO the premium paid will be astronomically high when compared to other equities. Because of this fact, investors will demand the company to sustain its historical success, and if the company fails to deliver growth that's in-line with history, investors will dump the equity. This happens during earnings, when management gives guidance and reports on past quarter results.
Which leads me to two case scenarios, either the business will experience some sort of inflection as demand for Candy Crush peaks. Or, King Digital Entertainment will be able to launch additional tent-pole franchises, and will continue to milk Candy Crush with regular sequels. This tends to work well for Electronic Arts, and Activision Blizzard. The downside is that mobile gaming is rather new, and we have no way of knowing if the demand will be there for repeated iterations of the same exact franchise.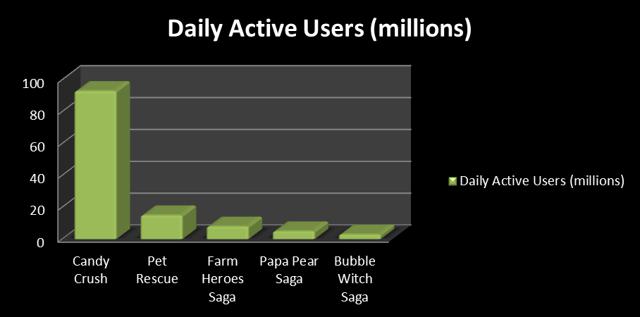 Source: King Digital Entertainment
As you can tell, King is having a hard-time re-creating the massive success it has had with Candy Crush between 2012 and 2013. Since results cannot be re-produced, the business model isn't well-established, and if anything unpredictable. Therefore, I'm going to offer two run-rate forecasts, with one being an inflection on revenues due to declining average revenue statistics, or defecting users, and the other is continuous growth.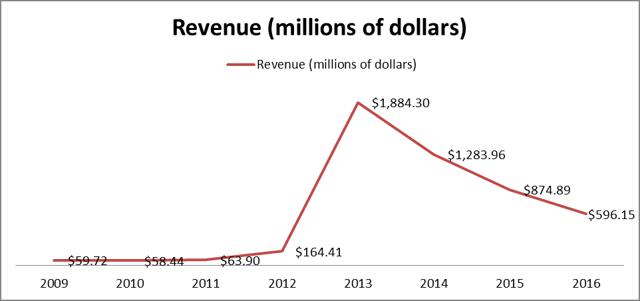 Source: Alex Cho, historical financial data is from King Digital Entertainment
The above estimate is the worst case scenario. Believe me, I'd love to see King Digital Entertainment continue to grow users and average revenue per user, but if anything Zynga (NASDAQ:ZNGA) has proven that a product portfolio built on a single game isn't indicative of a well-established business model. I modeled declining growth based on Zynga's decay rate between 2012 and 2013. It's not an exact estimate, but I couldn't find a single function with a high correlation coefficient that would also project an inflection in King Digital's revenue.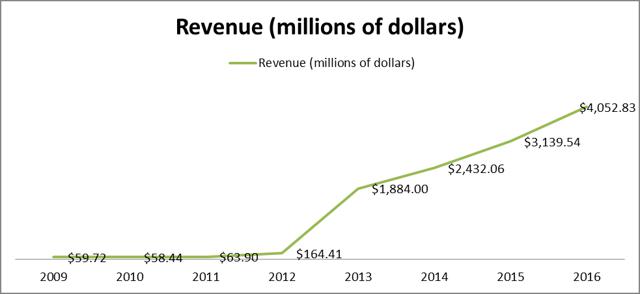 Source: Alex Cho, historical financial data is from King Digital Entertainment
The more optimistic forecast assumes that King Digital is able to sustain growth at industry average growth. Gartner estimate that mobile gaming will grow at a 29% rate from 2013 to 2015. This serves as the basis for my more optimistic forecast. Admittedly, under these assumptions King Digital Entertainment would saturate 20% of the mobile gaming market.
If guidance is solid coming out of its first earnings conference, I'll be willing to give a price target on the stock, and offer a more formal conclusion on the overall trajectory of the business.
Conclusion
I wouldn't buy Candy Crush/King Digital at its IPO as it's likely to benefit early stage investors and employees more so than anyone else. High volatility is to be expected following the public issuance of stock, which is why investors shouldn't swing for the fences until a more conclusive opinion on the company can be formed.
I'd have far more conviction on my investment thesis for King Digital Entertainment if the company were to offer outward looking guidance in-line with industry average growth, or growth above that rate. I'm going to measure the performance of King Digital Entertainment, based on whether or not it can release a game franchise that's as successful as Candy Crush, and if Candy Crush can continue to be monetized with updated features on an on-going basis. If product diversification proves successful, my concerns over longevity will be alleviated, and sustained high-rates of growth should allow for market-beating returns.
But, just because there's the potential of such optimistic outcomes doesn't mean that an investor should buy at IPO. Instead, cost averaging into the investment may limit the impact from volatility and allow for enough participation to ride the mobile gaming wave.
Disclosure: I have no positions in any stocks mentioned, and no plans to initiate any positions within the next 72 hours. I wrote this article myself, and it expresses my own opinions. I am not receiving compensation for it (other than from Seeking Alpha). I have no business relationship with any company whose stock is mentioned in this article.