On Saturday, March 8, the 25-day quiet period on underwriter research that started with Flexion Therapeutics Inc (NASDAQ:FLXN)'s February 11 IPO will expire, allowing the firm's IPO underwriters to publish positive research reports on the injectable pain relief pharmaceutical firm.
The conclusion of the quiet period will likely be accompanied by a brief increase in the price of FLXN shares. Flexion's IPO priced at the midpoint of the expected range at $13 per share, and has since grown steadily, if not spectacularly; FLXN closed at $16.45 per share on February 27.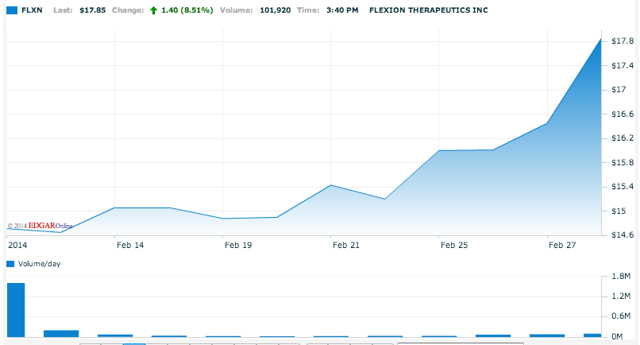 (Nasdaq.com)
The IPO underwriters, including BMO Capital Markets Corp, Wells Fargo Securities LLC, Janney Montgomery Scott LLC, and Needham & Company LLC, will seek to stimulate improved share growth with an influx of positive information with the ending of the quiet period.
Both recent academic studies and the results of our past two years' research have led to empirical evidence of a correlation between the quantity and visibility of IPO underwriters and a jump in share prices at the conclusion of the underwriter quiet period.
The increase in price generally begins to appear several days before the quiet period has actually expired, as savvy investors will buy up shares in advance in the hopes of taking advantage of the forthcoming research reports. These early purchases create the appearance of upward pressure on demand, leading to increased prices before the date of the expiration.
Business
FLXN is a pharmaceutical firm, specializing in the development and commercialization of injectable, long-acting pain relief therapies. The firm's current objectives include analgesic and anti-inflammatory therapies for the treatment of osteoarthritis. FLXN's lead candidate, called FX006, is an intra-articular, sustained-release treatment for osteoarthritis that combines polylactic-co-glycolic acid with a common steroid with to maintain therapeutic concentrations in the joint for a significant duration. FX006 also provides a sustained analgesic effect.
FX006 has completed a Phase 2b dose-ranging trial that demonstrated significant improvements in pain relief for FLXN's product over the current standard of care. FLXN plans to begin a confirmatory 2b trial in the second quarter of 2014 before proceeding to a Phase 3 clinical development. Additionally, FLXN is in the process of developing two other candidates: FX007, for relief of post-operative pain, and FX005, for relief of pain related to end-stage osteoarthritis.
If it gains approval, FX006 will compete with current osteoarthritis treatments such as immediate-release steroids and hyaluronic acid therapy. Numerous other pharmaceutical firms also have advanced-stage osteoarthritis products in development, and many of these firms have far greater financial and technical resources than FLXN. These competitors include Carbylan BioSurgery Inc, Ampio Pharmaceuticals, Inc (NYSEMKT:AMPE), Fidia Farmaceutici S.p.A, Merck & Co (NYSE:MRK), and Allergan, Inc (NYSE:AGN).
Management
Michael D. Clayman, M.D. has served as FLXN's President and CEO since 2007, and co-founded the firm. He previously served in various roles with Eli Lilly and Company, most recently including Vice President, Lilly Research Laboratories, and General Manager of Chorus, Lilly's early-phase development accelerator. Dr. Clayman also worked as an Assistant Professor in the University of Pennsylvania's School of Medicine. He holds an M.D. from the University of California, San Diego School of Medicine. After an internship and a residency in Internal Medicine at the University of California, San Francisco Moffitt Hospitals, Dr. Clayman finished research and clinical fellowships in Nephrology at the University of Pennsylvania.
Conclusion
FLXN has shown a decent performance on the market thus far, but the quiet period expiration will likely lead to gains on this stock, given the huge number of successful biotechs that have recently hit the market.
FLXN has a highly impressive executive team, and there certainly is demand for improved osteoarthritis treatments, so this may be a stock to keep in your back pocket as the firm continues to move its products towards approval (though FX006 is still a long way from commercialization).
Disclosure: I am long FLXN. I wrote this article myself, and it expresses my own opinions. I am not receiving compensation for it (other than from Seeking Alpha). I have no business relationship with any company whose stock is mentioned in this article.