Citigroup (NYSE:C) recently announced that it had become a victim of fraud in one of its subsidiary lending divisions in Mexico.
The loan involved an oil services company, Oceanografia, and would require a write-down of $400 million to the bank. This misstep follows a number of ill-fated investments in Mexico, which have cost the mega bank a significant amount of money.
Citigroup in Mexico
Like many other large banks, Citigroup has looked to growth in the Mexican economy to feather its own nest. Mexico's large oil reserves and increasing development has made it a tempting market for financial institutions; however, along with the growth and population expansion come a number of risks.
Citigroup financed a number of housing developments some distance from urban centers, which subsequently failed, because people could not easily travel to jobs and services. When an opportunity arose to finance an oil services company, the deal looked sound. Citigroup's division in Mexico, Banco Nacional de Mexico, often called Banamex, was responsible for making the soured loan. However, irregularities in the posting of the collateral for the deal are causing Citigroup a serious loss.
A Fraudulent Deal
In December of 2013, the Mexican congress voted to open its oil industry to foreign investments. Mexico is the 10th largest producer of oil in the world, and the move will allow companies, such as Exxon Mobil (NYSE:XOM) and Chevron, to begin development in the country. With huge offshore reserves opening up, Citigroup can't be blamed for looking to Mexico's oil industry for increasing its own profitability.
The problem arose from Oceanografia's use of Pemex accounts receivables as collateral for the loan. The accounts provided $585 million of collateral; however, Pemex may have only had $185 million in accounts receivable. Questions remain over whether Oceanografia falsified some of the invoices for the deal. The Mexican attorney general is investigating the case and has seized Oceanografia's assets in the meantime. Banamex is exploring its legal options.
What This Fraud Means For Citigroup
The bad loan is not expected to have a significant effect on Citigroup's financial health, which holds $1.9 trillion in assets on its books and whose stock has seen steadily strong performance in the past twelve months.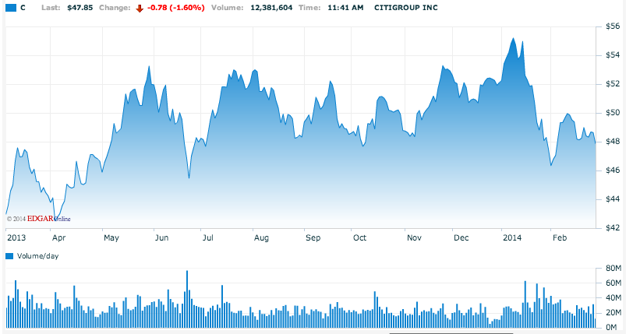 (Source: Nasdaq.com)
Citigroup will, however, revise its 2013 earnings downward. While the Oceanografia deal only accounts for around $400 million in loss, the deal has been tallied to a series of unfortunate decisions made by Citigroup in its efforts to expand its presence in the Mexican economy.
What Should Citigroup Shareholders Consider
Like many emerging countries, Mexico is experiencing a slowdown in some areas that could slow outcomes in future years. In addition, certain systemic problems will require extra caution to ensure that all parties involved are protected from the fraudulent actions of participants.
Investors should note any further impending deals for Citigroup in Mexico with a healthy level of caution before increasing their confidence in the institution's push into this and other developing nations.
For the time being, shareholders of Citigroup should consider taking profits in this tarnished mega bank.
Disclosure: I have no positions in any stocks mentioned, and no plans to initiate any positions within the next 72 hours. I wrote this article myself, and it expresses my own opinions. I am not receiving compensation for it (other than from Seeking Alpha). I have no business relationship with any company whose stock is mentioned in this article.