Today, I will take a look at the 2013 reserve replacement ratios ("RRR") for major shale oil producers ConocoPhillips (NYSE:COP), Continental Resources (NYSE:CLR), EOG Resources (NYSE:EOG), and Whiting Petroleum (NYSE:WLL). While all these companies produced very good to outstanding results, the most interesting reserves report came out of Whiting Petroleum and the component of reserves coming from the company's Niobrara operations in Colorado.
The RRR is defined as the amount of proved reserves added to a company's proven reserve base in a given year relative to the amount of oil and gas produced during the year. Long-term, a company's reserve replacement ratio must be at least 100% for the company to stay in business. Otherwise, it will eventually run out of oil. Obviously, the higher the RRR, the more bullish the company's future. Here is the 2013 RRR summary for these top shale oil producers:
Top Shale Oil Producers

2013 Organic Reserve Replacement Ratios (RRR),

Reserves Added, Total Proven Reserves, & Reserve Life

Company

Sym

2013

RRR

Reserves

Added (BOE)

Total Proven Reserves

Reserve Life

@2013

Prod. Rate

Conoco Phillips

COP

179 %

1.1 billion

8.9 billion

16.2 Years

Continental Res.

CLR

603 %

299 million

1.08 billion

21.8 Years

EOG Resources

EOG

264 %

389 million

2.2 billion

10.0 Years

Whiting Pete.

WLL

402 %

59.8 million

438.5 million

12.8 Years
Source by Company: COP, CLR, EOG, WLL
Highlights from COP's 2013 reserves update:
470 million boe in the Lower 48, primarily in liquids-rich shale plays, including the rapidly-growing Eagle Ford and Bakken;
250 million boe in Canada, from Foster Creek, Christina Lake, and Narrows Lake, as well as additional reserves at Surmont and across western Canada.
190 million boe in Asia-Pacific, primarily from the Australia Pacific LNG Project ("APLNG").
150 million boe in other areas.
Continental Resources' report saw total proved reserves increase 38% year-over-year. Other highlights include:
Year-end 2013 proved reserves had a net present value discounted at 10% (PV-10) of $20.2 billion, a 52% increase over the PV-10 of $13.3 billion for year-end 2012 proved reserves.
Year-end 2013 proved reserves were 68% crude oil.
SCOOP, an oil- and liquids-rich play in Oklahoma, accounted for 215 million boe of 2013 proved reserves - a 241% increase over proved reserves of 63 million boe at year-end 2012.
For EOG Resources:
Total proved reserves increased 17% over year-end 2012.
Total liquids reserves increased 25% YOY and comprised 60% of total reserves at year-end 2013.
Total reserve replacement cost was an outstanding $13.42/boe.
Whiting Petroleum: Colorado Is The Next Shale Boom State
Whiting Petroleum's total reserves represented a 16% overall increase compared to year-end 2012. The interesting fact coming from Whiting's report was that an estimated 65.9 million boe of proved reserves were added from the company's Redtail Niobrara field in northeastern Colorado.
An article in the Denver Post says Colorado is on the verge of breaking a nearly 60-year old oil production record. The books are not yet closed on 2013, but the latest figures show 57.88 million bbls of oil were produced in 2013, just shy of the 58.6 million barrel record set in 1956. The Niobrara will no doubt be a primary growth field in the coming years.
In a February presentation available here, Whiting detailed its acreage position in Colorado's Niobrara shale, i.e., its Redtail play: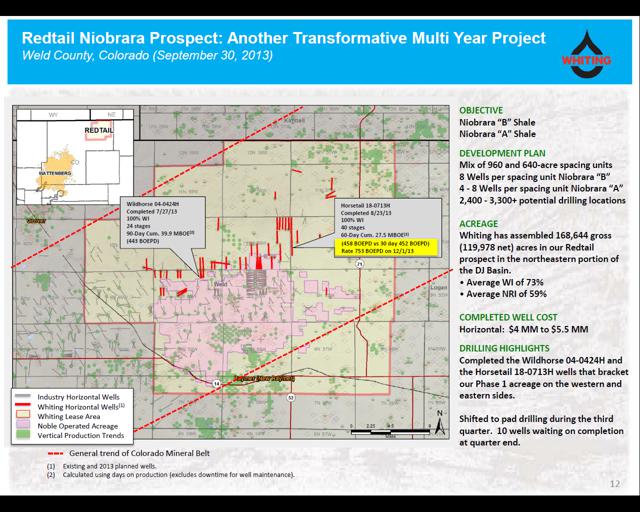 We can see from this slide that drilling costs are substantially lower than the Bakken at $4-$5.5 million. A subsequent slide in the presentation shows recent well results are significantly exceeding a 400,000 boe type curve (slide 17). At 16 wells per DSU, Whiting estimates it has an inventory of 3,394 gross wells in the play. A map in this presentation shows the significant oil and gas pipelines running adjacent to WLL's acreages position, so while the company will have to budget cap-ex for takeaway infrastructure, considering the size of the resource (see below) and the nearby major pipelines, the infrastructure overheads will be rather an insignificant consideration in the long run.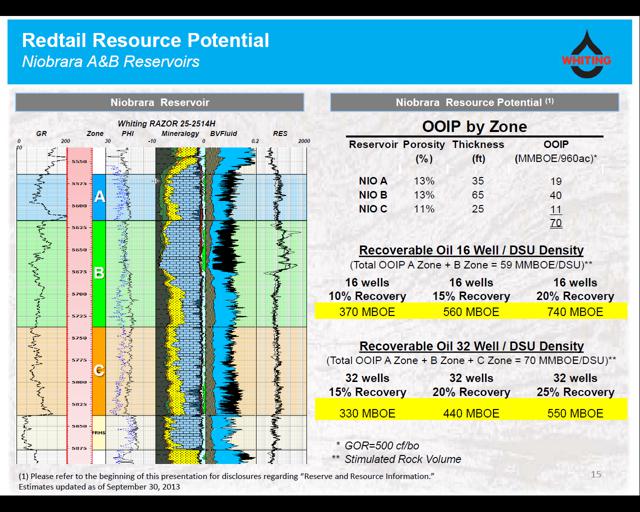 The slide above shows the company's Niobrara resource potential. Total resource potential at 16 wells per DSU and 15% recovery rates is a whopping 560 million boe. From the RRR chart above, we can see that this is more than WLL's total year-end 2013 proven reserves.
Summary & Conclusion
All the top shale players announced very good to outstanding 2013 year-end reserve replacement ratios. Whiting Petroleum's report stood out for the potential of its acreage in Colorado's Redtail Niobrara play. The resource potential here is huge: double the company's current total proved reserves. Redtail well costs are relatively low, and access to takeaway infrastructure runs adjacent to the property. This bodes well for Whiting's future, and I find the stock very attractive. The stock could easily hit $100 in the next 18 months (~40%).
Disclosure: I am long COP. I wrote this article myself, and it expresses my own opinions. I am not receiving compensation for it (other than from Seeking Alpha). I have no business relationship with any company whose stock is mentioned in this article.
Additional disclosure: I am an engineer, not a CFA. The information and data presented in this article was obtained from company documents and/or sources believed to be reliable, but has not been independently verified. Therefore, the author cannot guarantee its accuracy. Please do your own research and contact a qualified investment advisor. I am not responsible for investment decisions you make. Thanks for reading and good luck!