Company Information
Coach Inc. (COH) is a leading retailer of premium handbags and accessories, located primarily in North America, and has recently expanded into Asian markets. Basing its image on "affordable luxury," Coach seeks to establish a premium brand that caters to affluent consumers but also provides lower-priced goods to appeal to the demand of middle-class customers.
Breakdown of COH categories
Women's Handbags - 58% of sales
Women's handbag collections feature classically inspired designs as well as fashion designs. Typically, there are three to four collections per quarter and four to seven styles per collection. These collections are designed to meet the fashion and functional requirements of our broad and diverse consumer base.
Women's Accessories - 23% of sales
Women's accessories include small leather goods and novelty accessories. Women's small leather goods, which complement our handbags, include money pieces, wristlets and cosmetic cases. Key rings and charms are also included in this category.
Men's - 11% of sales
Men's bag collections include business cases, computer bags, messenger-style bags and totes. Men's small leather goods consist primarily of wallets, card cases and belts. Novelty accessories include time management and electronic accessories.
All Other Products - 8% of sales
Consists of footwear, scarves, jackets, gloves, hats for cold weather or fashion. Jewelry comprised of bracelets, necklaces, rings, earrings offered in sterling silver, leather or non-precious metals. Travel bags, sunglasses, watches and fragrance complete the rest of the products. Most items are prioritized for women with a select range of brands for men.
Coach is feeling the chill
Sales in the US have been steadily declining over the past few years, however the biggest culprit has been the polar vortex, hitting retail outlets hard as consumers refuse to embrace the cold in the name of fashion. However China grew 25% last quarter, with Japan also growing double digits.
Many people know that Michael Kors Holdings (NYSE:KORS) is slowly eating away at the market share in North America by posting stellar sales results year-over-year, however KORS is severely overpriced. With its current PE of 40, many investors have missed the boat and buying in now could be relatively dangerous as any selling pressure would quickly give any investor a sleepless night.
Coach having appointed Stuart Vevers as the Executive Creative Director will get to see the fruits of his labor later this year. The latest collection was at the New York Fashion Show a few weeks ago and received positive reviews by some of the top critics in the industry. You can also take a sneak peak of the YouTube video.
Valuation
Price / Earnings - 13.50
Price / Book - 5.77
Price / Sales - 2.75
Peter Lynch Fair Value: $54.69
Five Year Average Revenue Growth Rate: 16.30%
Five Year Average EPS Growth Rate: 10.70%
Five Year Average Dividend Growth Rate: 92.80%
Consecutive Dividend Increases: 5
Current Dividend Yield: 2.76%
Yield On Cost: 71.93%
Dividend Payout Ratio: 38%
Balance Sheet Strength: Excellent (No Debt)
Image below provided by GuruFocus.com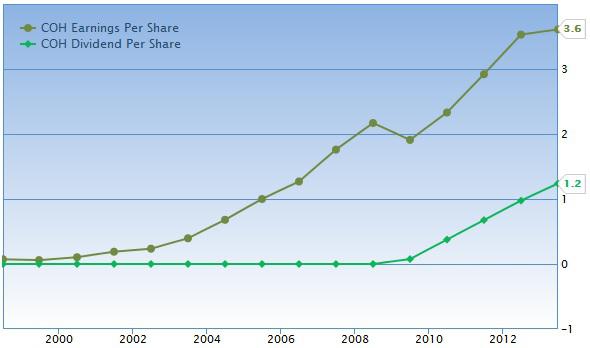 Dividend growth investors who are looking for some variety from the obvious dividend champions and aristocrats list will be impressed with the statistics provided.
If we look at COH from a momentum play, a trader would see a downtrend and be convinced to sell. I am trying to convince you otherwise COH is a market leader in this industry that happens to be out of favor due to "fresh" newcomers. The stock is attractively valued at $48.81, very close to support found at the same price last year.
Distributions began in 2009 and have increased at a rapid pace to a healthy 2.76% dividend yield dividend growth rate obviously cannot be maintained at 92.80% but it should give an indication on how investors are being treated. Repurchasing shares at a rate of 3.20% will bolster the already impressive revenue and EPS growth rate.
Looking at COH's management effectiveness compared to rivals, I have compiled a bar chart using data collected from Reuters to quickly highlight the dominance over its Return on Assets, Return on Investment and Return on Equity.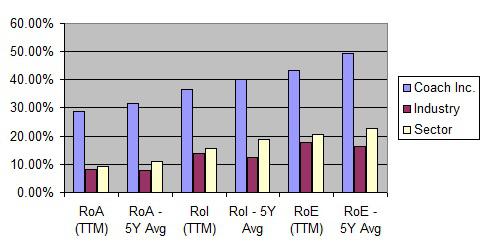 With an estimated $800 million cash on hand, COH will be in a commanding position when the next bear market / recession returns while competitors may struggle with debt and may not survive. COH's profit margins and cash reserves while rebranding and revitalizing its inventory means it is well positioned for the future.
If you are a dividend growth investor that is not concerned with the recent downtrend and want some exposure to a highly profitable industry, I sincerely hope you are able to come to the same conclusion as me and add COH to your portfolio. I predict the company is going to come back with a vengeance.
Disclosure: I have no positions in any stocks mentioned, and no plans to initiate any positions within the next 72 hours. I wrote this article myself, and it expresses my own opinions. I am not receiving compensation for it (other than from Seeking Alpha). I have no business relationship with any company whose stock is mentioned in this article.
Additional disclosure: I currently have money on hold to purchase shares in Quindell (UK AIM market) along with online fashion retailer Boohoo, which makes its IPO on 14th March.