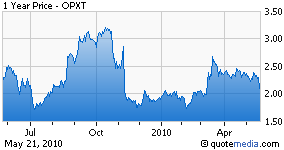 Opnext Inc. (NASDAQ:OPXT) reported revenues of $76.8 million in the fourth quarter of fiscal 2010, down 8% year-over-year but up 1% sequentially. Revenue for the quarter included $14.2 million from StrataLight Communications Inc., which was acquired on Jan 9, 2009.
Opnext designs, manufactures and markets optical modules and components that transmit and receive data. These components enable high-speed telecommunication and data communication networks globally. The company's product portfolio includes 10Gbps and 40Gbps transceiver modules, including tunable transceivers.
Revenue from the sales of 10Gbps and lesser/low range products decreased 11% to $48.9 million mainly due to supply constraints. Revenue for 40Gbps and above products increased 30% to $21.8 million driven by growth in 40Gbps modules and research and development contract revenues. Revenue from the sales of industrial and commercial products increased 45% to $6.1 million.
Cisco Systems Inc. (NASDAQ:CSCO), Alcatel-Lucent (ALU), and Nokia Siemens Networks each represented 10% or more of the total revenue in the quarter ended Mar 31, 2010. These three customers represented 42% of total revenue.
Gross margin was 18.8% for the quarter, down from 15.9% in the previous quarter primarily driven by higher 40Gbps and above revenue, favorable product mix and a 60 basis point favorable impact from foreign currency exchange rate fluctuations and hedging programs.
However, this was partially offset by lower average selling prices.
Net loss came in at $18.3 million or 20 cents per share. Excluding one-time items, net loss came in at 16 cents, worse than the Zacks Consensus Estimate of 15 cents.
During the quarter, Opnext used $2.7 million of cash in capital expenditures and $8.0 million in operating activities. Cash and cash equivalents decreased by $13.7 million to $132.6 million as of Mar 31, 2010.
For fiscal 2010, the company reported revenues of $319.1 million, almost flat with fiscal 2009. This included $83.0 million of contribution from the StrataLight Communications in 2010 compared to $37.8 million in fiscal 2009. Gross margin decreased to 19.1% from 23.4% in fiscal 2009.
Net loss per share came in at 88 cents compared to a loss of $1.86 per share in fiscal 2009. Excluding one-time items, net loss came in at 51 cents.
Looking ahead, the company experienced improved demand for its products that translated into strong revenue growth for its 40G and above products along with industrial and commercial businesses. Demand is expected to rebound for 10G and below products. Industrial and Commercial revenue is expected to be flat after two strong quarters.
Based on the above factors, Opnext estimates revenues to be within $80 million - $85 million for the first quarter of fiscal 2010.