Executive summary:
Citigroup downgraded its price target on Cliffs Natural Resources from $26 to $22 early on March 3rd.
Early in the day, halfway around the world, Citigroup downgraded Rio Tinto and BHP Billiton for similar reasons.
The chief reason, and possibly the only reason, for the Citigroup downgrade is the spot price for

iron ore.

Based on other factors besides the spot price for iron ore, Cliffs might become an attractive buy.
Rio Tinto offers a good example on how Cliffs share price might increase despite the spot price in

iron ore.
_________________________________
Cliffs Natural Resources (NYSE:CLF) might see some tough spots in the near future price-wise, despite a positive earnings report released on February 13th. As a general rule of thumb for any mining company within the basic materials sector, the spot price of the metal is the main way analysts associate value with these companies. Citigroup analysts displayed this same perspective as it downgraded CLF earlier this morning.
Here is a brief display of how closely the price of CLF follows iron ore's spot price: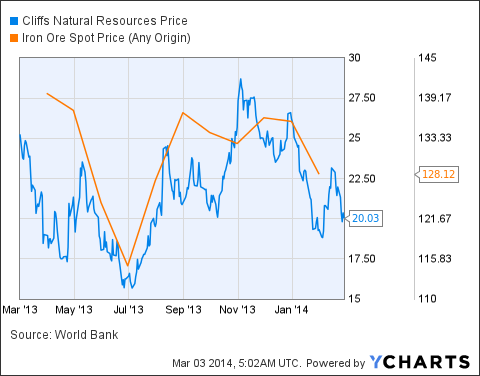 CLF data by YCharts
Iron ore is now at a spot price of roughly $118, which caused Citigroup analysts to downgrade close competitors of Cliffs such as BHP Billiton (NYSE:BHP) and Rio Tinto (NYSE:RIO). The Citigroup analyst now states the following:
Short term we expect rising Chinese steel production rates and inventory draw down to buoy iron ore prices and stocks, but ultimately both get dragged down by the overwhelming increase in iron ore supply.
The Citigroup analysts also seem to indicate that a recovery of Indian iron ore exports would continue hastening the decline of the iron ore spot price. In quoting the report, the Sydney Daily Herald indicated the following:
Indian iron ore exports, which fell nosedived from 100 million tonnes to 15 million tonnes in 2013, were expected to recover, adding further pressure to prices.
However the reason for expecting the exports to increase is not terribly clear, since for the most part, exports from India have fallen due to direct government intervention, which does not seem likely to stop. As recently as January 28th, the Indian government was continuing its increase of taxes on exports out of India, according to this Wall Street Journal Article:
India has imposed a 5% tax on export of iron ore pellets, further tightening a clampdown on shipments of the raw material that have been hit by measures to prevent illegal mining as well as conserve the resource for the domestic industry.
So, while India might increase its supply of iron ore, we certainly cannot be sure of this, and it might be ill-advised to speculate that it will increase its exports.
Also, as I had indicated before when writing on the Goldman Sachs analysis of the future of iron ore, a great deal of Chinese production is contingent on US demand. Just recently, a court case that hurt US Steel (NYSE:X) with respect to Korean steel imports might actually help iron ore suppliers in the Asia-Pacific region. As an analyst at JP Morgan noted:
The DOC found no [oil country tubular goods] dumping by Korea, the largest exporter to the U.S. by far at 17% of 2013 consumption. In our view, this finding alone is sufficient to pressure U.S. Steel's tubular margins given Korea's 2014 OCTG exports will likely continue trending above the 2013 average.
And a decrease within the United States means an increase in Asia-Pacific demand for iron ore. As it turns out, steel production is expected to increase by 3%, according to Chinese officials as cited in this Wall Street Journal article. While this is down from the increase last year of 7%, an increase is still an increase and a beneficial thing for the iron ore industry.
Ultimately, as far as the spot price of iron ore going up or down, we may not really ever know what it will do in the future for sure. However, I do have one last comment on the price for iron ore and how it impacts the share price. Cliffs will fall for as long as the spot price falls, however, worldwide events always change things, and sometimes quite unexpectedly. At the moment Cliffs appears, at least with respect to the spot price, to be properly priced (and a number of analysts seem to agree with this assertion). All that is needed for the price to go up, is for an unexpected issue to occur, such as the problem in Queensland, Australia several years ago. Events that impact the supply of iron ore do happen every couple of years, and if one has bought stock in an iron ore mining company at either fair value or at an undervalued price, they will most likely be rewarded when such a calamity occurs.
So, am I telling you to buy Cliffs and hope for a calamity that will positively favor the price of iron ore? No, not exactly. And this brings me to other factors that are in Cliffs favor and which should impact its valuation, besides the spot price of iron ore.
Other Factors:
A) New Supply Deal: Actually, Cliffs has extended its supply deal with ArcelorMittal (NYSE:MT). While this initially increased the share price immediately after announcement, it would appear that the positive information is now overshadowed by the various negative analyst estimates. Nevertheless, this type of positive news with respect to supply deals is generally something that Cliffs does quite well. Cliffs' many connections within the US steel industry generally constitutes one of its strongest competitive advantages. While it does not help improve the stock price much, it helps Cliffs very much in the long run.
B) Solid Earnings: Cliffs has a solid earnings record for 2013 after beating analyst estimates for the last quarter.
C) New Management: Gary Halverson is the new CEO of Cliffs Natural Resources. He presents a solid track record within the mining community, and will most likely contribute to the future success of the company.
D) Shareholder Activism: Most followers of Cliffs Natural Resources will know of Casablanca Capital's management's attempt to influence the company through its 5.2% stake in the company. While they may not be successful, it still contributes some value to the company's share price, as Jim Cramer indicated on Thursday of last week.
E) Reduction in CAPEX - Similar to Rio Tinto: Cliffs Natural Resources announced shortly before its earnings report on the 13th of February that it would pursue a 50% reduction in its capital expenditures. This sounds very similar to what Rio Tinto started to do a year ago. On the 13th of February, Rio Tinto also released its earnings report, which showed massive gains as a result (comparatively).
In fact, RIO has done such a good job at reducing its CAPEX in order to increase profits, despite a reduction in the spot price of iron ore, that it would appear it is one of the only companies within the industry to recently be avoiding a corresponding fall in stock price as a result of a reduced iron ore price.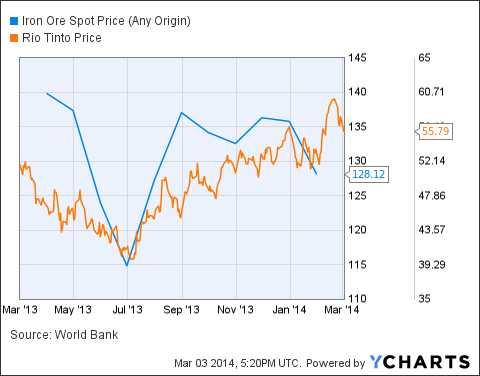 Iron ore Spot Price (Any Origin) data by YCharts
Conclusion:
An investment in Cliffs Natural Resources might be the right decision even with a reduction in the spot price for iron ore, simply because Cliffs' management team has prepared for a fall in the price of iron ore through a reduction in CAPEX. If similar events hold true, then Cliffs will most likely follow the example of RIO and the share price will increase despite the fall in iron ore's spot price.
If you buy Cliffs now, it is most likely either undervalued or properly valued (without consideration for future positive earnings). However, if any event occurs on the world stage that impacts the supply of iron ore even just a little bit, then there will be a big payday for the Cliffs shareholder.
Disclosure: I am long CLF. I wrote this article myself, and it expresses my own opinions. I am not receiving compensation for it (other than from Seeking Alpha). I have no business relationship with any company whose stock is mentioned in this article.