Comcast Corp. (NASDAQ:CMCSA) is continually experiencing a positive share price performance. The share price increased by $10 over the past year to reach the current price of $51, depicting an increase of 27%. If this isn't enough to be happy about, the company announced a dividend increase of 15% in its latest earnings release! Add to that the new stock repurchase program to buy $7.5 billion of stock implying an even higher return long term. There's a lot of return to generate by becoming an investor in Comcast.
In this article, I will go through these accomplishments to give you a brief but sufficient grasp of the company's latest performance. I will also go through the reasons behind the company's profitable returns.
The Year

Source: Presentation
During 2013, Comcast grew its revenue by 5.8% to $64.7 billion excluding $1.2 billion generated through the London Olympics and $259 million from the Super Bowl in 2012. Cable revenue increased 5.6% to $41.8 billion owing to growth in high-speed internet and business services along with video and voice services partially offset by a decline in advertising. The company continued to add customers and by the end of 2013 the total number was 3.4% higher than 2012 reflecting higher subscriptions and reduced video customer losses.
The same momentum was sustained by NBC Universal that generated a 5.7% growth in revenue bringing it to $23.7 billion on a comparable basis. The segment benefited equally from various sub categories that included theme parks, filmed entertainment, and broadcast television. Successful releases such as the 6th instalment of the Fast and Furious franchise and Despicable Me 2 helped the company generate healthy content licensing revenues. This, accompanied by the Harry Potter and Transformers promotion at theme parks, led the revenue growth to where it is today.
Programming costs continued to be the most significant reason for the company's costs increasing by 8.6% to $9.1 billion; technical and product support also rose 3.1%. These two costs made up a majority of the company's expenses and will continue growing to attract and retain video customers. Since these costs are incurred to deliver content through an increasing number of platforms that includes on demand, online, and mobile apps, the rising magnitude is not a thing of worry as the benefits outweigh the costs. The EPS increased 12.3% to $2.56 from $2.28 reported last year. Excluding gains on asset sales, favourable tax adjustments, investment losses, and pension termination costs, the EPS rose by 28%. All in all, the performance explained why the share price was on the rise; increasing users, higher subscription fees, and strong brand licensing provided strong revenues that outweighed the rise in costs bringing greater profits for investors'.
Now let's discuss what the company is doing to drive its growth.
Growth Factors
Netflix Demand
Netflix (NASDAQ:NFLX) recently signed an agreement with Comcast to grant more-direct access of its broadband network to deliver improved speed and reliability to Netflix's video-streaming customers. While this may be part of a bigger motive, however, through this initiative the company has informed enterprise customers of the value it can provide to their businesses. Good speeds and exclusive content means that viewing shows or movies on the company's network along with outside party material will be a smooth experience for subscription payers.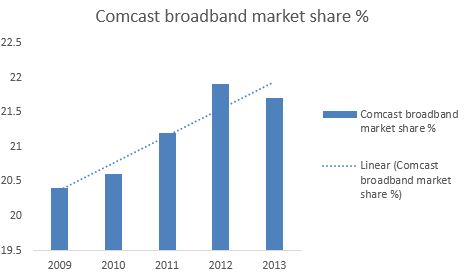 Source: Trefis
Think of it as what Facebook (NASDAQ:FB) intends to do with the recently acquired WhatsApp. Facebook and Google (NASDAQ:GOOG) already pay Comcast for content-delivery network access. By having a pre-established client base, Comcast holds the potential to continue attracting digital companies that may want a piece of its subscriber base. With the broadband market share growing (see graph above) this will be a part of how the company will generate good returns for its investors in the future.
Comcast is Acquiring Time Warner Cable
The Netflix agreement will definitely help in sending a positive word to regulators who will see the $45 billion offer made by Comcast to acquire Time Warner Company. By showing regulators how friendly the company is to Netflix through letting it transmit to Comcast customers directly over the company's wires instead of through third parties there might be a chance that regulators will take the issue of IP connectivity off the table when looking at the potential merger.
The company is also willing to divest nearly 3 million subscribers and there is a good probability that this merger will go ahead. Comcast will gain even more leverage over the country's marketplace for television, broadband Internet and phone services. With millions more subscribers the company will be able to add muscle to its negotiations with cable channel owners like The Walt Disney Company (NYSE:DIS).
Let's Not Forget Internal Growth
These are the external events in the company's favor. NBC Universal owns licensing agreement to some of the most popular entertainment brands so there is a lot of growth that will continue to be derived from Comcast. If the merger goes ahead, the company will be 50% larger than the largest satellite distributor, Direct TV (NYSE:DTV). Comcast is a good company and its fundamentals provide a healthy picture as well. Therefore, I give Comcast a buy rating.
Disclosure: I have no positions in any stocks mentioned, and no plans to initiate any positions within the next 72 hours. I wrote this article myself, and it expresses my own opinions. I am not receiving compensation for it (other than from Seeking Alpha). I have no business relationship with any company whose stock is mentioned in this article.