By Jeff Pietsch
Last weekend there were early warnings of a potential 200-day break on the S&P 500 (NYSEARCA:SPY) and that's exactly what we got with the index down -4.2%, about half a percent below its 10-month moving average.
(Click Image to Enlarge/ ETF Rewind Glossary)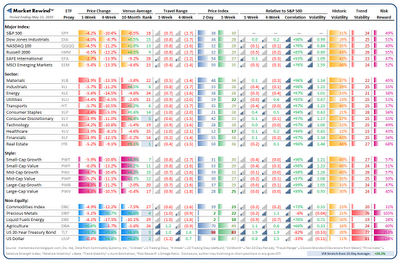 While a recapture of that level is probably in the cards, everything is a trade for now. Without a significant catalyst, many will be looking for short entries or to cash out on strength. Meanwhile, if you were having flashbacks to 2008, you weren't the only one. In fact, 2008 popped up in our top five high statistical analogues chart of the week. The forward projections on those matches aren't pretty.

Week Twenty-One of 2010 features the following busy economic and reporting calendars:
I hope you have a terrific weekend!

Click to enlarge:
Disclaimer: Never Investment Advice