In a classic medley from "West Side Story", "America", the provocative Anita (classic Rita Moreno) queries whether "Puerto Rico should be allowed to sink into the ocean?" Of course she doesn't answer her own question, and most investors in Puerto Rican debt would answer a hearty "no". But it seems that, in the rush to the exit, investors might be forgetting certain facts such as that Puerto Rico enacted $1.3 billion of new tax increases just recently. Indeed, there are several rather creative options other than default, including the exchange of debt for GDP debt warrants.
The bad news first. Of course, the Commonwealth is still in danger of default due to the recent downgrade of its general obligations to BB+ (S&P), and Ba2 (Moody's). For one thing, as the Commonwealth points out in its quarterly report, its 2014 tax and revenue anticipation notes, to the tune of $1.1 billion, payable in three installments in 2014, could become due immediately if lenders exercise acceleration rights. In addition, interest rates could increase from 10% to 12% if the Commonwealth refinances its Variable Rate Demand Obligations (VRDO's) to the tune of $469 million. Finally, the Commonwealth's swap agreements, marked to market at negative $333.5 million could be immediately terminated. Total public sector debt in Puerto Rico stands currently at approximately $67.5 billion
Next the good news. For one thing, although the net positive standing of the public pension system (surplus of $59 million) in 2011 has deteriorated to a deficit of $487 million in 2012. But in 2011, the Commonwealth voted several pension reform measures, including raising the employee share of contributions from 8.75% of salary to 10%. Puerto Ricans, with their commonwealth status don't have to pay Federal income tax and new economic initiatives are being financed with the deficit funding. Notwithstanding these measures, Puerto Rico might still have to struggle with its debt overhang.
Now some more bad news. To analyze Puerto Rico's situation, let's look at the term structure of Puerto Rico General Obligation Bonds, with a nominal value outstanding of $2,318,190,000.The deficit for fiscal year 2012 was $610 million, including an increase of General Fund net revenues of $3.542 billion, an increase in revenues of 10.5% compared to the prior year, due primarily to a new excise tax. However it should be noted that there was a decline in income tax collection from individuals of $241.4 million, a decline in collection of $101.5 million in corporate tax and $91.5 million decrease in withholding from non-residents, due to a tax reform. The trends involved are uncertain, but, with regard to the garden-variety General Obligation Bonds, the question is whether the Commonwealth can weather an increase in interest rates. In particular, as the graph below shows, there is a dramatic increase in duration of bonds with maturity of 2025 and beyond, leaving bondholders with little protection against interest rate risk. It should be noted that bonds with maturity beyond 2025 represent a combined par value of $311,570,000, or approximately 13.5% of the total par value of outstanding bonds. The General Obligation bonds are not backed by any particular tax revenue, and thus tend to be the most sensitive to default and interest risk.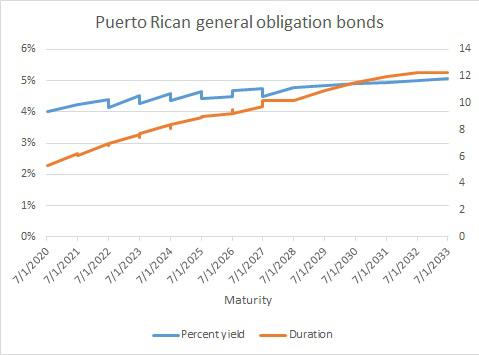 Source: gdb-pur.com
GDP warrants a solution? The Argentinian debt restructuring of 2005 was the consequence of a five year sovereign default threat, and resulted in the issuance of GDP warrants against growth in Argentinian GDP. Puerto Rico, is for all intents and purposes, "between and betwixt" with respect to default. The Commonwealth is not a municipality so it could not adjust its debts according to Chapter 9 of the bankruptcy code. But it is not a sovereign country, since Congress could compel Puerto Rico to adopt its restructuring terms according to the Territorial Clause. Section 8, Article VI of the Constitution of Puerto Rico gives general obligation bondholders a first claim on resources. On the other hand, General Obligation bondholders have to compete for whatever tax revenue there is with the holders of the COFINA bonds, which are sales tax backed bonds. However, General Obligation bondholders could conceivably try to use Congress as their arm to negotiate a receivership whereby, like in Argentina, payments in a given year to these bonds will be made if three conditions are met, namely: a) actual real Puerto Rican GDP exceeds base case GDP, b) real annual growth is greater than the growth implied by base case GDP and c) total annual payments do not exceed a cap, which can be fixed as a certain percentage of GDP.
How likely are General Obligation Bondholders to get repayment on these terms? It's hard to predict, but recent macroeconomic trends have been mildly positive. If the recent growth rate of .1% seems dismal, it should be noted that this is a definite improvement in the negative growth rate of real annual GDP between 2010 and 2011 of 1.6%. The definite bright spot for the Commonwealth is in agriculture, but that constitutes a miniscule $818 million out of a total of GNP of $69 billion.
| | | | | | | |
| --- | --- | --- | --- | --- | --- | --- |
| | Real GNP (2005 prices) | Real GNP (mainland US) (2005 prices) | Growth rate of GDP in manufacturing | Growth rate of GDP in services | Growth rate of GDP in government | Growth rate of GDP in agriculture |
| Growth rate between 2011 and 2012 | .1% | 2.1% | -1.5% | 1.6% | .76% | 2.8% |
Source: gdb-pur.com
It's really muddled. Puerto Rico cannot default outright, or probably will not. The economy entered a full-blown recession in 2006 due to rising oil prices and government downsizing. The reforms enacted over the past two years have yet to produce any sizable result. The trend has been positive (see table above), but probably not enough. The question is whether, if lenders impose an Argentinian type solution, they can capitalize on any growth in tax revenues due to the imposition of the panoply of permanent and temporary tax hikes, coupled with the reduction of corporate and personal income taxes. The Argentinian GDP warrant issue turned out to be a relative success. It is likely that lenders will have little recourse but to go down that route.
Disclosure: I have no positions in any stocks mentioned, and no plans to initiate any positions within the next 72 hours. I wrote this article myself, and it expresses my own opinions. I am not receiving compensation for it (other than from Seeking Alpha). I have no business relationship with any company whose stock is mentioned in this article.