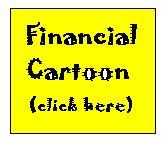 Outlook: It would seem unlikely to have sustainably higher stock market valuations until the retail investor participates in a meaningful way. On this point I have discouraging news.
Five Stages of Investor Grief: Over the past peak to trough stock market cycle, retail investors have experienced the 5 stages of grief.
The first stage is denial. This occurred when the stock market "rolled over" in late 2007. This was followed by Anger—a result of their broker telling them to "hang in there" during the initial "downward leg" from early '08 to late '08. Bargaining came in the closing month of '08 when it appeared the market was making an attempt at rallying. Unfortunately, Depression set in as the market further plunged to its cyclical trough in March of '09. By mid-'09 retail investors had "thrown-in the towel" accepting that they'd lost their retirement savings by investing in a rigged equity market.
Why is This Important? It's taken the retail investor about a year of a steady climb in stock prices to begin inching their way back into the market. Twice in the past three weeks they have seen the stock market decline greater than 3% in a single day. It has set them "back on their heels". This recent "1", "2" punch will likely have the effect of setting the retail investor back 3 to 9 months of again getting comfortable with the stock market.
Implications: The implications of this "set-back" are twofold: 1) the stock market will remain volatile with a lack of participation by retail investors acting as a stabilizer; 2) large-cap, dividend oriented stocks will likely be the entry point.
Dividend ETFs: The three largest ETFs by average daily trading that focus on dividend paying stocks are: Vanguard Dividend Appreciation ETF (NYSEARCA:VIG) yielding 2.0%, iShare Dow Jones Select Dividend Index Fund (NYSEARCA:DVY) yielding 3.9% and SPDR S&P Dividend ETF (NYSEARCA:SDY) yielding 3.3%.
CEF Weekly Review: The 13 closed-end fund (CEF) types on average posted a 4.3% decrease for the week ending 5/21/10. The high-low spread was -6.4% vs. 3.5% the previous week. On an aggregate, unweighted basis the weekly average price change for the 500 plus CEFs was down 3.5%.
The PowerShares CEF Income Composite (NYSEARCA:PCEF), an ETF that invests in taxable income CEFs, slumped 6.0% for the week as retail investors got "wacked" with breath-taking market declines for the second time in three weeks. The S&P 500 sank 4.2% for the week crossing over to a 2.5% decline YTD.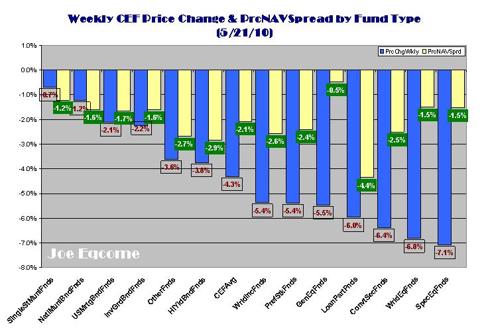 (Click here [1] for YTD CEF Performance. The table is based on a smaller CEF sample size as all the data fields are not available for the CEF universe.)
The Eqcome CEF Fear Index intensified considerably as retail investors sold off the group. The average price decline was 3.5% versus a 1.5% decrease in the NAV. The CBOE Volatility Index (VIX), which typically moves inversely with the stock market—but is more a measurement of volatility based on stock options' premiums—swung back to over 40 advancing 28% for the week. It's likely the VIX will stay in the 30 to 40 range in the immediate future until the credit and economic cross currents are sorted out.
The S&P 500 average daily trading volume was up 17.7% to 6.8 billion shares compared to the previous week reflecting option expirations on Thursday. Volume picked up as the stock market started to slide on Tuesday. "Shorts" covering their winnings on Friday provided fuel for its triple digit advance.
CEF Weekly Fund Type Performance: A typical funds type pattern emerged during a sharp stock market retreat. Fixed-income outperformed equities fund types. However this was a case of less bad as the average of all fund price change declined. The only fund type that seemed not to perform as might be expected was LoanPartFnds. (See "CEF Winners and Losers" below)
The PrcNAVSprds[*] which typically move in the direction of stock prices again for the third week in a row strictly adhered to the rule. The average price of all fund types declined greater than their NAV's. Where the spread was the largest indicates that prices changed greater than NAVs. Most of the largest spreads typically occurred in fund types where there was the greatest investor fear as in the case of HiYldBndFnds (2.9%) and OtherFnds (2.7%); or, in the case of LoanPartFnds, a function of week-to-week price swing.
CEF Winners and Losers: With the exception of illiquid CEFs, the CEF with the greatest positive spread was Western Asset Income Fund (NYSE:PAI). PAI price advanced 6.0% for the week while its NAV declined a modest 1.3% generating a positive PrcNAVSprd of 7.3%.
There was no news on PAI, but there was abnormally large volume traded on Tuesday (145,200 shares) with recent volume topping the average 3 month volume of 26,023. The share price has recently crossed over its NAV and judging from its historical pattern it typically will drop to a discount—albeit, the premium phase can last for an extended period of time.
The CEF having one of greatest negative PrcNAVSprd for the week was BlackRock Floating Rate Income Strategic Fund (NYSE:FRA). FRA share price was off 15.1% versus a NAV decline of 1.3% generating a negative PrcNAVSprd of 13.8%. FRA saw some very significant volume the end of the week. While its sister CEF (NYSE:FRB) also declined with similar magnitude there wasn't the excessive volume.
FRA recently broke through its NAV on the downside after trading at a premium since December of last year. It is currently trading at a slight premium and at a 7.1% yield.
Economic & Earnings Outlook: (Click here [2] for next week's economic calendar; click here [3] for earnings announcements and estimates.)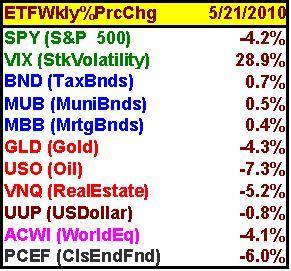 ETFs: For a more detailed EFT performance by sectors, click here [4].
Insider Trading: After a two week absence, the Horejsi Group (Horejsi) reinitiated insider trading in three CEFs. It purchased 26,681 shares in Boulder Total Return Fund (BTF) at an average price of $13.74 spending $365,760 to increase its holdings to 24.2%. It added 19,000 shares to its position in Boulder Growth & Income Fund (NYSE:BIF) at an average price of $5.71 per share for a capital outlay of $108,450. It currently owns 33.1%.
Horejsi also reinitiated insider buying in First Opportunity Fund (FOFI) this year purchasing 51,000 shares at an average price of $6.43 for an outlay of $326,360. Horejsi currently owns 14.1% of FOFI. Earlier this month, FOFI moved from the NYSE to the OTC market. The change was a result of the restructure proposal that changed its investment strategy to private equity investing. T. Rowe Price has been slowly easing out of its position this year.
There were some sellers in Gabelli Global Deal Fund's (NYSE:GDL) Series "A" Cumulative Callable Preferred Shares by MJG IV Limited Partnership, a Mario Gabelli related partnership. I'm assuming that the series was called although I can't find any documentation to that affect.
Lastly, Bill Gross significantly increased his tiny ownership in Pimco Corporate Opportunity Fund (NYSE:PTY) from 400 shares to 5,181 shares at an average cost of $15.01 per share. Previously, Mr. Gross's acquisition during this month in Pimco related CEFs has been a function of respective rights offerings. I am not aware that this was the case with PTY.
(Click here for a hyperlink to the Joe Eqcome's CEF Weekly Insider Report.)
CEF Distribution Announcements This Week: The following is a link to a table of CEF distribution announcements this week as well as the previous week's with yet expired ex-dividend dates. The list is not intended to be inclusive. (Click here for Joe Eqcome's Weekly CEF Distribution Announcements.)
Significant CEF Corporate Events: Western Investment LLC ("Western") announced Wednesday it has launched a proxy contest to elect two of its nominees to Gabelli Global Multimedia Fund's (NYSE:GGT) Board. (See "CEF Focus for the Week:" below)
The Taiwan Greater China Fund (NYSE:TFC) announced Wednesday its tenth semi-annual repurchase offer will be conducted from May 19, 2010 through June 11, 2010 (the latter, repurchased expiration date). TFC is offering to repurchase up to 5% of its outstanding shares at NAV as of June 21, 2010. If oversubscribed, shares with be repurchased on a prorate basis and subject to a 2% repurchase fee.
The "shoot out" at Equus Total Return, Inc. (NYSE:EQS) ended in the incumbent Board being re-elected to a one-year term expiring at the next annual shareholder meeting. The question is whether the supporters of the dissident Board slate who are the largest shareholders will now sell its stock and "move-on" depressing the stock price temporarily.
CEF Focus Stock for the Week: The focus stock for the week is Gabelli Global Multimedia Trust (GGT) which is now the subject of a proxy contest launched by its largest shareholder Western Investment, LLC ("Western") to win two Board seats at the upcoming shareholders meeting.
Western's Letter to Shareholders: I found Western's Letter [5] on the facts to its "Fellow Shareholder" to be disingenuous. I believe this letter weaken its case for Western's nominees to replace two of the existing eight Board members. If Western is willing to "spin" the facts without providing verification then it may be willing to extend such a practice as a manager of the fund.
The following are responses to the key claims by Western.
1. Excessive Discount: GGT is classified as a SpecEqFnds. It is currently selling at an 11.6% discount compared to an average discount for its 56 peer group of 6.3%. Ironically, the average discount of this group would be greater but for the 62.5% premium of its sister CEF (NYSE:GUT) that narrowed the average discount from 7.5%. On a median basis GGT ranks 24 from the largest discount. So, GGT's discount is "not off reservation".
2. Other Gabelli Funds are Trading at Double Digit Discount: Gabelli is an advisor to 9 CEFs. Three are currently trading at a premium and the other 6 (3 mentioned by Western) are trading at a discount. On average, the eight Gabelli CEFs are currently trading at a 0.9% premium.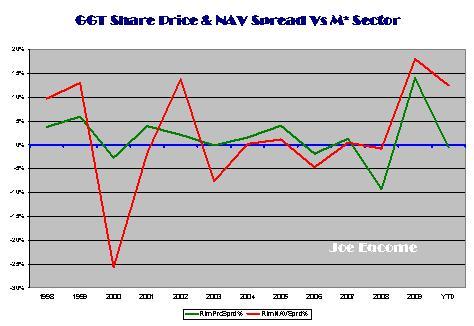 3. Shareholders Have Suffered From Terrible Investment Management: A comparison of the GGT's stock and NAV returns versus its Morningstar peer group demonstrate that GGT has actually done better than its peer group. (See accompanying chart)
4. GGT Hasn't Executed its Buy Back Program: CEF share repurchase programs are for public relation purposes. They aren't designed to defend the stock price but to generate a higher NAV per share mostly by reducing the denominator. The 1.7 million shares repurchase program, of which the advisor has only repurchased 72,000 shares, represents only 12.5% of GGT's shares outstanding. That's not enough to have a meaningful impact in stabilizing the share price. This claim can be levied at most CEFs trading at a significant discount. The Adams Express Co (NYSE:ADX) is a more egregious example of a derelict management of a persistent, large discount.
5. Dismissal of Gabelli's Lawsuit against Western: Gabelli sued Western for violation of certain provisions of the Investment Company Act of 1940. The suit was not demised based on its merits, but deferred to another legal jurisdiction. So, this claim hasn't gone away.
A Stronger Case for Western: Western's case would have been more logical if it just stated the facts as opposed to obfuscating them:
1. We are the largest shareholder of the GGT.
2. Given that status we believe we deserve representation on the Board.
3. We further believe we could provide valuable insight into unlocking shareholder value that we believe lies dormant.
4. Here is the data that represent how Western has been able to enhance shareholder value at other CEFs where we have been engaged.
Case closed.
P.S. I have previously been critical of Gabelli Utility Trust (GUT). I believe the stock is overvalued based upon a 62.5% premium while it is subsidizing its current distribution with significant return-of-capital payments. (See article: GUT's Premium Doesn't Appear Based on Investment Returns (1/28/10). What Western should be lobbying for is a merger of GGT with GUT at respective NAV per share.
---
[*] All things being equal, price and NAV should move in tandem. A price movement greater than the NAV generates a positive PrcNAVSprd and may be interpreted as negative on a near-term basis and indicate that the stock is overvalued relative to its NAV which in theory is the stock's intrinsic value. The opposite would be true for a negative PrcNAVSprd.
---
[1] here
[2] here
[3] here
[4] here
[5] here
Disclosure: I own a diversified portfolio of CEFs and is neither long or short GGT or GUT.