Raven Industries Inc. (NASDAQ:RAVN) delivered a net income of $12.9 million, or 72 cents per share in its first quarter, ended April 30, 2010, up from $9.2 million or 51 cents per share in the year-ago period. The company exceeded the Zacks Consensus estimate of 52 cents.

The earnings climb of 41% was more pronounced than the 23% earnings rise delivered in the fourth quarter of fiscal 2010. Factors like Raven's improving markets, operational efficiencies and higher productivity, and introduction of Slingshot technology were instrumental to growth.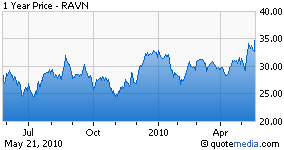 Revenues in the quarter were $85 million, up 30% from $65.2 million in the year-ago period. The increase was driven by robust performance across all segments, led by Engineered Films with sales growth of 92%, closely followed by the Aerostar segment with sales growth of 78%.

Expenses increased year over year on an absolute basis, with cost of goods sold (COGS) up 29% and selling, general and administrative expenses (SG&A) increasing 15%. However, when expressed as a percentage of revenues, COGS decreased 63 basis points and SG&A decreased 84 basis points in the quarter compared with the prior-year quarter, reflecting Raven's focus on cutting down costs to the bone.

Consequently, gross margin expanded 63 basis points and operating margin climbed 130 basis points compared with the year-ago period.

Segment Performance

Applied Technology revenues increased by 12% to $32.9 million. Operating income at the segment was $12.4 million, up 29% from the year-ago level. Results were aided by the strong response to Raven's Slingshot information management platform.

Revenues at the Engineered Films segment increased by an impressive 92% to $25.6 million in the quarter, driven by improving markets such as energy, construction and agriculture. Operating income was $4.1 million, a 52% improvement over the year-earlier period.

The Electronic Systems segment posted revenues of $16.3 million in the reported quarter, up 1% from the year-earlier period. Despite delivering positive results, this segment lagged the performance of the other segments. The lackluster result at the segment may partly be attributable to weak Avionics performance given the reduced demand from commercial airlines. However, a new order at the segment, aided by increased sourcing of assemblies to Raven's Applied Technology Division, somewhat mitigated the loss.

Growing demand for aerostats boosted the Aerostar segment's revenues by 78% to $11.7 million and operating income by 87% to $2.2 million compared with the year-ago period.

Financial Position

Raven had cash, cash equivalents and short-term investments of $49.5 million as of April 30, 2010, up from $43.7 million as of January 31, 2010. Raven possesses a debt-free balance sheet.

Raven's current ratio was 3.91 as of April 30, 2010, compared with 4.54 as of January 31, 2010.

This suggests Raven is in a position to adequately meet its short-term obligations and therefore will probably not face liquidity problems. However, the current ratio is high, implying a piling up of cash. Raven's current ratio is also above the current ratio of its competitors, Minnesota-based Graco Inc. (NYSE:GGG) and China-based Shengkai Innovations Inc. (NYSEARCA:SHE), of a respective 1.89 and 1.87, respectively.

The high ratio reflects Raven's strategy to generate and preserve cash (by cutting expenses, suspend stock buybacks) and reduce its risk profile and improve working capital turnover. Historically, operating cash flows have been the company's primary source of liquidity. Raven expects that current cash combined with the generation of positive operating cash flows will be sufficient to fund the company's operating, investing and financing activities.

The company generated $10.3 million net cash from operating activities in the first-quarter 2010 compared with $19.7 million in the year-ago period. Capital expenditure during the quarter was $1.6 million, up from $1.1 million in the prior-year period.

Dividend

During the reported quarter, Raven declared a 14% increase in the company's regular quarterly cash dividend to 16 cents per share. This is the company's 24th consecutive annual cash dividend increase.

Outlook

Raven's current orders at the Applied Technology and Engineered Films segments remain strong, which bodes well for the coming quarters. In the Electronic Systems segment, Raven intends to pursue a low volume/high mix project in its niche markets such as secure communications.

At the Aerostar segment, Raven has over $7 million in tethered aerostat backlog at the end of last month and has received an additional $7 million of new orders in this month. As Raven ramps the $12 million annual delivery level under the T-11 Army Airborne parachute contract, Aerostar's profitability is expected to be affected in the first half of the fiscal year. Raven continues to make further investments to develop its aerostat product line.

Raven remains cautious on the pace of economic recovery. The company plans to focus on new products and geographic expansion. Raven plans to invest more on research & development in fiscal 2011 to strengthen its lead in precision agriculture and advance its position in tethered aerostats.

Total capital expenditure is projected to be in a range of $12 million to $15 million in fiscal 2011. Raven continues to look for opportunities to expand capabilities and capacity.

South Dakota-based Raven Industries Inc. is an industrial manufacturer providing a variety of products to customers in the industrial, construction and military/aerospace markets. The company operates through four business segments: Engineered Films, Electronic Systems, Applied Technology and Aerostar.