Following Mr. Nelson Peltz's calls for PepsiCo (NYSE:PEP) separating global snacks and beverages into two independent public companies, PepsiCo's dynamic Chairman & CEO, Mrs. Indra Nooyi defended the benefit of pursuing an integrated snacks and beverages strategy. Post PepsiCo's Q4 earnings report, Mr. Peltz has stepped up the attack on PepsiCo. In his recent February 19th White Paper, Mr. Peltz and his team make a compelling case for separating global snacks and beverages.
Mr. Peltz argues that PepsiCo's Total shareholder returns (TSR) have substantially underperformed peers. Since the current leadership team took over in 2006, PepsiCo's TSR of 47% is less than half of Coca-Cola's (NYSE:KO) TSR and the Consumer Staples Index TSR.
As Mr. Peltz points out, PepsiCo has a significant margin gap versus its peers, with Operating Profit Margin (before advertising expense) of 19%, which is 679 bps below the peer average and estimated global beverage Operating Profit Margin of 12%, which is 670 bps below the peer average. Furthermore, Mr. Peltz's argues that despite plans to buy back 4% of shares during 2014, another $1bn of cost savings planned for 2014 and nearly 100 bps of tax rate favorability, management expects only 7% constant currency core EPS growth in 2014. The $1bn of planned cost savings represents an about $0.50 per share post tax cost savings (based on estimated tax rate of 25% and assuming 4% of shares are bought back in 2014), representing 12% of the core EPS growth in 2014. This clearly highlights that the management expects the business to continue to underperform, based on management guidance of 7% of core EPS growth in 2014.
Most importantly, PepsiCo continues to lag behind Coca-Cola in almost all major categories. PepsiCo lost market share to Coca-Cola in 7 of 9 major North American categories, as shown in the table below. Coca-Cola's Americas business grew 3% inorganically compared to PepsiCo's 1% decline in 2013. Furthermore, PepsiCo has consistently lagged behind Coca-Cola in innovation. Over the last ten years, Coca-Cola has increased the volume market share in non-carbonated soft drinks categories in the Americas and all over the world. Today Coca-Cola is the No.1 juice company in volume and value globally (Coca-Cola CAGNY 2014 presentation dated February 21). According to Mr. Peltz, Coca-Cola now accounts for 17% of juice-related volume sold in the world's top-22 markets compared to 9% for PepsiCo. Coca-Cola today has $11 billion non-CSD or still brands versus PepsiCo's $7bn (which includes three joint venture brands including Starbucks ready-to-drink coffee beverage, Lipton ready-to-drink tea, and Brisk tea and juice).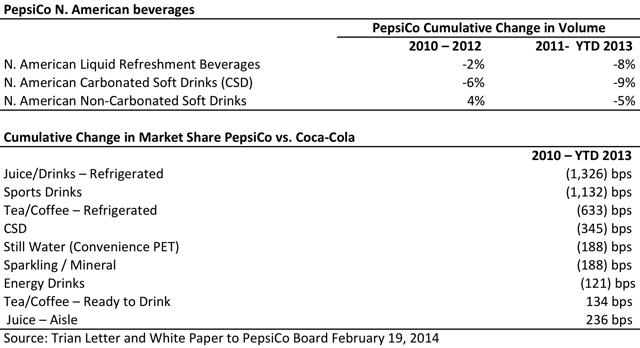 Irrespective of whether PepsiCo follows the breakup strategy, it is clear that PepsiCo needs to do more to revive its lagging beverages business. In addition to losing market share in North America to Coca-Cola, PepsiCo continues to lag behind Coca-Cola in key beverages markets.
Take the example of China, which is expected to be the largest beverage market globally by 2015. Coca-Cola has an estimated market share of 16% in China vs. PepsiCo's market share of about 5%. PepsiCo's business in China is loss making where it lost an estimated $180m. In comparison, a significant portion of Coca-Cola's growth has been coming from China. Despite recently slowing volume growth, China is a significant profit contributor to Coca-Cola. While Coca-Cola does not provide Revenues and Operating Margin in China, it's Pacific Group, which includes Greater China, India, ASEAN, Korea, Japan and South West Asia contributed 12% of the Revenues and 24% of the Operating Profit in 2013. Combined Pacific and Eurasia & Africa, contributed 17% of the Revenues and 35% of the Operating Profits. Pacific and Eurasia & Africa Operating Margins in 2013 were 39% and 46%, respectively. In contrast, PepsiCo's Asia, Middle East and Africa business contributed about 10% of the Revenues and 9% of the Operating Profit, and generated 16% Operating Margins in 2013, as shown in the table below.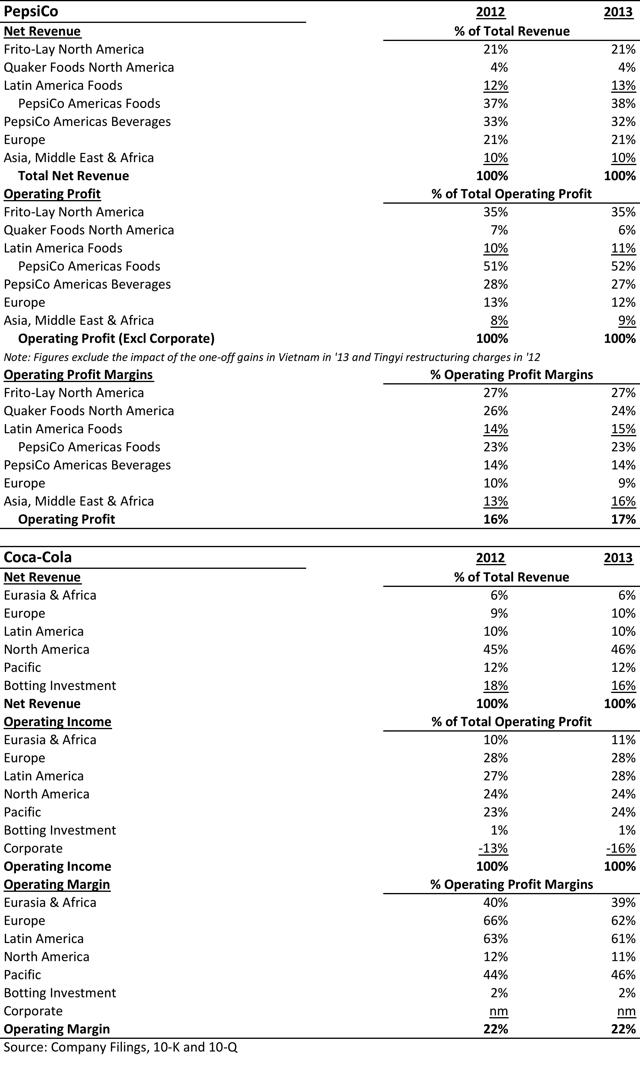 After several years of underperformance in China, PepsiCo had no choice but to team up with a leading local food and beverage player. PepsiCo teamed up with Tingyi. In beverages, Tingyi in the No. 2 player in China, with a volume market share of about 12%. However, as Mr. Peltz points out, in teaming up with Tingyi PepsiCo 'may have mortgaged its future by relinquishing control of its brand'.
As part of the alliance formed in 2012, Tingyi's beverage subsidiary - Tingyi-Asahi Beverages Holding Co Ltd (TAB), is PepsiCo's franchise bottler in China. TAB manufactures, sells and distributes PepsiCo's CSD and Gatorade brands. In addition, PepsiCo and TAB co-brand their respective juice drink brands using the Tropicana brand name under license from PepsiCo. PepsiCo will retain branding and marketing responsibilities for these products.
Tingyi owns China's top-selling Ready-to-Drink (RTD) tea and water brands, sold under the Master Kong brand name. It also has a strong presence in the diluted juice category. RTD Tea, water and diluted juice are extremely important categories in China's beverages market. By providing Tingyi the bottling franchise for Tropicana and CSD, Tingyi has an opportunity to compete with Coca-Cola in China. The transaction is a fantastic opportunity for Tingyi. However, it limits PepsiCo's expansion opportunities in key beverage categories in China where Coca-Cola has been extremely successful (for example, diluted juice and water in China). Nelson Peltz's observation about PepsiCo sacrificing its future in China's attractive beverage market by doing a deal with Tingyi, may well be valid. Coca-Cola's China strategy, on the other hand, has been to work with influential bottlers in China, where there is limited scope for direct competition in product categories. Furthermore, Coca-Cola has significant leverage over its bottlers.
During the Q4 results presentation, Mrs. Nooyi points out the several benefits of keeping snacks and beverages under the same organization including joint advertising, occasion-focused product bundles/promotions, loyalty-based promotions, joint POS/displays and promotions 
and national account selling and cross-merchandising. While some of these points are valid and as PepsiCo points out, account for an estimated $800m to $1bn of synergies, PepsiCo has been losing out on innovation. The integrated strategy lacks the focus that is demonstrated by stand-alone category leaders in food & beverages including Coca-Cola, Dr Pepper Seven Up, General Mills, Hershey's and Beam.
Furthermore, Mrs. Nooyi makes a case that by keeping beverages and snack together PepsiCo increases its leverage with retailers. The following was presented at the Q4 results.

While surely there is some truth to this statement, in my experience, this also exposes the weakness in PepsiCo's business model. PepsiCo is clearly relying on its 'must stock' snack brands to support the beverages business. Strong and relevant brands should have the power to stand on their own.
Conclusion
Irrespective of whether PepsiCo decides to pursue a spin-off of its beverages business, it is clear that PepsiCo needs to put the future of each business in the hands of more focused management and pursue a more decentralized management structure. This is important for the future of PepsiCo. The management has reacted to shareholder criticism by returning more cash to shareholders; however, more needs to be done to drive innovation and growth. Furthermore, competition from Coca-Cola is only going to pick up across all categories. Coca-Cola CEO recently also highlighted his renewed focus on CSD / Sparkling as the No.1 strategic priority. After several years of underperformance, shareholder activism bodes well for the future of PepsiCo and could lead to significant movement in the shares in 2014.
Source: Coca-Cola, PepsiCo and Tingyi Company filings, Coca-Cola and PepsiCo management presentations, Trian Letter and White Paper to PepsiCo Board dated February 19, 2014, New articles - Bloomberg, Reuters.
Disclosure: I have no positions in any stocks mentioned, and no plans to initiate any positions within the next 72 hours. I wrote this article myself, and it expresses my own opinions. I am not receiving compensation for it (other than from Seeking Alpha). I have no business relationship with any company whose stock is mentioned in this article.