The latest monetary policy decision by the Reserve Bank of Australia (NYSE:RBA) contained no new news. The statement was even shorter than February's (by 53 words, over 10%). The most notable difference for me this time around is the RBA's seeming incremental confidence (even if marginally) in the sustainability of lower levels for the Australian dollar (NYSEARCA:FXA).
In the February statement, the RBA said the following (emphasis mine):
"The exchange rate has declined further, which, if sustained, will assist in achieving balanced growth in the economy."
The RBA changed this statement subtly for March's statement:
"The decline in the exchange rate seen to date will assist in achieving balanced growth in the economy, though the exchange rate remains high by historical standards."
The RBA has certainly repeated many times that it thinks the currency remains too high. This time around, the RBA dropped any hint of uncertainty in a lower currency. Traders could not decide what to make of this subtle change in early post-decision trading.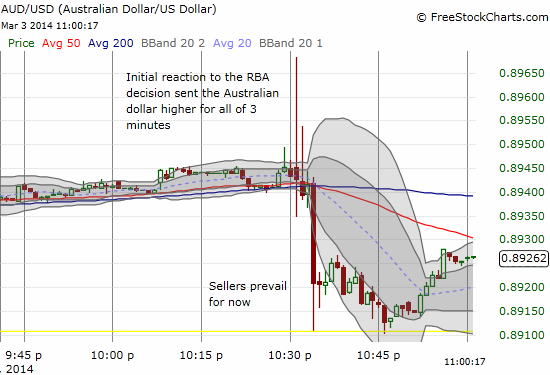 The Australian dollar strengthened for a hot minute in the wake of the RBA's latest monetary policy decision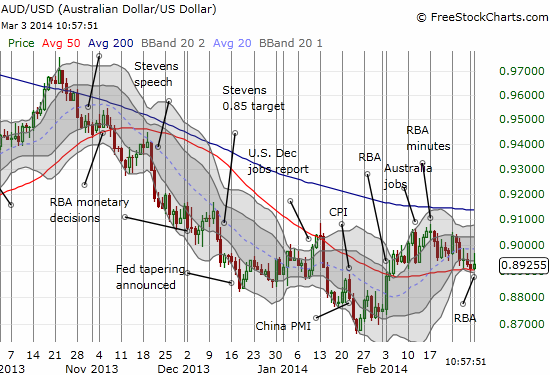 The Australian dollar has spent a month trapped in a trading range with the U.S. dollar
Source: FreeStockCharts.com
I remain bearish on the Australian dollar and remain on watch for the next time RBA Governor Glenn Stevens attempts to jawbone the currency lower.
Be careful out there!
Disclosure: I have no positions in any stocks mentioned, and no plans to initiate any positions within the next 72 hours. I wrote this article myself, and it expresses my own opinions. I am not receiving compensation for it (other than from Seeking Alpha). I have no business relationship with any company whose stock is mentioned in this article.
Additional disclosure: In forex, I am net short the Australian dollar