Gogo Inc. (NASDAQ:GOGO) is the leader of in-flight connectivity. I believe that this technology is about to explode in the next few years. I do my fair amount of traveling as a result of my work duties, and believe me, having internet access on long flights is a must in this day and age. Many of my friends have used this service and were impressed too.
GOGO has the largest number of in-flight connectivity services and also provides wireless digital entertainment and other services in the commercial and business aviation markets. This is an exciting story and I think this is just the beginning of future growth.
This article will give an overview of the company, why I have been a buyer and the potential of GOGO going forward. I always look for leaders, and when the fundamental picture lies perfectly with technical analysis, this is where I make my buy.
The company
GOGO's main focus is on helping airlines, business aircraft operators and passengers to be able to connect wirelessly 30,000 feet above the ground. These services help to transform the in-cabin experience by offering internet connectivity, different digital entertainment solutions and portal-based services.
The company works with a number of different airlines including AirTran Airways, Alaska Airlines (NYSE:ALK), American Airlines Group (NASDAQ:AAL), Air Canada (OTCPK:AIDEF), Delta Air Lines (NYSE:DAL), Frontier Airlines, US Airways Group (LCC) and Virgin America. GOGO is working hard to start offering their services to international customers too and has won contracts with Delta Air Lines and Japan Airlines more recently.
The picture below shows the different areas that GOGO works in.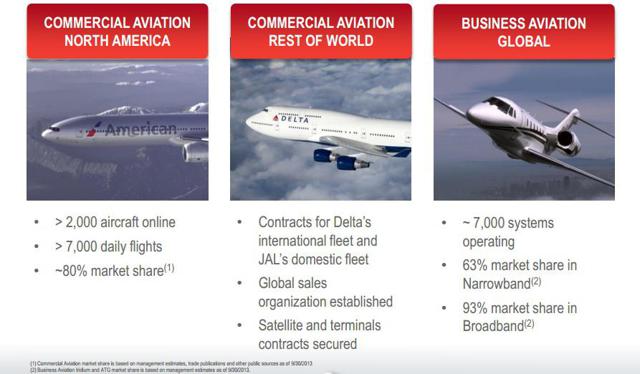 (Adapted from ir.gogoair.com/phoenix.zhtml?c=251827&am...)
Competitors
There are a number of competitors competing for in-flight connectivity. Companies like ViaSat Inc (NASDAQ:VSAT), On Air and Panasonic (OTCPK:PCRFY) have been pushing hard to promote their services. However, as can be seen below, GOGO remains the leader, and I believe they continue to eat market share in the future.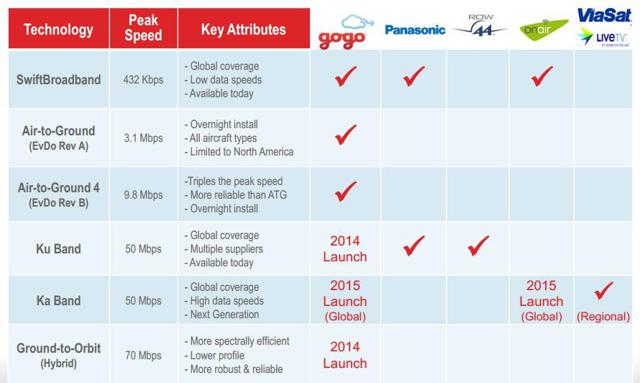 (Adapted from ir.gogoair.com/phoenix.zhtml?c=251827&am...)
Earnings reports
The last earnings report was a stellar one. The first thing that struck me in that report was that GOGO has installed their services on 2,000 aircrafts, but the potential is there for around 20,000 aircrafts, and this is just in North America. Outside the U.S. is still an emerging market, and only 200 aircrafts have been using GOGO's services. There is potential for another 13,000 aircrafts!
Some other key highlights worth noting that occurred in the 3rd quarter of 2013 include:
Record revenue of $85.4 million for the quarter up 48% versus the third quarter of last year.
Revenue of $50.6 million was up 53% versus the third quarter of last year.
The number of ATG aircraft online increased 41% to $18.47 million and a record 260 ATG GOGO Biz Systems for the quarter were shipped.
Company raises full-year guidance as follow: high end of total revenue guidance to $325 million up 10%.
These are very strong numbers. Analyst estimates were also beaten easily in the first 2 quarters since the IPO.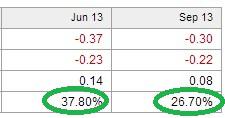 (Adapted from finance.yahoo.com)
Technical analysis
After looking at the fundamentals of the company, I like to study the technical picture. I observe weekly charts and if that shows some bullish signs, I like the story even more.
A moving average I like to use in stocks that have been basing for a while is the 30-day moving average. Strong stocks that have been in a strong uptrend usually find support around the 30-day moving average. The chart below explains some of the factors I use and what made me enter GOGO recently.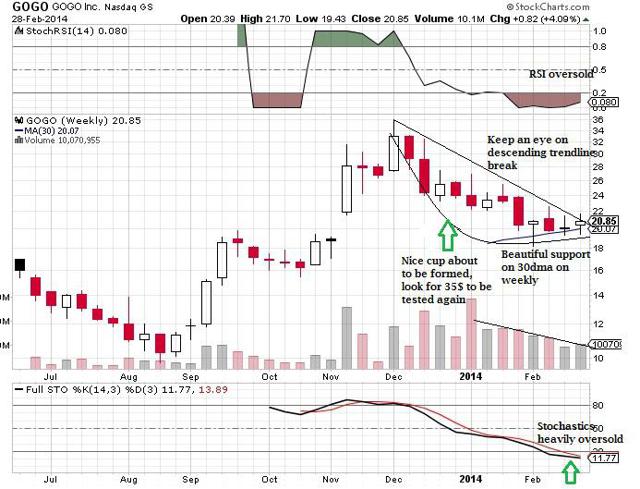 (Adapted from stockcharts.com)
GOGO has had a very strong 2013, with shares rising from $14 post-ipo to around $35 at the peak. The stock price formed a base thereafter to the current price of around $21. I believe this was a result of the lock-up, which expired in December. I believe that all shares have now been unlocked so the downward pressure is over. Furthermore, GOGO's float is very small at around 34 million shares, and as seen below over 7 million shares are short. This is over 20% of the float, a massive number!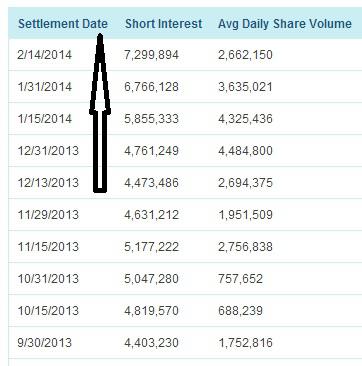 (Adapted from nasdaq.com)
The future for GOGO
GOGO continues to work hard to expand their services. Currently, their in-flight connectivity services are often seen on U.S. flights but in 2014 the international market will evolve. We will soon see phone services being offered where a passenger can text too.
Conclusion
I continue to be a strong believer of GOGO, and have started a position around $21. I am also long August 18$ calls, which gives me time as I believe with their potential, GOGO can challenge the highs again. With the small float, a very high short position, and conferences and earnings coming up next week and the one after respectively, I believe a nice move is coming here.
Disclosure: I am long GOGO. I wrote this article myself, and it expresses my own opinions. I am not receiving compensation for it (other than from Seeking Alpha). I have no business relationship with any company whose stock is mentioned in this article.